The smartphone market is absolutely saturated with so many devices. Now more than ever, users are spoilt for choice, and manufacturers are all struggling to compete for trust and sales. This is great for the common user, since more options are always a great thing. Another player has just entered the local market. Realme, a sub-brand of widely successful Oppo, has just launched the Realme 2, a solid mid-ranger with great looks, and a screen rivaling the largest ones in the market today. Is it a real contender, or just another device that further crowds an already saturated market?
Design: 4/5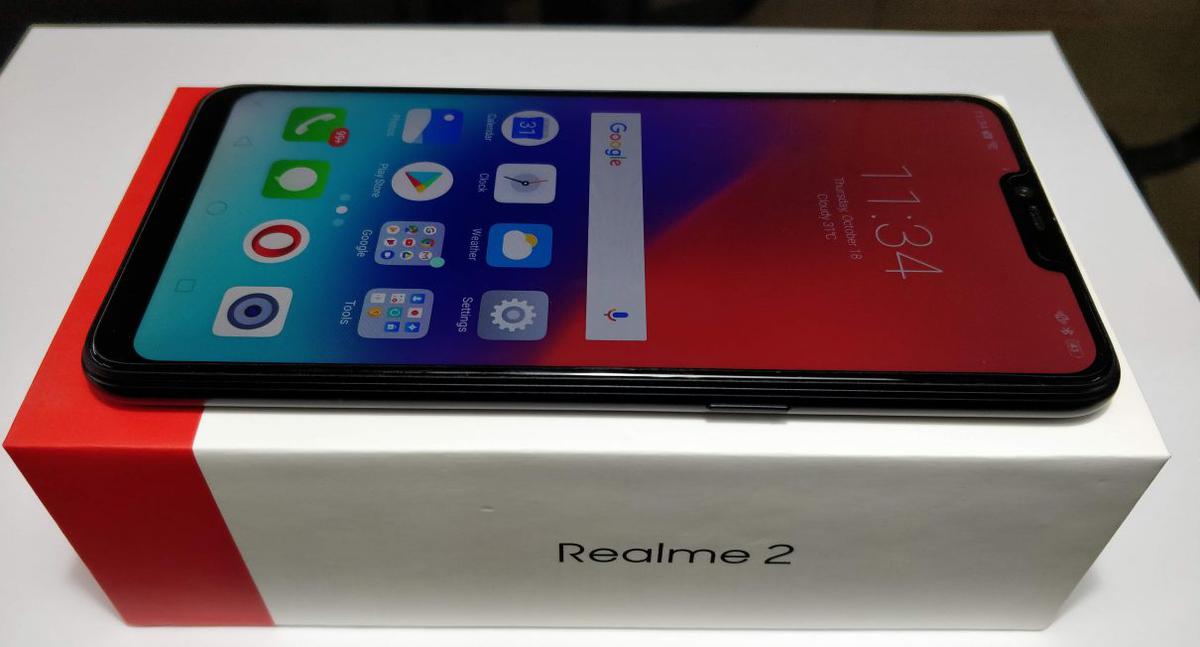 For anyone who has been looking at the current trend of smartphone design will find the design of the Realme 2 very familiar. A notch at the top, thin bezels, and just the slightest chin at the bottom make it instantly recognizable as a 2018 device. Our review unit in Diamond Black earns that name ostensibly because of the striking faceted pattern under the glass rear panel of the phone. It certainly catches the light in a visually appealing manner, though does attract fingerprints exceedingly easily. The rear is bare, save for the dual cameras, flash, and fingerprint scanner. The front is just as plain, and has a front-facing snapper, earpiece, and a light sensor hidden away in the notch. The screen is a large and takes up more or less the entirety of the front. I appreciate how clean the overall look is, and can totally see this as a daily driver.
Hardware: 3.5/5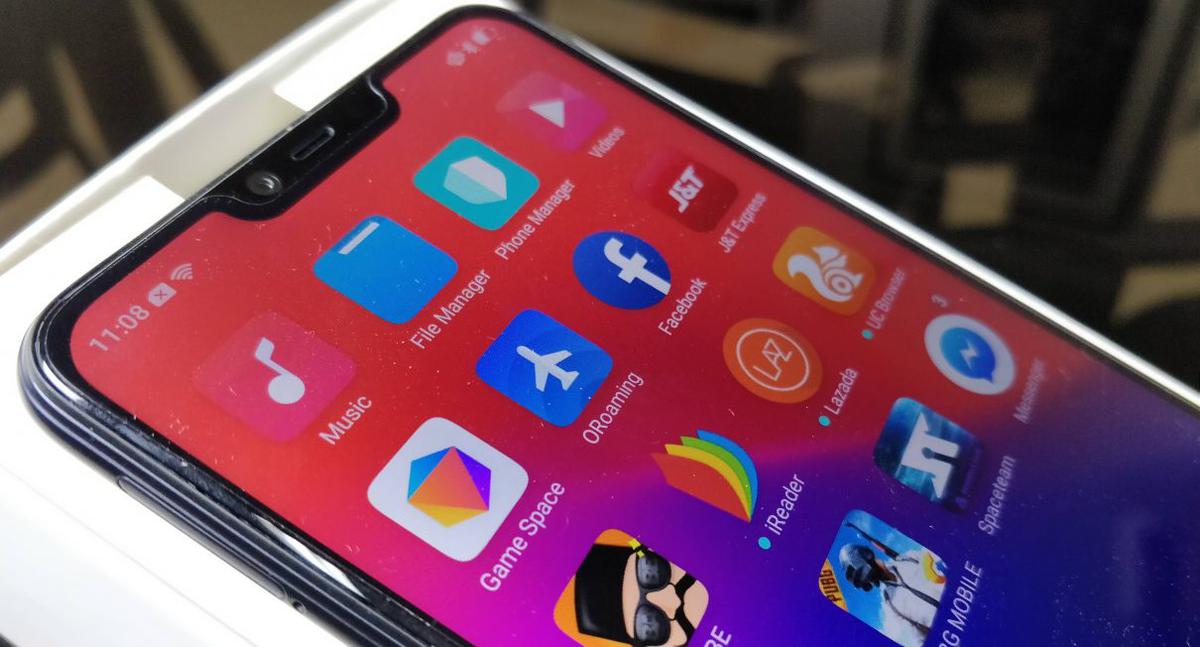 The star of the show is clearly the notched 6.2 inch, 720 x 1520 IPS display. It's bright, has enough detail for the size, and is protected by Gorilla Glass 3. Love it or hate it, the notch is actually quite unobtrusive, and vanishes from sight after a little use.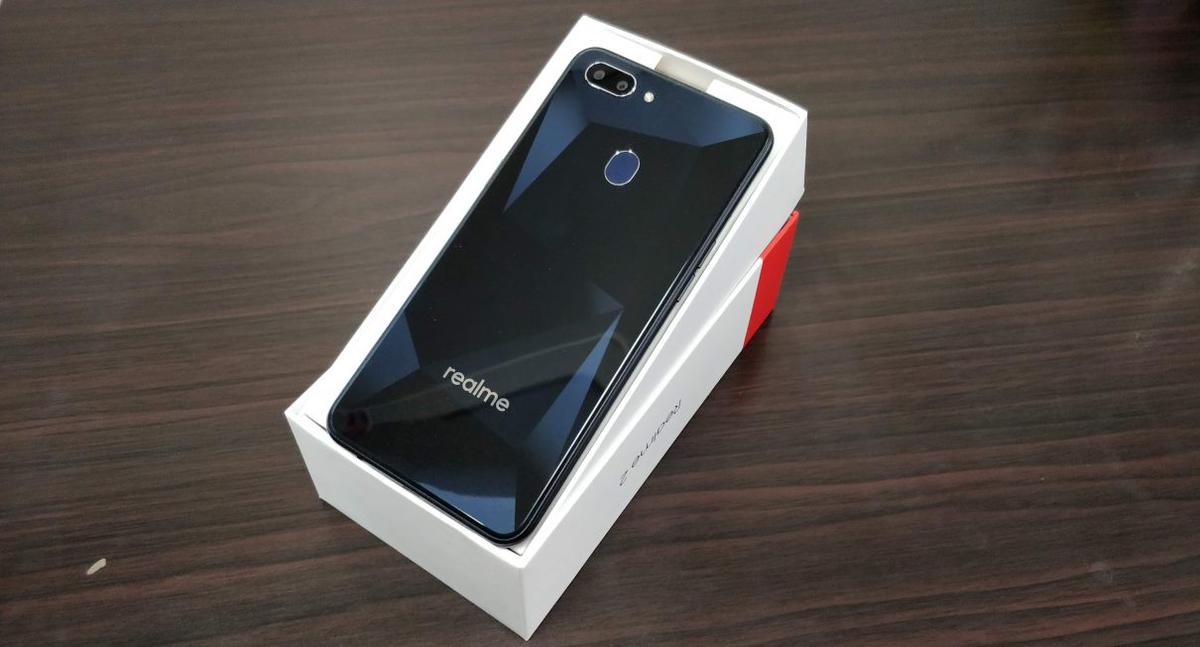 The chipset used in the Realme is also not what I expected to see in the device. The Realme 2 runs a Snapdragon 450, paired with 3GB of RAM. This isn't quite at par with some of the higher mid-tier phones in the market right now, but it's still a decent choice. It does sport the Adreno 506, which is also an interesting choice, as it's usually found on the 6 series Snapdragon devices. This offers a great balance of performance and cost, and makes for a device that stays within budget without giving too much up in terms of performance.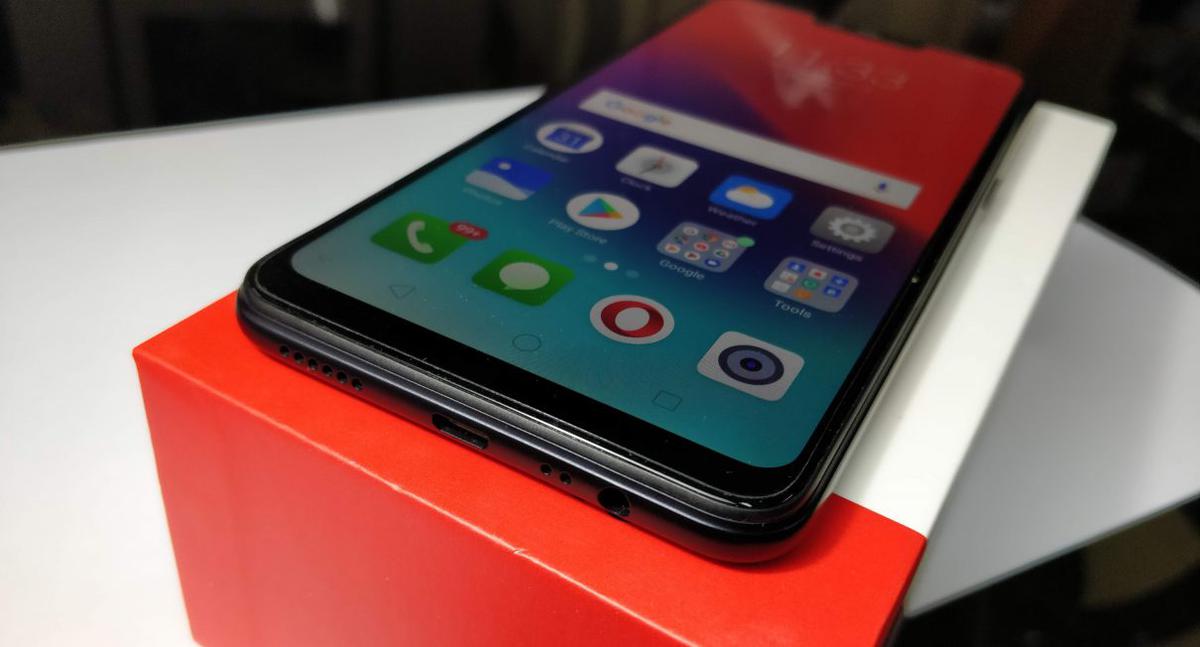 The 3 GB Ram version of the device comes with 32 GB of storage, but is expandable to 256 GB through a dedicated MicroSD card slot. This frees up a second SIM slot so you don't have to sacrifice connectivity for additional storage. This is great news for snap-happy fans who want to make the most of its 13 MP main camera with a 2 MP depth sensor and flash. The front snapper on the other hand is an 8 MP deal with HDR.
The battery is a large 4230 mAh Li-Ion affair, which when paired with the power-efficient chipset gives the device great endurance.
User Experience: 4/5
I came into the review with admittedly little knowledge of the Realme brand aside from the fact that they offered great value for money, and had a record-setting initial sale online in Indonesia. "Value for money" can sometimes be a euphemism for a substandard device, so I entered the review with a little skepticism.
I unboxed the device and found the construction to be quite solid. Glass on the front and back, along with nicely rounded edges give it a nice feel in the hand. It's a little lighter than it looks, but has enough heft to let you know it's a serious device. The Realme 2 has the looks to sit alongside much more expensive devices, and not feel like the odd phone out, so it's a solid win in that department.
A huge plus for me is the speed of the fingerprint scanner. It isn't only fast, it actually matches the speed at which my personal phone wakes from sleep, and that's a full-on flagship device. This is a huge plus, as this is the single most used feature on any current device.  Should you prefer, it also offers face unlocking, which worked surprisingly well, and just about as quickly as using the fingerprint scanner. 3 GB of RAM might not seem like a whole lot, but I'm quite happy to report that apps launch without a long delay. Daily apps, such as Facebook, Instagram, and Chrome are all designed to work with less ram than this phone has, so it's not a problem in the least. Even with multiple apps running in the background, Android 8.1 with the ColorOS overlay is great at optimizing memory usage, so it doesn't struggle with daily use.
If you're mainly concerned about the camera, you should know that the setup on the Realme isn't going to win it any awards. Colors are washed out, and while detail in bright light is fine, it struggles once the light drops off slightly. It's a perfectly adequate camera system, but some shortcuts do have to be made to keep it in the right price pocket. You do have AI baked in, which enables the device to do such things as beautification, which is even able to identify the gender of the subject and apply the correct beautification filters.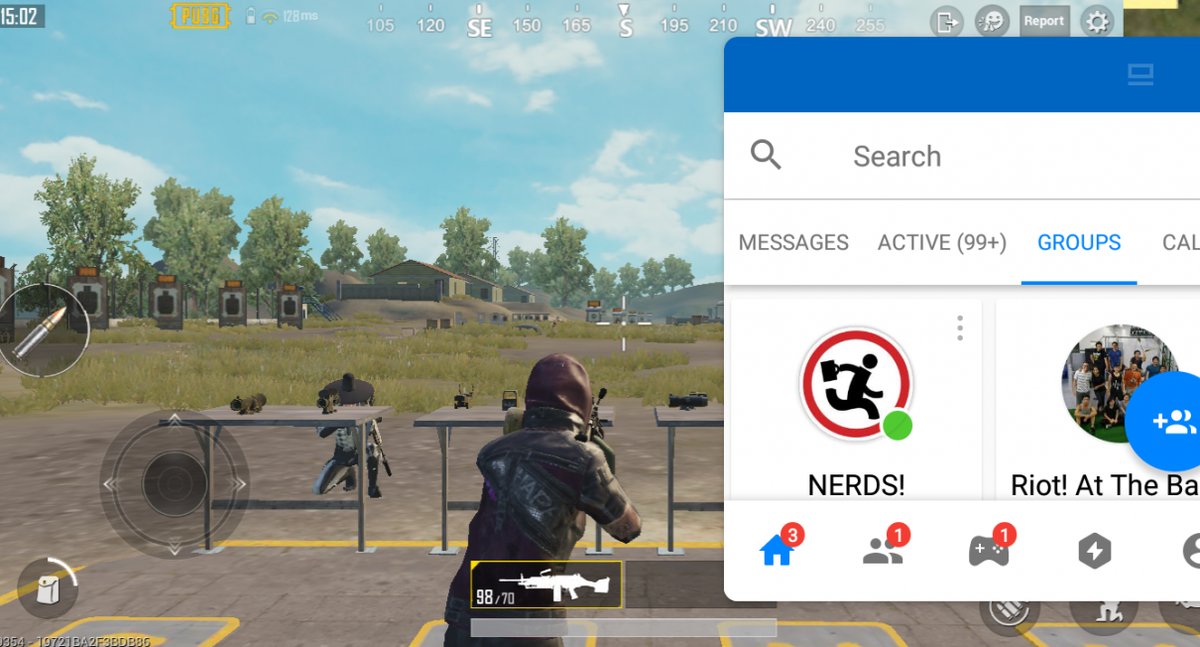 Gaming performance is a bit of a mixed bag. While the Adreno 506 is a capable graphics solution, it takes a slight hit with the processor. Games that require a lot of muscle, say PUBG Mobile will take a significant time to load, though once it gets going, the large screen and generally smooth performance at lower settings make it worth the wait. You won't feel like the phone is letting you down when firefights start to get intense. Just remember to disable the notch so the game screen doesn't get clipped. It's not meant to be a gaming-centered phone, but performs admirably enough as one. This experience is enhanced further by the inclusion of their own Game Space, which switches off notifications from other apps, and enables Do Not Disturb Mode, so you can game in peace. The ears created by the notch conveniently house shortcuts for screenshots, screen recording, and even launching the SMS and FB Messenger in a floating window, so you can reply to messages without leaving the action.
Viewing shows, say on Netflix,is great. The combination of a large screen, low power consumption, and a massive battery mean you can keep watching long after other phones start begging for a wall outlet.
Value: 4.5/5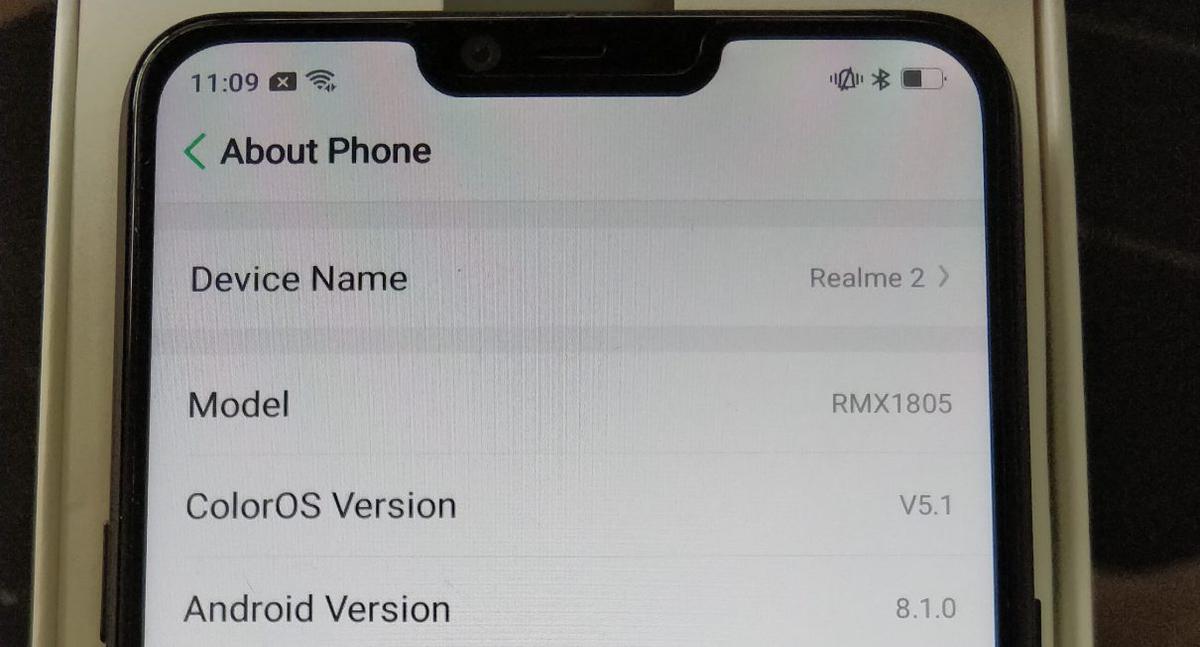 While there are some compromises made in terms of outright performance, the phone's strong suits, namely a large screen, fast fingerprint sensor, great battery life, and most importantly for the segment, superb price, make this phone a real contender in a crowded mid-range space.
What's hot:
Superb price
Fast fingerprint scanner
Large screen
What's not:
Gaming performance could be better.
Bottomline:
If you're looking for a midrange daily driver, but don't want to shell out more than necessary, this is your bet.