Shell companies in the Philippines participated in the Filipino bayanihan spirit as they rolled out initiatives to battle the effects of COVID-19 in the country. To date, roughly 693,000 beneficiaries have received aid from the various efforts of Shell's programs. 
Mobilizing help and heroes all over the country
Since the start of the ECQ, Shell has given 3.78 million liters of discounted fuels to frontliners. This assisted the frontliners, healthcare workers, police, military personnel, and other logistics personnel and equipment at the height of the pandemic.
For frontliners who had no access to their own transportation, Shell provided free fuels to five fleet partners, Vallacar Transit Inc., Jasper Jean, BGC Bus, Ube Express, and Transportify. This resulted in roughly 2,175 healthcare workers and critical goods moved within the city
Shell provided free fuels to 23 hospitals in key cities fueling more than 50 ambulances and hospital fleet vehicles to ensure swift and safe response to medical emergencies.
Shell also found an opportunity to bring relief to its loyal customers through the Shell Go+ Loyalty Program. Ever since the quarantine started, many PUV drivers lost their source of everyday income. Shell gave free Go+ points which amounted to PHP 3.16 million to ease their way back to the new normal. 
Beyond transportation and food, Shell also offered free vitamins to about 3,000 drivers who visited the Retail sites.
To contribute in arming the everyday heroes during the pandemic, Shell retailers initiated their own activities. Some of the offers included giving out free face masks, face shields, food, and relief goods. As Shell puts safety at the heart of its operations, it also put up handwashing facilities in select retail gas stations all over the country to benefit more than 5,000 customers and employees.
Para sa Bayani: Jumpstarting livelihoods
Shell's social arm, Pilipinas Shell Foundation Inc. also launched its Para sa Bayani campaign focusing on three programs, which tapped and reached out to 77 municipalities and 26 provinces outside Metro Manila.
Ani Para sa Bayani bridged producers to the kitchen partners. From the kitchen partners, they delivered healthy meals for frontliners and other vulnerable members of the communities.
This effort procured 168.1 tons of produce, helping 3,374 Filipino farmers and fisherfolk to sell their harvest and catch to sustain their livelihood. Over 477,920 meals were distributed to healthcare workers, military personnel, logistic drivers, and other members of the at-risk communities.
Proteksyon Para sa Bayani, the second arm of the initiative, connected Shell's businesses and external organizations. Specifically, it created and distributed more than 19,000 PPEs that could be used by other frontliners, such as delivery workers and public service personnel. Around 4,870 of the total number of PPE sets were created by initiatives such as SIBBAP Multi-Purpose Cooperative and the Batangas State University. The former was in charge of banding together Batangueño housewives to support their sewing livelihood. BSU leveraged technology by using 3D printers to produce face shields for protective use.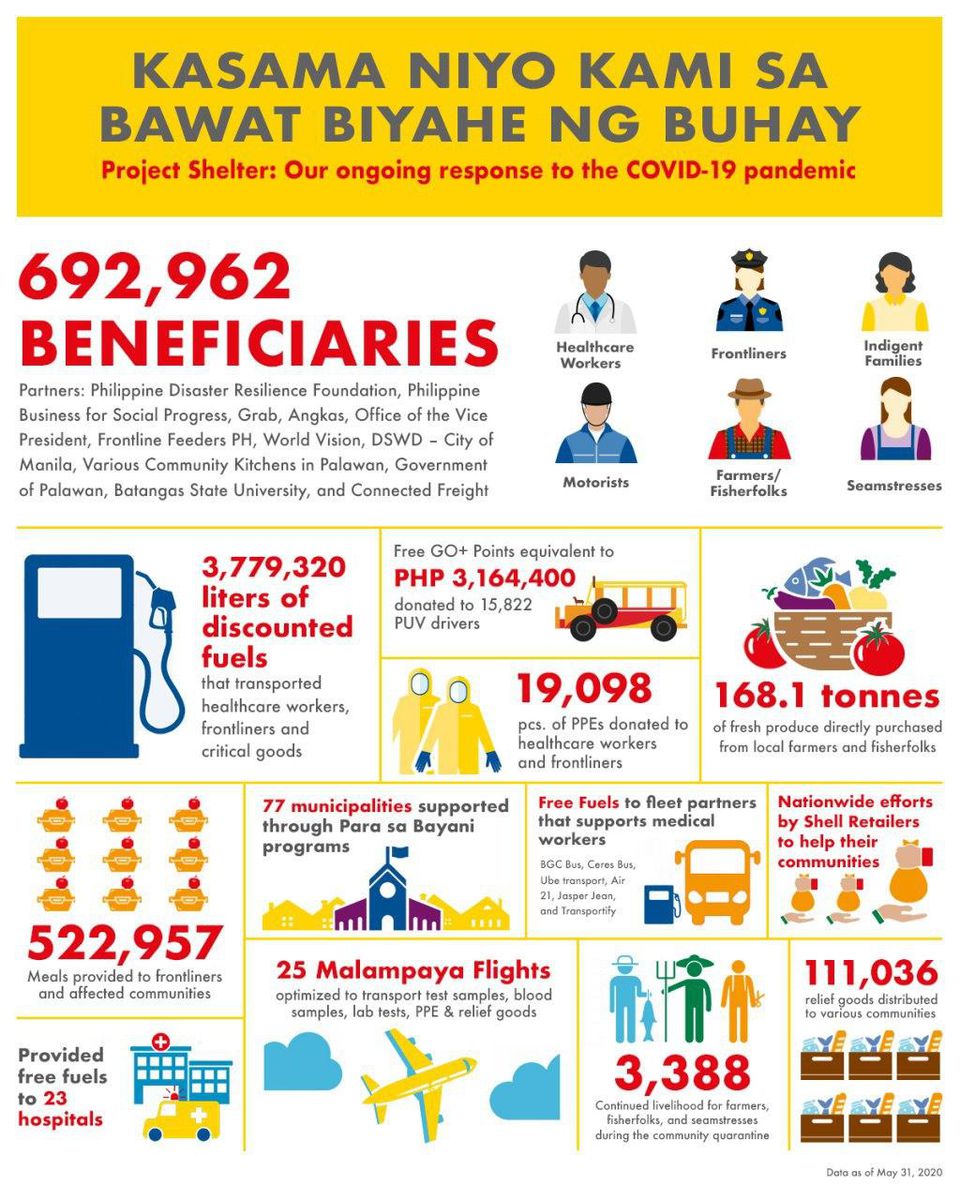 Supporting mobility in Shell communities
Twenty-five Manila-Palawan-Manila flights were optimized to transport healthcare equipment, laboratory tests, and relief goods, and PPEs for the use of Palaweños.
Over 111,000 relief packs were delivered through the partnership between Shell and the local government units in Shell's communities nationwide. Additionally, the Malampaya Foundation Inc, the social arm of Malampaya join venture partners distributed food packs filled with rice, meat, and produce sourced from local farmers for park and sea rangers that were affected by the sudden stop in tourism and livelihood because of the pandemic.
With easing restrictions, vigilance to avoid further transmission of the virus should still be practiced. Shell believes that its mission to aid Filipinos will continue.
The new normal is set to bring new challenges to the country. However, Shell remains steadfast in adapting and finding opportunities to remain resilient. In keeping with its 106-year legacy in the Philippines, the energy leader continues to focus on health, safety, and the well-being of its people and stakeholders, reflecting the spirit of bayanihan with every initiative.