The sudden rise of COVID-19 cases in the Philippines and the rest of the ASEAN region have forced the country's capital to go on lockdown, turning this into the largest work-from-home experiment in history. While most organizations already have their productivity tools in place, there is still one glaring gap in the current technology stack — technology learning.
In other words, the modern knowledge worker is well equipped to work from home, but he is not equipped to learn technology skills from there. The vast majority of learning and development resources — corporate, universities, brown bag seminars, external conferences — still must be done in person which, at this time, is dangerous and, sometimes, not even possible.
Philippine-based tech company CloudSwyft is changing how people in the ASEAN region can learn technology skills. Founded in 2015, the company produces a cloud-based, technology learning platform for both enterprises and education sectors. They offer technology learning labs and online courses. Through these methods, people can learn data science, artificial intelligence, machine learning, front end development and DevOps to specific advanced tools like Azure, Cortana Hadoop, Python, UiPATH RPA, Tableau, and Power BI.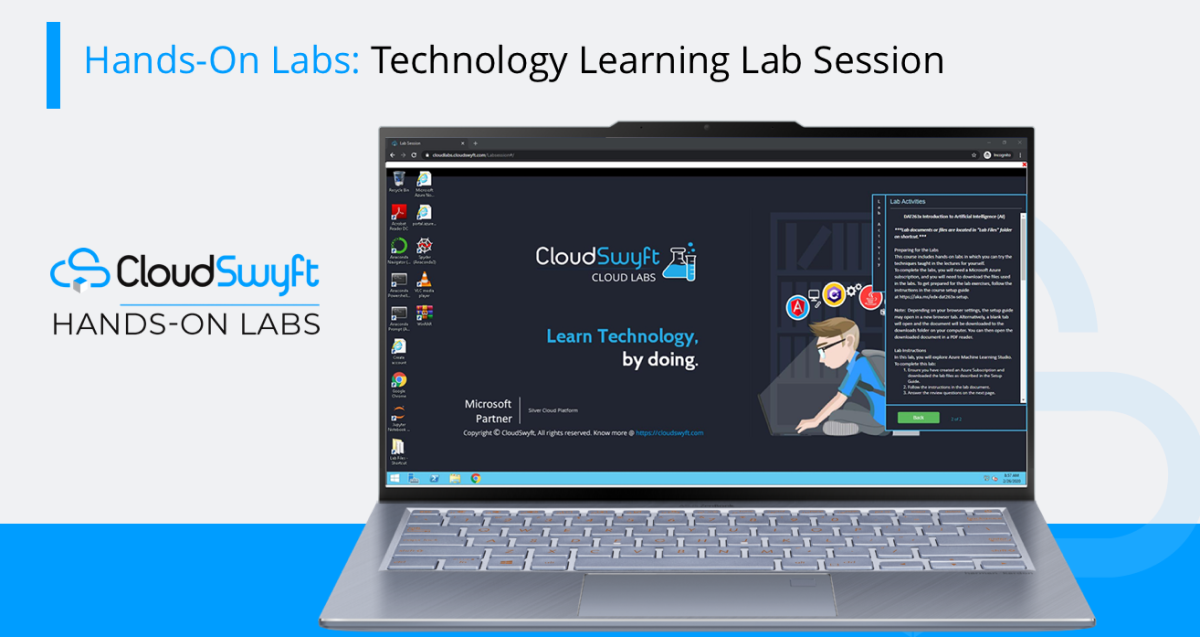 According to CloudSwyft these skills are critical to the region. Forty-seven percent of today's jobs will be redefined within 20 years, and 65 percent of students will one day work in jobs that currently do not exist. The company aims to future-proof the region's over 15 million higher education learners and the nearly 230 million professional adult learners.
CloudSwyft provides the workforce with the opportunity to learn higher value skills that move them up in the value chain and, in turn, provide them with better career pathing. CloudSwyft has two key features that make it stand out, Hands-On Labs technology, and Blended Learning Experience platform.
Hands-On Labs are cloud-based environments with pre-installed applications and tools that are aligned in each specific IT course. It also provides instructors the platform to customize lab content, deliver and validate outputs and then allow learners to perform practical lab exercises through the browser, be graded and successfully earn "hands-on lab accomplished" digital credentials.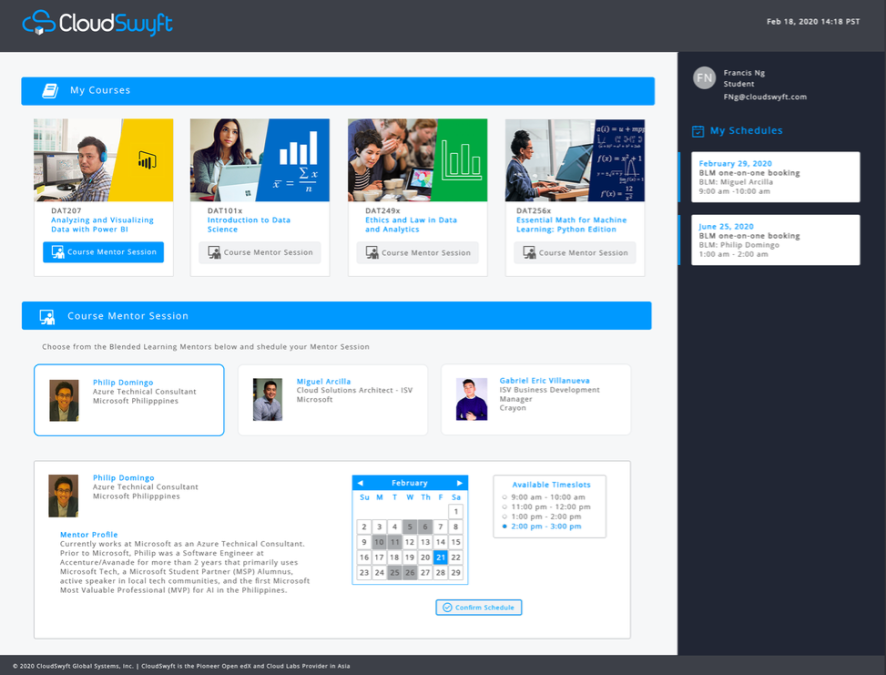 The Blended Learning Experience platform on the other hand, is a value-add service that allows learners to book available tech mentors for a one-hour one-on-one remote session for guidance on labs and course modules in the platform, as well as an opportunity for CloudSwyft curated mentors and trainers to earn whenever booked.
"Coming from a humble background right here in Manila, I've personally experienced how digital upskilling can improve your life. I'm excited to offer more of these opportunities to millions of people across ASEAN, who can now learn the skills in most demand by the best employers across the globe, right from the comfort and safety of their own home," said Dann Angelo De Guzman, founder and CEO, CloudSwyft.
As part of the company's bid to encourage more ASEAN students and the workforce to embrace digital learning through CloudSwyft, the company is working closely with Microsoft Philippines to help its education customers and partners in onboarding and setting up Microsoft Teams and CloudSwyft technology learning products for online collaborations and digital learning. 
It also plans to donate a portion of its revenues from platform subscriptions for the month of April and for the rest of year from customers in the Philippines, to the Philippine General Hospital, Lung Center of the Philippines, and the Ayala Foundation, and is expected to announce similar local charitable-giving initiatives in Indonesia and other ASEAN countries in the coming days.
"We know that organizations are currently faced with the challenge of moving their offline services online, and providing remote support to people and institutions that are dealing with the COVID-19. We want to make sure we do our part to support those efforts." said De Guzman.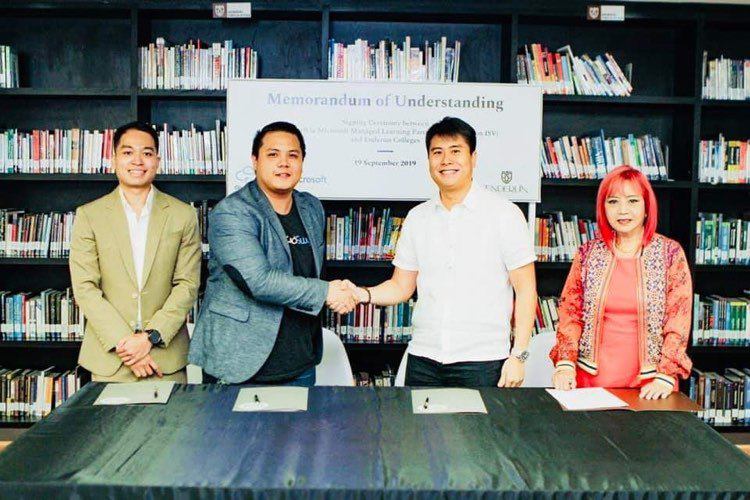 In the Philippines alone, CloudSwyft counts Enderun, Tarlac State University, the Technological Institute of the Philippines, Emerson, and Manulife as partners — to name a few. Across the region, CloudSwyft has partnered with TelkomTelstra in Indonesia, and Republic Polytechnic and Skills Future in Singapore.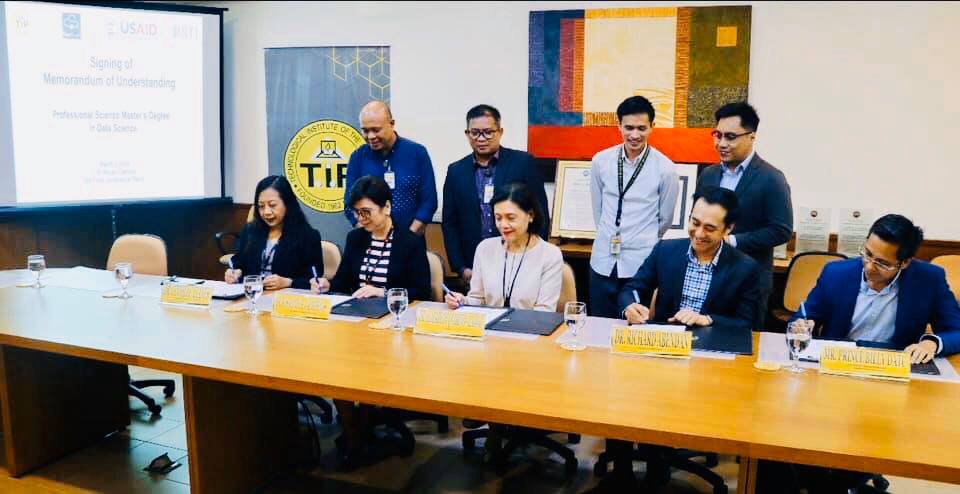 CloudSwyft has been able to achieve such regional traction also due to its partnership with Microsoft. The company is the only EdTech solution from the Philippines collaborating with Microsoft under a co-selling partnership, wherein Microsoft's internal sellers and partner networks help resell the CloudSwyft solution across the ASEAN region. It also aims to expand its offerings through other technology content partnerships in its pipeline. 
"CloudSwyft has been at the forefront of future-ready skills development across key ASEAN markets. Our team at Microsoft Education is very proud to provide strong strategic support to companies like this as we heavily contribute to the region's shift towards digital transformation in the higher education sector. Upskilling opportunities in Asia are massive. Now is the time to drive this even more," said Larry Nelson, Asia Regional GM for education, Microsoft. 
CloudSwyft was able to strike such an impactful strategic co-selling partnership in relation to its roots in venture backer, Future Now Ventures, which is partnered with Microsoft for several initiatives at a global level. 
While De Guzman and his team are proud of putting the Philippines on the map for enterprise software, he hopes CloudSwyft serves as an example for all startups from the region. He proudly shares that CloudSwyft has achieved all of these milestones with a nimble and lean team as well as having a very low key public profile.
"We're very proud to be one of the first enterprise software products from the Philippines to have a truly regional footprint. But we believe this is an achievement well within the reach of any Filipino tech entrepreneur. We just need to leverage the distinct brand of Filipino ingenuity and industriousness while thinking global. Execution and sheer focus matter the most to achieve ultimate business success, the rest are just noise," said De Guzman.