If there's something good that the pandemic has brought us, it is undoubtedly the digitalization of education. Some may disagree about the effectiveness of remote learning, but one thing is for sure — online education is here to stay. As institutions of learning ease their way to face-to-face classes, school administrations recognize the need for a hybrid setup as one of the keys to improving the Philippines' education system. Let's look at some of the innovations that optimize how academic professionals are teaching — and students learning — in the comfort of their own homes.
Interactive tools
Apart from network connectivity and the availability of gadgets, one of the main obstacles to online learning is the limited interaction between students and teachers. To make online classes more engaging to students, professors adopt various digital Interactive tools in their class discussions.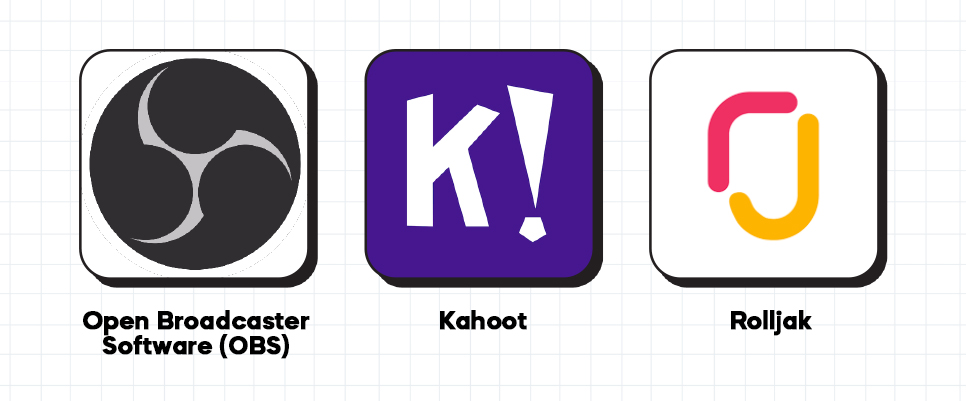 Open Broadcaster Software (OBS) helps teachers edit their live stream or recorded videos. It allows them to unleash their creativity by including photos, background music, and even backdrop videos related to the subject matter that they are discussing with their students online. OBS users may utilize plugins for flexible customization. Students may also use this software for interactive presentations of their reports, thesis, and research papers.
Other interactive tools that aid in building student-teacher engagement are interactive activity and quiz builders such as Rolljak and Kahoot. The former offers free to a paid subscription for implementing enrichment activities and quizzes online. It allows students to talk in timed breakout rooms, sketch and scribble on an assigned topic, and provide constructive criticism through equal and anonymous peer evaluation.
Kahoot, on the other hand, is a game-based learning platform where users can create and host live quizzes. To gain more points, participants must answer accurately at a given time. They can answer remotely by using a desktop, laptop, tablet, or even a smartphone. To ensure security, the platform provides a unique PIN to the host. Participants can only access the quiz hosted through Kahoot by entering a PIN. If you're on a budget, apps like Quizlet and Brightful offer similar features for free.
To further ensure that students understand current and recently discussed topics, there are learning assessment tools like Slido, which can elicit student perspectives on a particular topic. Teachers can create live polls, host questions and answers, test the knowledge of students through short quizzes, and get insights from the class discussion. This tool also promotes inclusivity by allowing students to ask questions and vote on the poll anonymously.
All-in-one learning platforms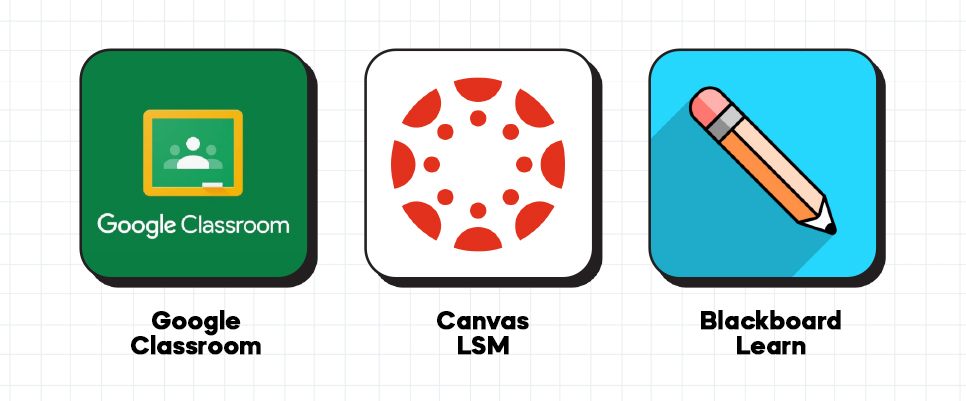 For most academic institutions, learning management systems (LMS) are a necessity. Since most LMS come with an annual or monthly subscription, a big chunk of this is charged to the students' tuition fees. These online learning platforms offer an all-in-one solution covering administration, documentation, tracking, delivery, and sometimes, offering of learning programs. It is a portal where teachers and students communicate, upload course material, post and schedule homework, submit activities and quizzes, and give grades on student performance. In the Philippines, the more commonly-used LMS are Google Classroom, Canvas LMS, and Blackboard Learn.
On the other hand, a university's independent online portal usually handles only internal processes and transactions between the school administration and the student. This includes application and submission of documents, viewing of subject grades, checking of the academic calendar, subject enlistment, processing of enrollment, application of leave of absence, submission of online and cash payment for tuition, and more. For example, each campus of the University of the Philippines has its own online learning spaces and computerized registration system.
Productivity tools
Since online learning requires more file sharing, having cloud storage for remote file storage is important. Depending on their university's plan, most college students are entitled to avail of the minimum paid subscription for file sharing services such as Dropbox, Google Drive, and OneDrive. Apart from storing large files, these cloud-based file-sharing services allow students to create, edit, and save changes to their documents with or without the internet. Google Drive and OneDrive offer offline access and editing which are more convenient for those who have network issues.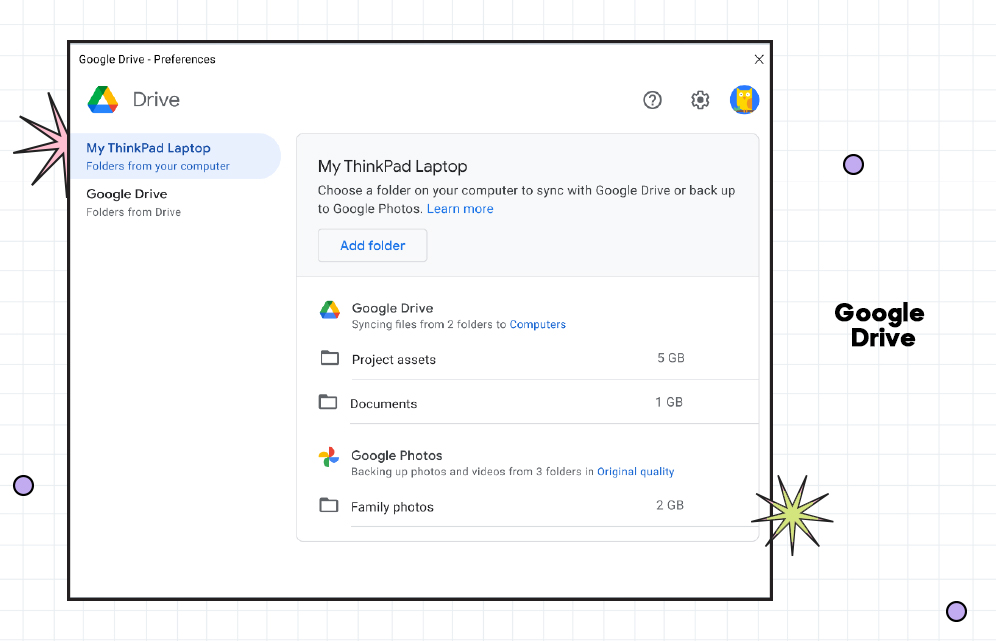 If the school cannot afford the cost of an LMS subscription, some teachers resort to communications apps more commonly used in corporate settings. Discord, more popular among gamers, has become a communication tool for learning with its relatively low data consumption compared to other chat applications. It allows a class to send messages through video calls, voice chat, and text. Lastly, members of a specific server can stream video to a maximum of 50 participants and use bots to moderate channels on a specific server. The best part is that it breaks the barrier of limited audio calls.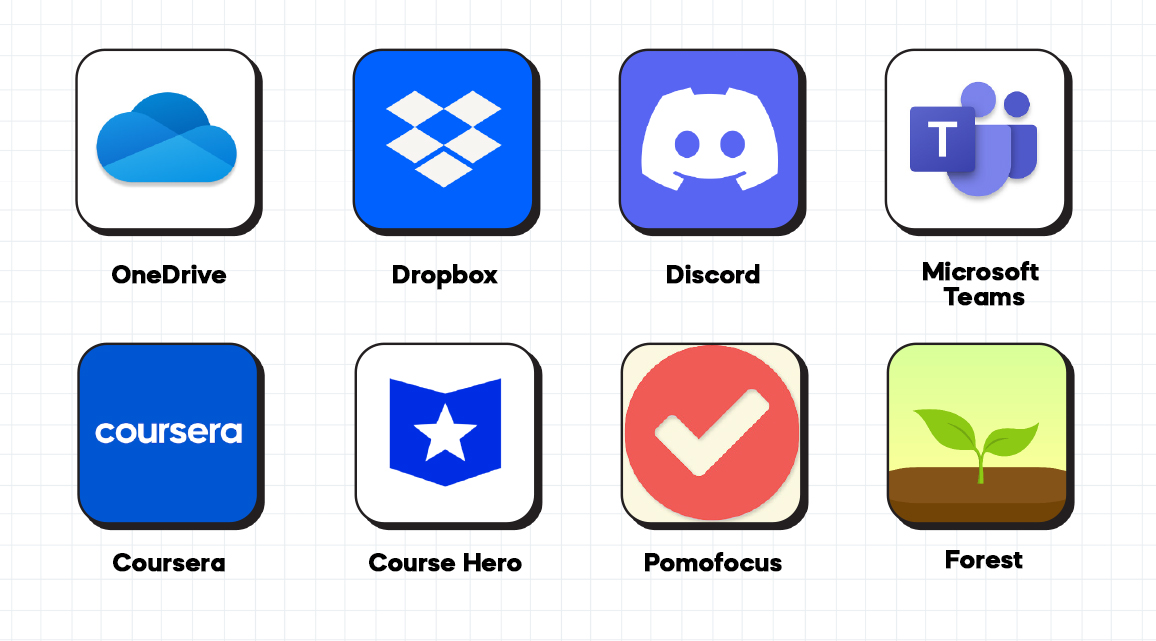 For more participants per meeting, there is Microsoft Teams that can accommodate up to 100 participants for up to 60 minutes. The free subscription allows file sharing, polling, data encryption from files and chats (text/video/audio), and free 5GB of cloud storage per user.
And when you can't get enough of the joy of independent learning, you can pursue free and paid online courses remotely from premier academic institutions through Coursera and Course Hero. Programs offered on these online learning platforms range from short courses to postgraduate and Ph.D. programs. There are options to claim virtual certificates and print them upon completion of a program. Of course, this requires the user to pay for the certificate online.
Last but not least, study timers are essential tools for keeping your focus. Most students and professors are familiar with the Pomodoro Technique. This is a time management system where you break your study time or work day into chunks. Each chunk is 25-minutes long separated by a 5-minute break. After repeating three rounds of Pomodoro, you can take a longer break. Digital study timers such as Pomofocus and Forest allow users to keep track of their progress without wasting their time. The former is a multiplatform timer that allows users to list their tasks for the day and check their activity summary. Meanwhile, the latter motivates users to grow their virtual forest by staying on the app and keeping the countdown timer running. Users who earn in-app virtual coins from Forest can spend them to plant real trees.
Regardless of the ongoing debate about its effectiveness and implementation, we can collectively agree that online learning has revolutionized how people teach and learn. There are still some gaps and holes that need to be filled in, but it has opened opportunities for those who are far from the schools and universities where they work and study. With proper planning and implementation, I believe that online learning can improve the nation's literacy rate despite the challenges of the past two years.
Words by Jewel Sta. Ana
Also published in Gadgets Magazine August 2022 Issue