The world of beauty is a female-dominated industry. Although widely regarded as a profession for women, there are a few brilliant men who dare to challenge the norm. One of them is Doctor Levi John Lansangan, medical director of DrShimmian Aesthetics Center.
Dr. Levi started his medical journey as an ears, nose, and throat (ENT) specialist. On his fourth year of residency, he would perform surgeries on patients who suffer from facial trauma or carcinoma of the face and neck. These surgical procedures are bound to leave lasting marks on patients, disfiguration even.
Due to these visible scars, patients are at the risk of developing depression. Being exposed to this situation on a regular basis sparked the desire in Dr. Levi to do something more than just performing surgeries on these patients. He was inspired to restore the confidence of his patients by improving their appearance.
This vision was furthered when he travelled to South Korea to attend an ENT congress. Life sure has a funny way of pushing you toward your destined path. It became clear for Dr. Levi when at the venue of the ENT congress, a medical aesthetics conference happened to be simultaneously taking place. Dr. Levi cheerily recollected, instead of going towards his original travel agenda, he waltzed right into the latter.
Now with eyes opened to the world of beauty, Dr. Levi made a pact with himself to master the profession once he finished his residency. Sure enough, he came back to South Korea, attended a good fellowship in facial plastic and cosmetic surgery, and was mentored by one of Korea's best facial reconstruction surgeons.
New expertise under his belt, Dr. Levi went back to Manila and started on his journey of helping make people the best version of themselves. As a result of his determination and hard work, DrShimmian Aesthetics Center was established in 2005 (formerly Shimmian Manila).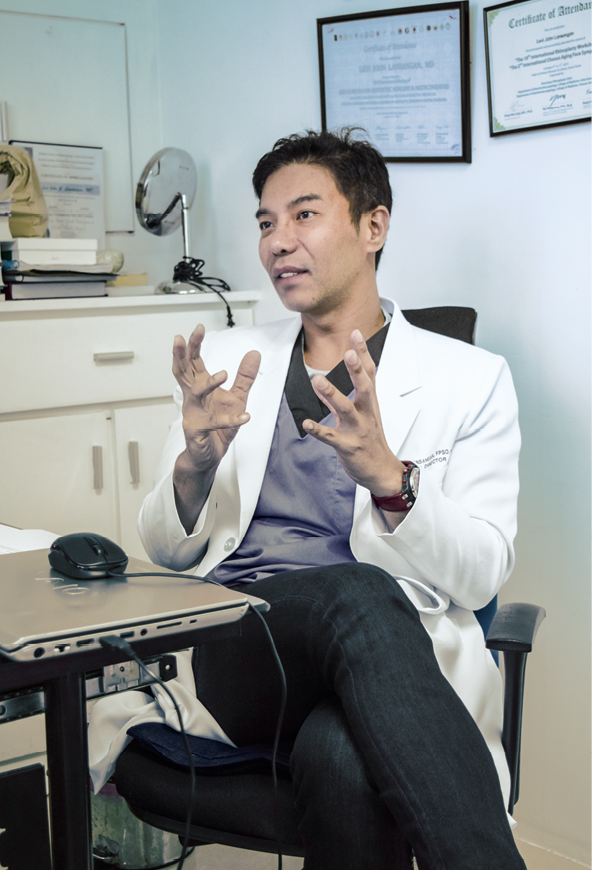 It wasn't a bed of roses, Dr. Levi shared. There were, and still are, lots challenges to overcome. Starting a cosmetics surgery business in a rather conservative country is already a challenge in itself. Limiting factors such as fear of judgement, resource, and disapproval from loved ones also abound in our culture. There would also be unrealistic expectations, but at the end of the day, trust has to go both ways. Doctors aren't magicians after all. Amidst all these, Dr. Levi remained optimistic.
These boulders began to crumble as years went by. The beauty business is booming and Filipinos are becoming more and more open to cosmetic enhancement procedures. In this world, everybody wants to become beautiful. Just do a quick browse on your social media feeds and you'll see the magnitude of the beauty industry here in the Philippines. DrShimmian gets an average of 50 to 100 cosmetic surgery bookings per month. He further shared that gender ratio is half and half.
Dr. Levi is now one of the most sought after plastic and cosmetic surgeons in the country. When it comes to services offered in DrShimmian, Dr. Levi doesn't do hard sell. Patients come to him knowing what they want to get fixed. However, he will make suggestions on what procedure should be done according to the patient's willingness.
A specialist in rhinoplasty and facial plastic surgery, Dr. Levi still attends workshops out of the country to learn new techniques and to improve his craft. He's also one of the pioneers in gore-tex rhinoplasty in the country.
When asked what's down the pipeline for his clinic, the doctor shared his plans of increasing DrShimmian's presence by opening branches in key cities such as Cebu and Davao. With this plan of expansion, he plans to hire and mentor some doctors to handle provincial branches.
DrShimmian Aesthetics Center currently has three branches: SM Southmall, Medical Plaza Ortigas, and SM Pampanga. Its fourth branch in Arnaiz Ave., Makati will be opening soon.
Also published in GADGETS MAGAZINE June 2017 issue
Interviewed by Mia Carisse Barrientos