A more joyful online experience is in store for you with the convenience of ordering through the Jollibee App! Not only do you get your Jollibee favorites in a few and easy steps, but you can also enjoy them fresh and hot at the comfort of your home.
Have a smooth time ordering with the new delivery app's features and upgrades: customers can now order Jollibee favorites with ease using their smartphones via seamless and easy-to-use interactive menus that allow users to navigate between the latest food options. Ordering is made even more convenient with cashless payments, a quick checkout process, and the option between pick-up or delivery.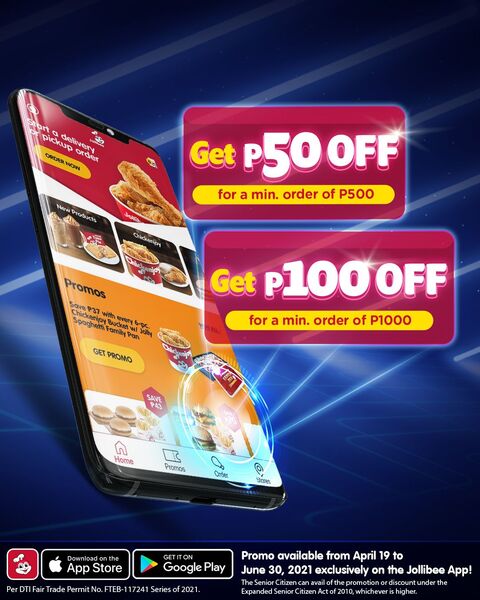 What's more, customers can avail of exclusive deals and discounts to make their ordering experience more joyful! Those who have already registered to the Jollibee App can get PHP 50 off for minimum orders of PHP 500 and PHP 100 off for orders of PHP 1,000 and up from April 19 to June 30. Meanwhile, first-time users get a special treat from April 19 to 25 of 50% off their orders with a maximum discount of PHP 100. There's also a special welcome gift for new users of the App, who can redeem coupons and choose between a free Jolly Spaghetti with Coke or free Tuna Pie with Coke on their first transaction.  Valid from April 26 to June 30, this exclusive promo allows customers to not only get additional savings but also add more of Langhap-sarap favorites to their orders for sharing with family and loved ones. 
With most of us still confined in our homes, we can still experience more Joy just by using the Jollibee App. Bonding with friends online can be more enjoyable with our favorite meals, online classes and work-from-home can be a more fun and filling experience with a much-deserved lunch or afternoon break, and nothing beats quality time with the family while partaking of a delicious and hearty Jollibee dinner.  
It's time to experience the app's smooth and easy-to-use feature by downloading it now on the Google Play Store of the Apple Store. Have a more joyful online experience only with the Jollibee app! Discover more joy by watching Jollibee's latest animated video on their official Facebook and Youtube pages.