Travel and food go together. Going places not only entails the discovery of new cultures, but also introduces different flavors to one's palate. Whether traveling domestically or outside the country, you're bound to encounter a taste you'll fall in love with and would want to return to.
If you're craving Asian, American, or maybe a mix of both cuisines, there's no need for you to fly out. Approximately an hour away from Metro Manila, Pacita in San Pedro, Laguna is a gastronomic destination. The district's Pacita Avenue is a food hotspot, akin to Quezon City's Maginhawa area. Along the stretch is a two-level establishment that is home to WGM Cafe and Pizzeria, Oppa Samgyeopsal, and Jeju Bingsu and  Dessert House, all of which promise to hit the spot.
Trendy chill spot with great food and coffee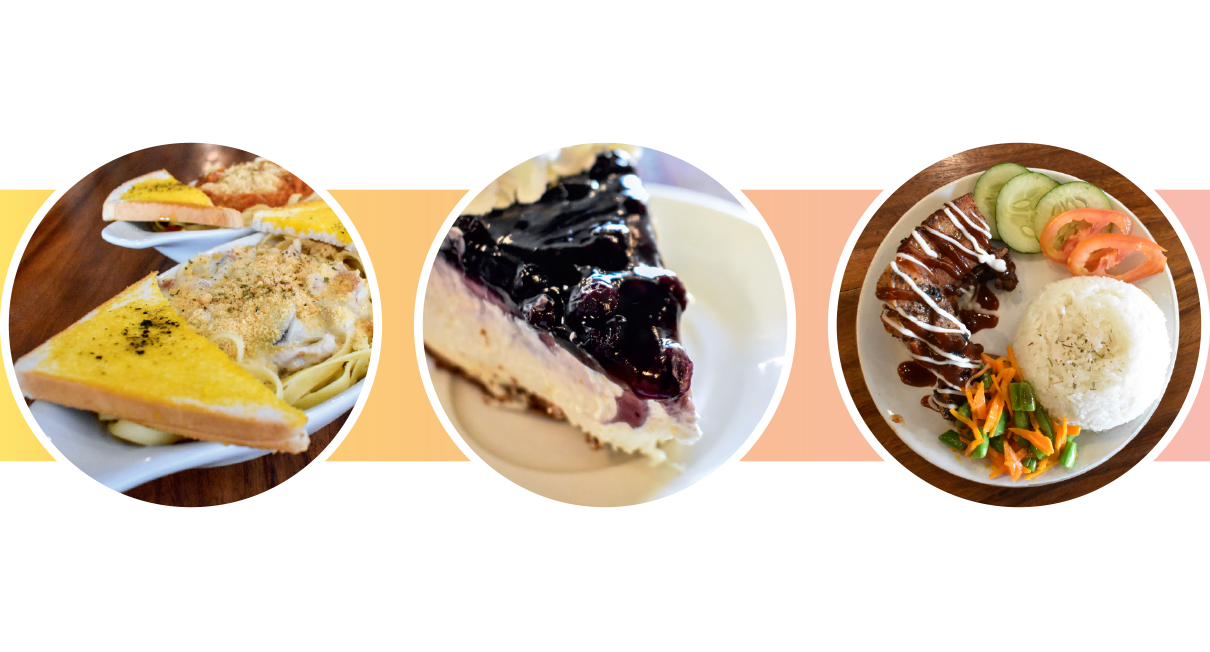 On the first floor of the establishment is WGM Cafe and Pizzeria. WGM's concept is self- indulgence. This reflects in the restaurant's food offerings as well as its interiors.
WGM's design is warm and inviting, making you want to stay just a little longer. Cozy furniture and quiet nooks abound, offering you a place to stay whether you're alone, or hanging out with friends. There are inspiring quotes on typography printouts hanging from the ceiling, trendy decor, as well as board games available for borrowing. The best part of the WGM experience however, is a hidden staircase revealed as you slide a bookshelf to the side. The steps lead to the cafe's second level, which features rustic components for a look that seems to have jumped out of a fantasy novel. It has a cozy loft on one side, with its dreamy swing seats, and another side has tables set on tatami mats. The second level can be rented out for events.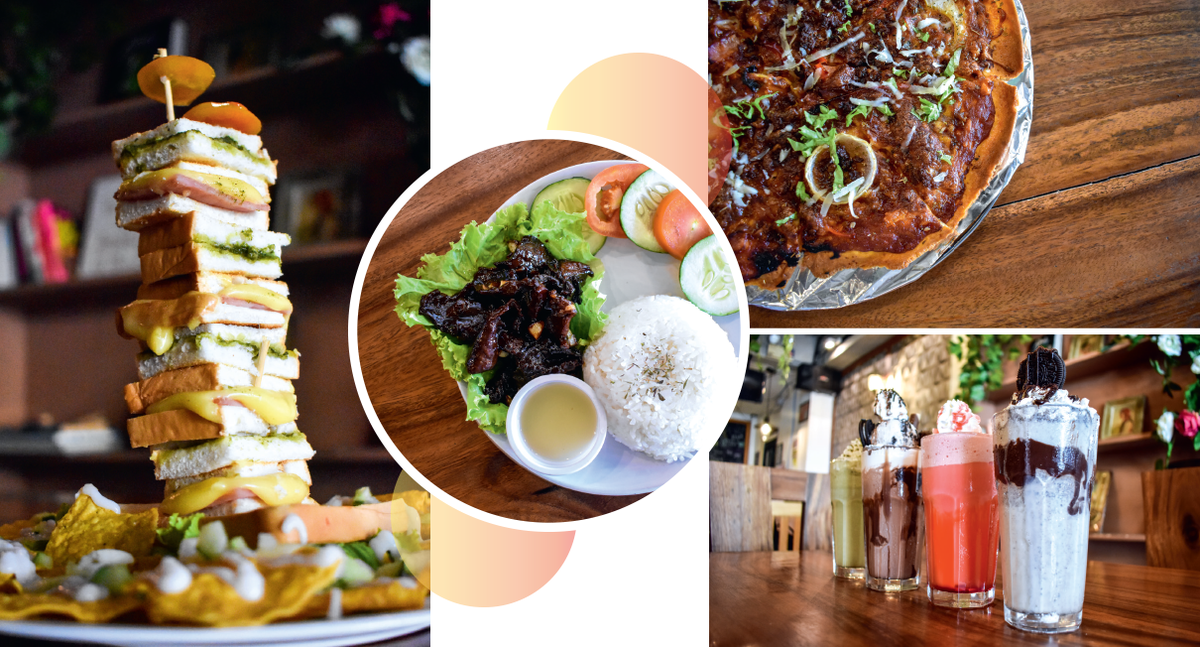 But the full indulgence can only be experienced through WGM's signature dishes. The restaurant serves rice meals, sandwiches, pasta, and different kinds of beverage inspired by fusion of Japanese, Filipino, and American flavors. For light eaters, WGM's sandwiches are served with a side of potato chips. Their best-seller, the Tokyo Tower, is a tall stack of chicken pesto, a BLT, and ham and cheese, in white bread. The restaurant also serves fettuccine with either Filipino-style tomato-, basil pesto-, or creamy bechamel sauce. Its most popular rice meal is the classic garlic tapa and its thin-sliced beef marinated in tangy, sweet sauce and fried to perfection.
While you can dine solo at WGM, it is also perfect for groups. The restaurant has a selection of meals for sharing as well as Barkada Snacks including chicken wings and lollipop, burgers, nachos, fries, and different flavors of pizza. A perfect match for these munchies are coffee, blended drinks, milkshakes, yoghurt, and house blend drinks complete with toppings. Despite the huge helping of items in the menu, prices at WGM are relatively cheaper, making it an ideal hangout spot for just about anyone.
K-BBQ that will make you drool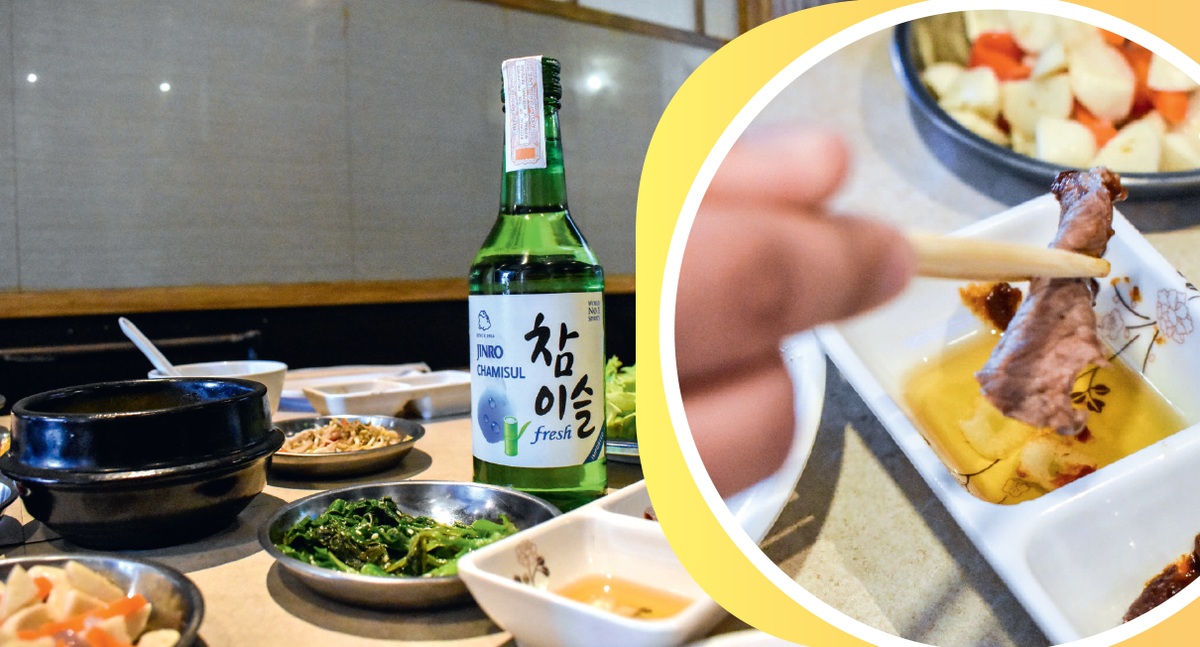 Korean barbecue is a food trend that is here to stay, and it is evident in the many K-BBQ restaurants that have appeared all over Metro Manila. In Pacita, meanwhile, there's a restaurant making headlines. Oppa Samgyeopsal is proud to be the first of its kind in the district. Occupying a space on the building's second level, Oppa Samgyeopsal is frequented by K-pop and K-drama fans as well as meat-loving diners.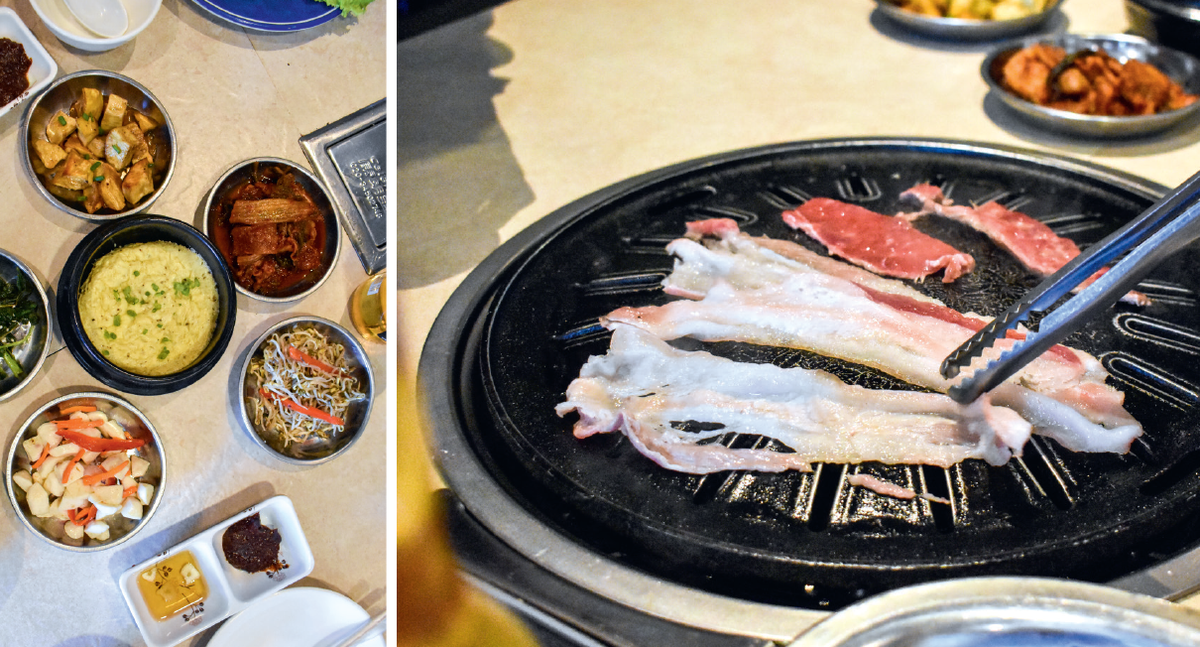 For only PHP 329, customers can start grilling unlimited marinated bacon-thin pork belly which is extra rich in flavors. And if they want beef thrown in the mix, they would only need to shell out an additional PHP 70. The sets come with unlimited rice, lettuce, egg rolls, beef soup, and side dish servings, so you can mix and match to your liking. For customers who prefer a little extra flavor, they can opt for marinated meat. To make the Korean-BBQ experience more exciting, you can have unlimited serving of soft and chewy mozzarella to go with your grilled meat for an additional PHP 50 per person. Oppa Samgyeopsal also sells soju and Korean ice cream to complete the Korean BBQ experience.
Refreshing ice-cold delights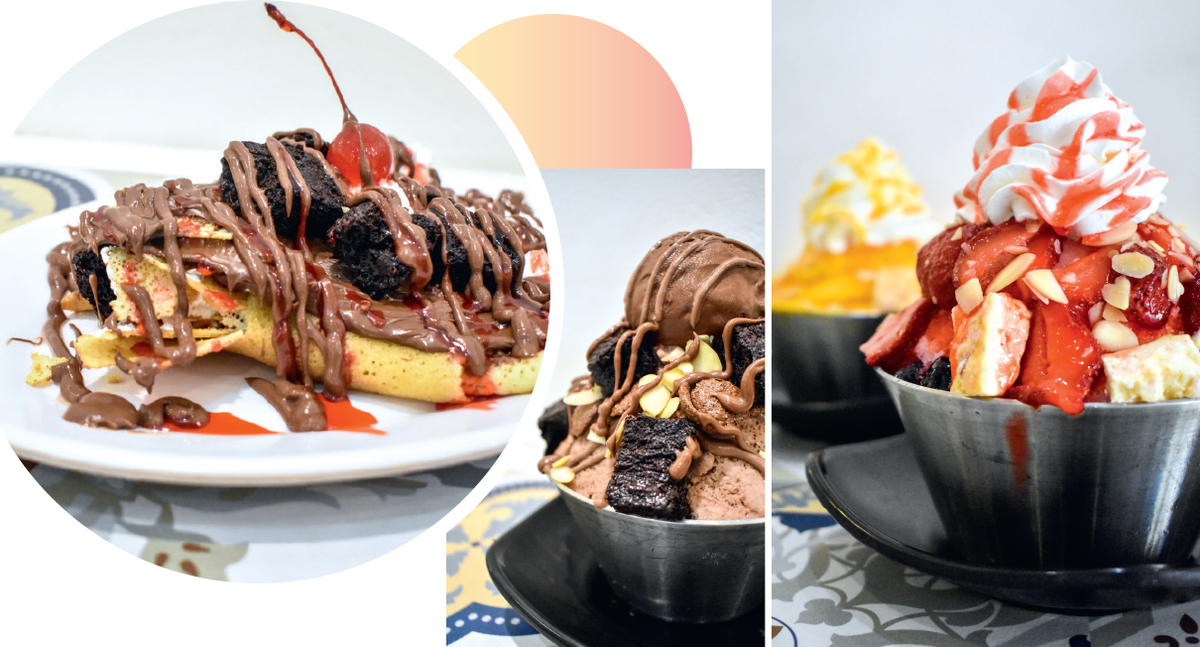 To ease stuffiness brought about by unlimited grilled meat, there's Jeju Bingsu and Dessert House on the building's first level. The place has a pleasant ambiance with its milky white walls and minimalist art decor. 
The hero of its menu is Korean shaved-ice topped with different choices of fruit, nuts, and sweet treats. Among its most sought after variants is the Seoul Strawberry Special, which is an overflowing bowl of milky shaved-ice, garnished with strawberry syrup, strawberries, blueberries, and cheesecake cubes. The Gumi Chocolate, which is another must try, consists of chocolate-flavored shaved-ice with brownie slices, chocolate flakes, and ice cream brimming on the surface. The Korean dessert can be had regular- or double-sized.
Apart from cold desserts, customers can also get their crepe fix at Jeju Bingsu. As their meal is being done, customers can watch the crepe being prepared, cooked to golden perfection, stuffed with flavorful fillings, and topped with any of a variety of sweet delights.
The three restaurants are owned and managed by Laguna-native, and young entrepreneur Jary Rie Olivares. A physical therapist by profession, Jary got her start in the food business at the age of 25, and continues to learn the ins and outs of the food industry. WGM, which is her first restaurant, now has three branches across Laguna–Binan, Pacita, and Cabuyao. She also plans to further branch out with a pending opening of Oppa Samgyeopsal at SM Lucena, and moving forward other spots in the south. Driven by her love of food, Jary has turned a 25-year-old building into a dining attraction visited by customers from all walks of life.
Go on a trip and feast at these restaurants. They are located at Pacita Avenue, San Pedro, Laguna.
Also published in GADGETS MAGAZINE December 2018 – January 2019 Issue.
Words by Mia Carisse Barrientos
Photos by Theresa Eloriaga