World Food Tour
Ding! Lunch time! if you're anything like the rest of the working world, you spend a lot of time picking a place to eat, ultimately settling for fast food. Break that habit. Join us on a quick food tour, and broaden your horizons!
Cyma
Cyma recently celebrated 10 years in the business, and if in those 10 years you haven't quite figured out how to pronounce their name, it's "see-ma." You're welcome. Translated to English, that means "to flourish."
Chef Robby Goco came up with the idea when he traveled to Greece and was exposed to the rich flavors of Greek cuisine. The first branch opened in 2005 at Boracay island, and now, more than a decade later, they have eight branches nationwide.
To keep the authenticity of the dishes and the quality of the food as close to that which you might get if the Mediterranean was outside your window, some of Cyma's ingredients are sourced directly from Greece.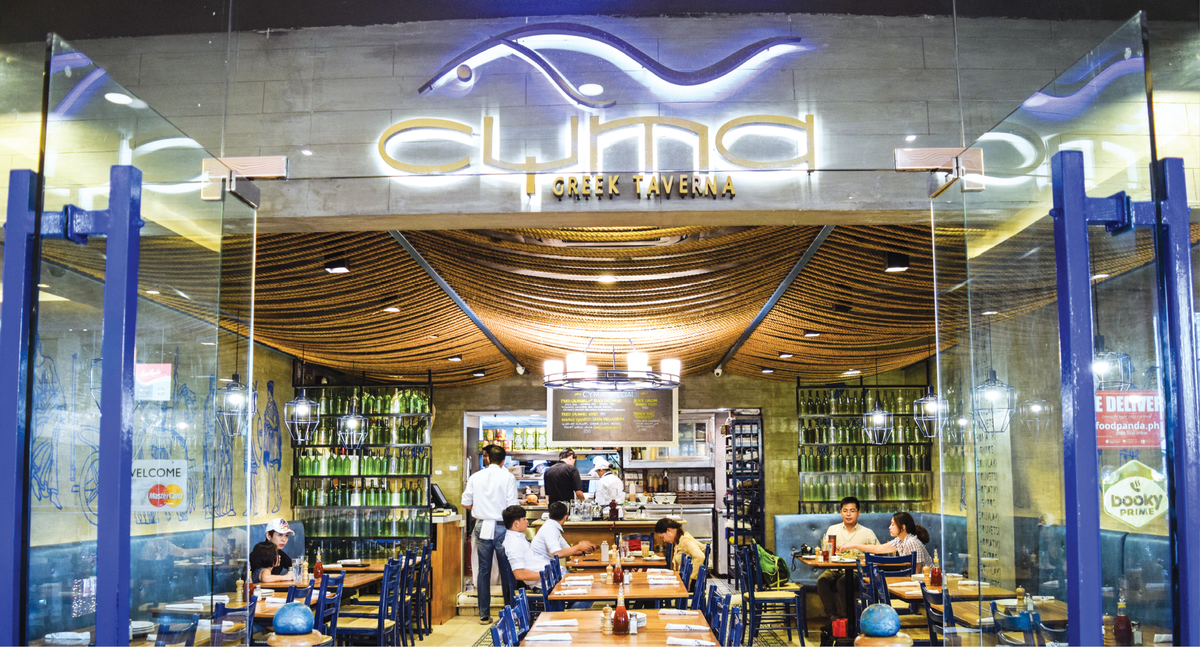 Experience: Seeing Cyma's branch at Shangri-La feels like being transported straight to Greece. Its blue and white color scheme is refreshing and welcoming. Simple details from Greek mythology, and details that would not look out of place on Mykonos add to the place's serene vibe.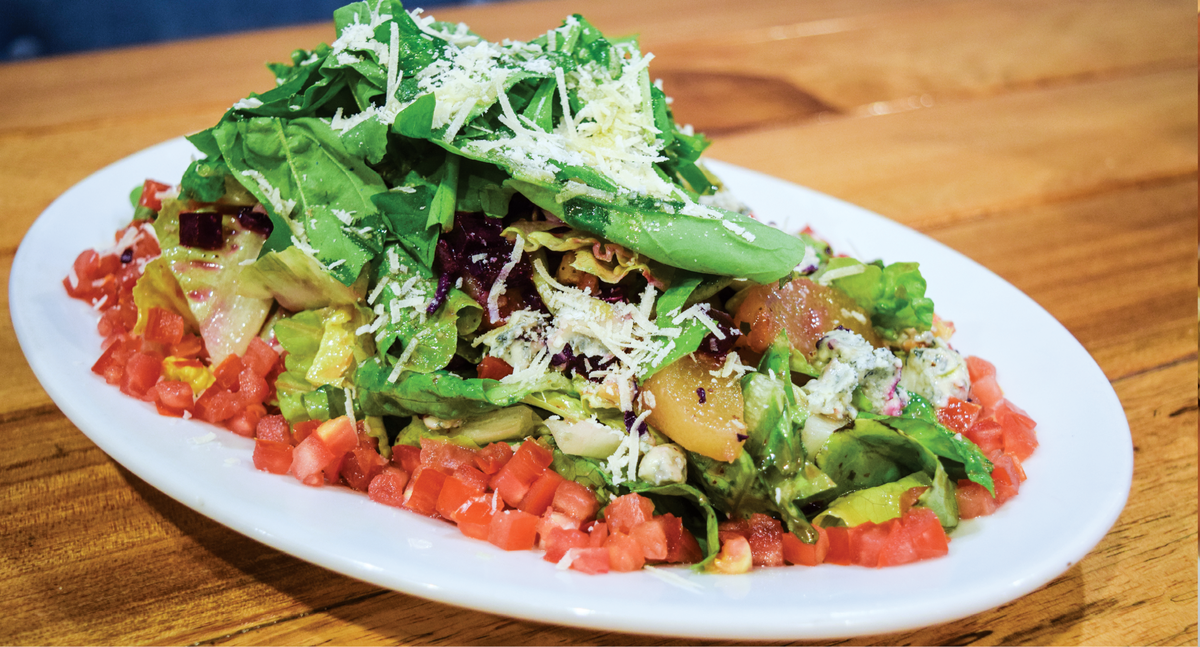 To start the meal off, we were served a chopped salad with mixed greens, walnuts, caramelized pears, crumbled blue cheese, tomato, and grated Parmigiano Reggiano topped with their signature herb vinaigrette.
If there's one thing I learned, Greek food is known for having five staple ingredients: salt, pepper, olive oil, oregano and lemon. Greek cuisine brings out the natural flavor of the ingredients without over doing it.
As for the salad, I loved it so much as the tangy dressing brought zing to the crisp vegetables. The blue cheese gave richness that rounded the dish out nicely. It was also my first time eating caramelized pears – it was delightful.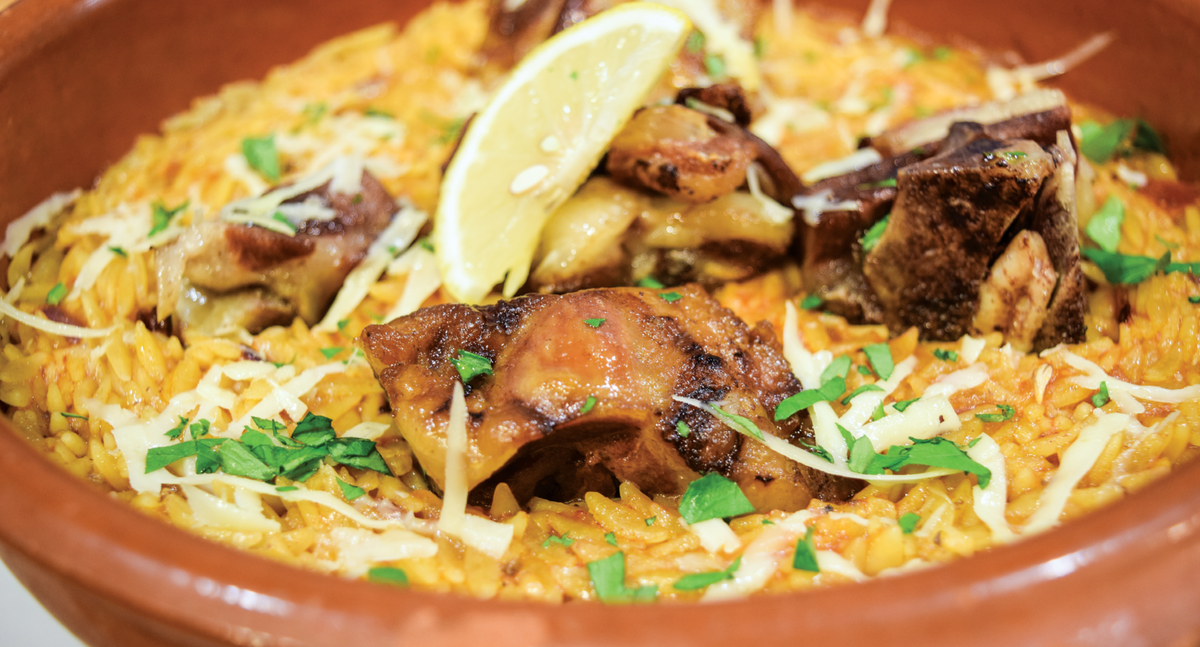 Next up was Lamb Yiouvetsi which was baked lamb with orzo (a kind of pasta), served with grated kefalotiri, parsley and olive oil. The subtle flavor of the orzo was an interesting experience for a first-timer such as myself, and was the perfect complement to the strong flavor of the lamb.
For the main course, we were treated to Kreatika (a meat platter) consisting of Lamb Keftedes (meatballs), porkchop, Kalamaki sticks and lamb shoulders. This platter is a carnivore's dream. The generous portions of meat provide enough for a family of four. The porkchop is my personal favorite because it was cooked perfectly–was juicy and tender. I love the combination of tzatziki sauce and greek chimichurri. I could literally put these dressings in my food.
Writer's tip: I really had a great time experiencing Greek food for the first time. This will not definitely be my last visit.
Location: Shangri-la Plaza Mall, Level 6, Mandaluyong, 1552 Metro Manila
Contact no.: (02) 637 3090