Sheraton Manila Bay continues to be the world's gathering place as its seasoned culinary team assembles a delectable array of signature recipes, refreshing healthy options, and the comforting taste of authentic local cuisine to satiate diners and families at home.
Gourmet takeaways is available for pick-up daily from 9:00am to 6:00pm and will feature home-cooked goodness good for sharing, rice specialties, salads, pastas, sandwiches, breads, pastries and cakes. The home-cooked goodness selection includes pot roast beef, lengua estofado, pepper roasted pork loin, whole spanish roasted chicken, and "buchon" pork belly roulade.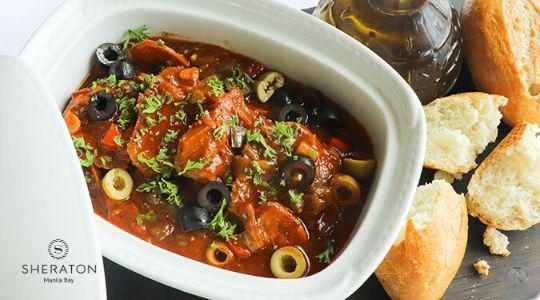 Power up with the tastiest and freshest sandwiches such as beef shawarma, chicken shawarma, and the bestselling pulled pork a la cubano. For healthy options, select from mango kani salad, vegan aubergine salad, caesar salad, and the new caesar by the bay.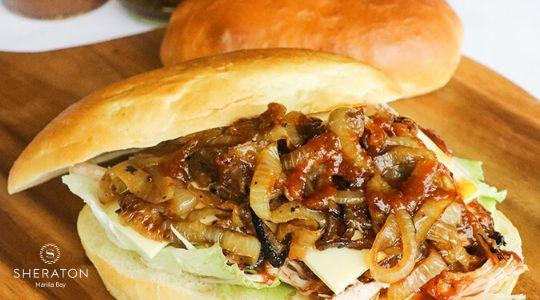 Epicurean diners are in for a treat with Sheraton Gourmet Rice Box or Seafood Paella perfect to pair with a side order of choice such as garlic mashed potato, ranch fries, rustic herb sautéed potatoes, Asian fried rice, and steamed rice. Foodies on the look-out for lighter meals may indulge in pasta specialties of spaghetti shrimp scampi, fettucine carbonara, and penne puttanesca with blackened chicken.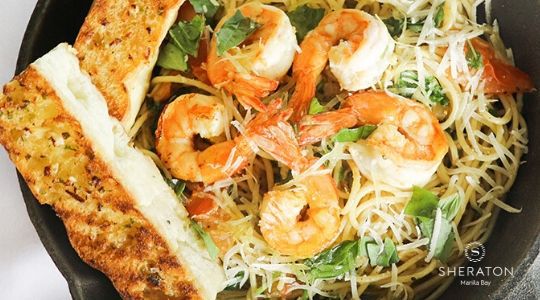 Perfect for breakfast cravings are freshly baked dark chocolate brownies, homemade banana bread, farmer's bread loaf, hand crafted doughnuts, assorted muffins, chocolate chip cookies, soft rolls, hard rolls, and ube cheese pandesal. Make celebrations at home sweeter with pastries and cakes-to go including the hotel's signature mango tart, dalgona tiramisu, dark chocolate supreme, and mango cheesecake.
Advance order is required. A 45-minutes lead time is needed for salad, sandwiches, pastas and rice dishes and 1-day lead time for breads, pastries, cakes, and home cooked goodness. Diners should arrange pick-up with their courier of choice. Cash and credit card payments are accepted. The hotel implements a No Mask, No Pick-up policy and has designated a pick-up point at the hotel main entrance canopy area to ensure social distancing as well as health and safety precautions are met.
For a full listing of gourmet takeaways menu, please visit http://bit.ly/theculinarycouriermenu.
#DiscoverDeliciousDelivery and bring home the familiar Sheraton taste and flavors. For orders, please call +632 5318 0788 or email [email protected]
Sheraton Manila Bay is located at M. Adriatico cor. Gen. Malvar Streets, Malate, Manila. Follow their social media accounts on Facebook, Instagram y and Twitter.