In this age of social media, the statement "if it's not Instagrammable, it's not worth going to" rings true, at least for the citizens of the Internet. Businesses are decorating their stores to make them appealing both in person and through the lens of a camera. While great food is still the most important thing to consider, Zoo Coffee hits the perfect balance between flavor and good looks.
A themed cafe hailing from nowhere other than South Korea, Zoo Coffee offers customers good food and photogenic interiors. A franchise established in the Philippines early in 2015, the cafe is permanently occupied by plush animals resting among lush faux trees and wooden tables and seats to bring an experience much like a cute, cuddly safari. The walls, meanwhile, are done in an artistic jungle theme, and serve as excellent photo backdrops. To go with the theme, the restaurant's staff is dressed as park rangers as well.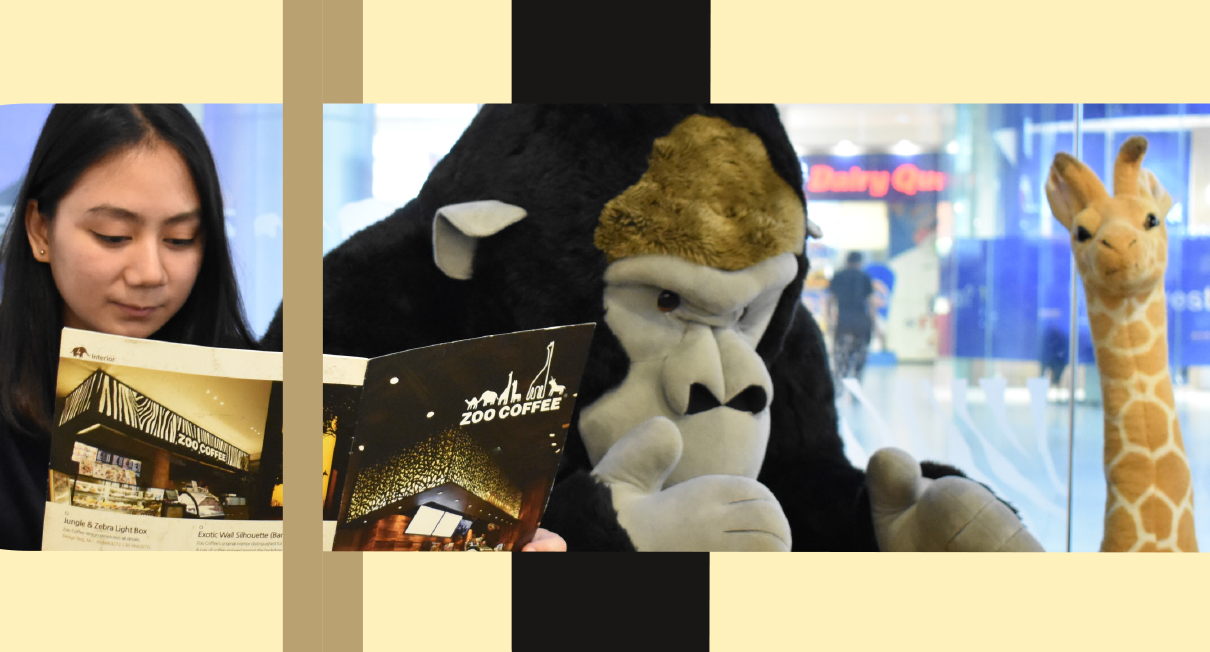 Customers without a companion can choose to be seatmates with adorable stuffed animals. Here, nobody has to dine alone.
The selection of food and beverages offered at Zoo Coffee ranges from specialty coffee, iced coffee, smoothies, gelato, waffles, bingsu, sandwiches, and more cafe fare. Given its Korean roots, Zoo Coffee also serves items infused with Korean favorites such as ginseng. Our team was served with some of Zoo Coffee's specialties, and the gastronomic experience was nothing short of mouthwatering.
First on the table was their Mango Waffle. A whole plate waffles, crisp on the outside and soft inside, is smothered with a sweet mango sauce. The dish is garnished with whipped cream, mango cubes, and a scoop of mango gelato on the side.
Korea's Patbingsu or shaved ice topped with fruit, ice cream, and other sweet goodies is perfect for warm days, or when you're craving for a refreshing snack. Zoo Coffee serves different varieties of this dessert, and one that is really popular among patrons is the Double Berry Bingsu. Finely shaved ice, a tart strawberry relish, red beans, and fresh strawberries make this dessert a must try.
For coffee, we got to try the cafe's own cafe latte. Served in an extra-large mug, this frothy latte has a rich, satisfying coffee flavor that's perfect for a rainy day inside.
We also got to try one of their seasonal beverages, the Yuzu Yoghurt smoothie. This citrusy beverage is as invigorating as it is healthy with the sharp yuzu citrus as its main component.
Apart from appetizing treats, the cafe also has on display Zoo Coffee-branded merchandise such as tumblers, glasses, and brews which customers can purchase. According to Zoo Coffee branch manager Ivan, they envision their " Zoo in the city " concept to serve as haven for customers of all ages. With a relaxing ambiance, customers can kick back and enjoy a cup of coffee, the Korean way.
Zoo Coffee is present throughout Asia. Currently, it has three branches in Metro Manila: the first is in Alphaland Makati, another is located at the lower ground floor of SM Megamall Building A, and their largest branch can be found at Ayala Vertis North, with more branches set to open before the end of the year.
Also published in GADGETS MAGAZINE September 2018 Issue.
Words by Mia Carisse Barrientos • Photos by Theresa Eloriaga