Cisco's Country Digital Acceleration (CDA) program in the Philippines takes the form of UGNAYAN 2030, which aims to build greater digital resilience and is designed to address the gaps the Philippines is facing including uneven access to ICT resources, weak cross-organization structure, and adoption of technologies and limited expertise and manpower. Since its launch in 2020, UGNAYAN 2030 has completed numerous projects under key pillars of connectivity, collaboration, and cybersecurity.
Cisco and the Department of Information and Communications Technology (DICT) have signed a Memorandum of Understanding to power DICT's E-Government Masterplan under Cisco's CDA "collaboration pillar", with the aim of enabling a harmonized, interoperable, and integrated government ICT infrastructure.
"We are confident of this partnership. The initiative is set to enhance the government's ability to collaborate more effectively and will help boost the government's drive toward digital transformation," DICT Secretary Ivan John Uy stated.
"We are delighted to further our long-standing relationship with DICT by providing them with the means to collaborate without compromising on security," said Cisco Philippines managing director Zaza Soriano-Nicart. "We look forward to harnessing our rich ecosystem and expertise in working with government agencies globally to help build a future-ready ecosystem in the Philippines through the deployment of innovative technology and solutions, starting with our secure collaboration portfolio to power hybrid work."
Under the partnership, Cisco will provide collaboration tools such as Webex boards, room kits, and licenses, as well as integrated security solutions to bolster DICT's security posture. This aims to improve the efficiency and effectiveness of public service, enhance inter-agency collaboration through digitization, and empower public servants to concentrate on their mandates by reducing stress levels on traffic congestion and complex platforms.
Getting hybrid work right brings the Philippines one step closer to digital inclusion and resilience. As the country transitions from a "response" to a "resilience" phase in its digital journey, Cisco is committed to powering an inclusive future for all, both businesses and individuals alike.
Cisco's Country Digital Acceleration (CDA) program is a strategic partnership with government leadership, industry, and academia to accelerate countries' national digital agendas and create new value for a country, its industries, and its people. Today, CDA is present in 44 countries, with over 1,400 active or completed projects.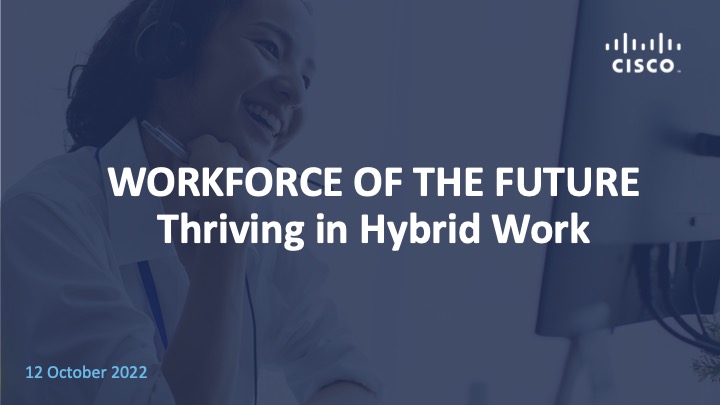 Hybrid work is here to stay
Hybrid work has transitioned from a buzzword to a business imperative and it is here to stay, according to Cisco. Over the past three years, employers and employees have experienced the myriad of benefits across productivity, work performance and well-being that come with hybrid work.
As part of her visit to the Philippines, Cisco ASEAN president Tay Bee Kheng joined Cisco Philippines managing director Zaza Soriano-Nicart in a series of engagements to reaffirm Cisco's commitment to power Filipino businesses, workforces, and communities, and pave an inclusive future for all in a hybrid work world. "Hybrid work is a groundbreaking new norm that has shaken up convention for good," said Tay.
Digital services have provided a lifeline for normality over the past few years. In fact, 85% of respondents surveyed globally say applications and digital services have become a critical part of how they go about their lives. This will continue as 73% say they will still rely on digital services post-pandemic, according to Cisco AppDynamics's App Attention Index.
An increasing number of connections between users and devices has expanded the cyber threat attack landscape. This has left businesses more susceptible to cyber threats, with Cisco's Cybersecurity for SMEs in Asia-Pacific report revealing that more than half (57%) of Filipino Small and Medium Businesses suffered a cyber incident in 2021 and over a quarter (28%) sharing that this cost their business USD500,000 dollars or more.
Despite a heightened cyber threat landscape, 60% of employees in the Philippines prefer a hybrid work arrangement, compared to a fully remote or fully in-office work model. This trend has been driven by a significant uptick in productivity, quality of work, and job knowledge. It has also been accompanied by a rise in overall well-being. 90% say hybrid work has helped them save money thanks to the reduction of commuting, food, and entertainment costs, and 92% of employees in the Philippines are happier.
Technology is a bridge to what's possible
Hybrid work is clearly here to stay. According to Tay, more needs to be done from a technological point of view to enable all employees with a consistent and inclusive working experience. Secure connectivity is key to ensuring the long-term viability of hybrid work, with 73% of Filipino employees surveyed saying that regular connectivity issues may limit career advancement and 85% saying investing in cybersecurity solutions will be critical to hybrid work.
"The shift to hybrid work is broader than supporting more Filipino remote workers. Hybrid work is powered by the convergence of people, technology and places." Tay continued, "Hybrid work requires businesses to empower their people to be engaged and productive anywhere with scalable, future-ready technologies from collaboration to networking, security and cloud. It also needs to be coupled with an inclusive work experience that supports people's strengths and preferred workstyles as well as a reimagination of what it means to connect people in a safe, secure and supportive workspace that is tailored to meet each of their individual needs."
Philippine's journey of digital inclusion and resilience