There's no denying that Filipinos love to eat, and not alone, but with family members and friends talking and laughing about their day. In fact, food is what brings people together, not just in the dining room, but in life.
However, when the COVID-19 pandemic hit, everyone had to stay indoors. The Philippine government implemented an enhanced community quarantine all over Luzon, making people stay at home or practice social distancing when they go out to buy essentials. However, not everyone has the time or means to purchase their needs.
Luckily, MyKuya, a digital marketplace for hiring services in real time, continues to operate for both its driver community and consumers. Since the community quarantine was imposed, MyKuya continues to accept shopping and delivery requests from consumers to cater to the needs of people staying at home while, at the same time, helping riders earn during the lockdown. 
Since the start of the ECQ, MyKuya noticed that most of their customer base were requesting their Kuyas or Ates to buy similar items. This shows that even under a lockdown, Filipinos are still connected through food.
What exactly are the common items that unite the Filipino people?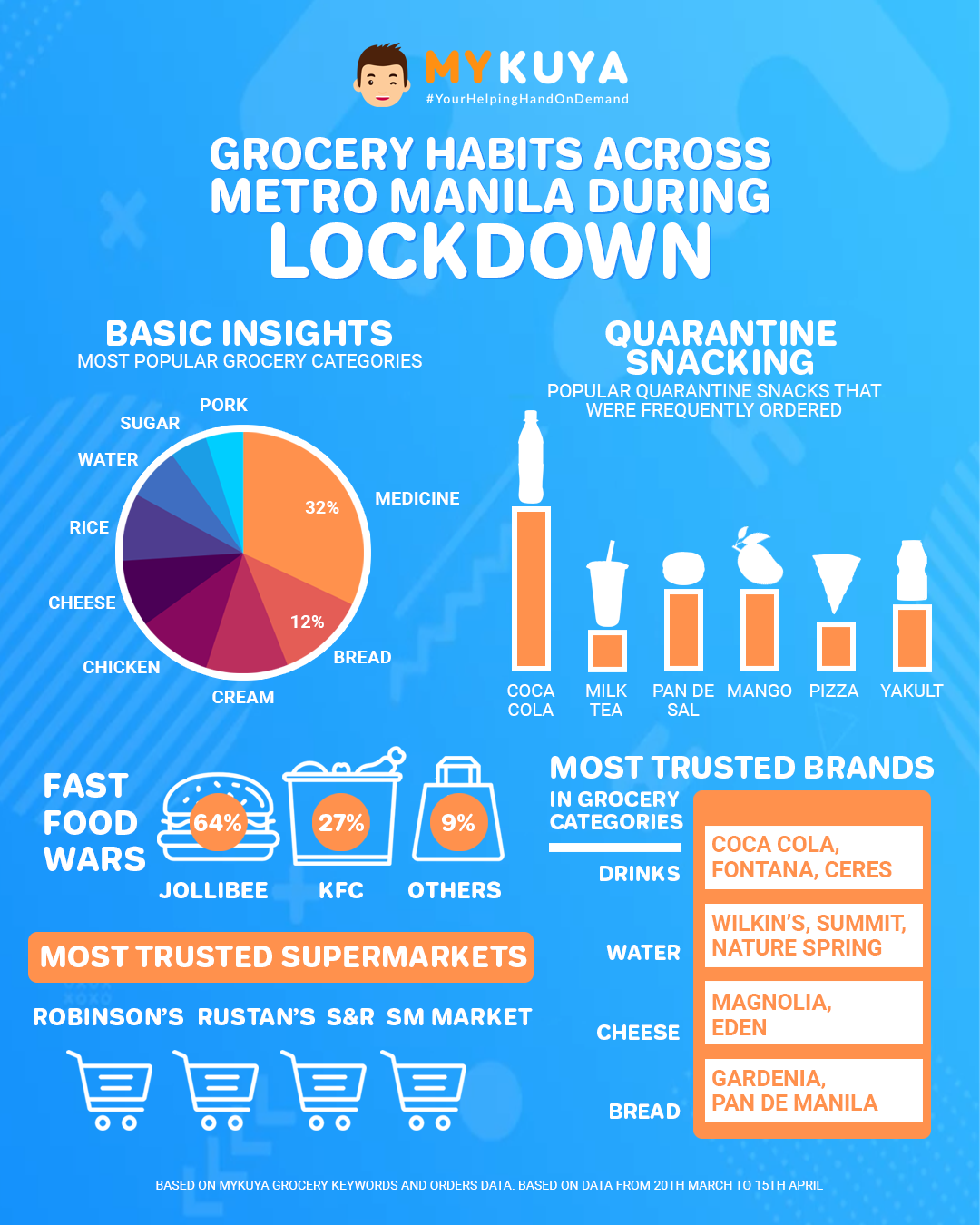 Common grocery and buying habits in the metro
MyKuya observed from March 20 to April 15 that consumers generally stock up on staples such as medicine, bread, chicken, rice, water, and cream cheese. 
The consumers also requested snacks so that they have something to munch on when they're binge watching movies and tv shows at home to beat the boredom. Some of the snacks that consumers requested their Kuyas or Ates to buy are soda, milktea, bread, pizza, Yakult, and mangoes. Nothing's more Filipino than having a fresh slice of mango on rather hot days!
Among the most requested drinks are Coca-Cola, Fontana, and Ceres. And since staying hydrated is essential, consumers asked their Kuyas or Ates to purchase water, with Wilkin's, Summit, and Nature Spring as the most trusted brands.
Among the range of grocery establishments in Metro Manila, MyKuya consumers asked their Kuyas or Ates to shop from Robinson's, Rustan's, S&R, and SM Market. Consumers also requested Kuyas and Ates to pick up bread, particularly Gardenia and those from Pan de Manila. As for their cream cheese, consumers ordered either from Magnolia or Eden.
But none of these goods could compare to fast food. Nothing unites Filipinos more than their love for Jollibee and its specialty Chicken Joy. MyKuya discovered that most of their consumers ordered from Jollibee, while the rest settled with KFC and other fast food establishments.
Creating opportunities in difficult times
MyKuya's main mission since it launched is to create 1 million job opportunities in the Philippines. When MyKuya launched an online job fair in March, it saw 1,000 applicants in just 45 minutes, a fraction of the 10,000 applications the company has received so far. The firm is also encouraging businesses such as manpower agencies and traditional service providers to onboard with MyKuya and take advantage of technology to reach more consumers.
For more information, visit https://www.mykuya.com/ or send an email to [email protected].