Almost half a year into evolving community quarantines, most have been looking for activities to "escape" and somehow simulate adventure despite being stuck at home. Among the activities millennials have been engaging in is Astrophotography.
Thanks to night sky's vast and ever-changing landscape that's shrouded in mystery and wonder, not to mention the challenge of capturing all that beauty in one perfect photo, Astrophotography has become a popular activity during these stay-at-home times.
With the and the growing number of astrophotography enthusiasts, vivo teamed up with MJ Magallon, founder of the largest Facebook astrophotography enthusiast group "Astropinas" and a member of the Philippine Astronomical Society, for a live mobile astrophotography workshop this Friday, August 28, at 6:00pm via the vivo Philippines Facebook page.
During the Mobile Astrophotography: Journey to Become a Night Artist live workshop, the famed astrophotographer will be sharing tips and tricks to master mobile astrophotography with the vivo X50 Pro, the premier smartphone for capturing the beautiful masterpiece that is the night sky.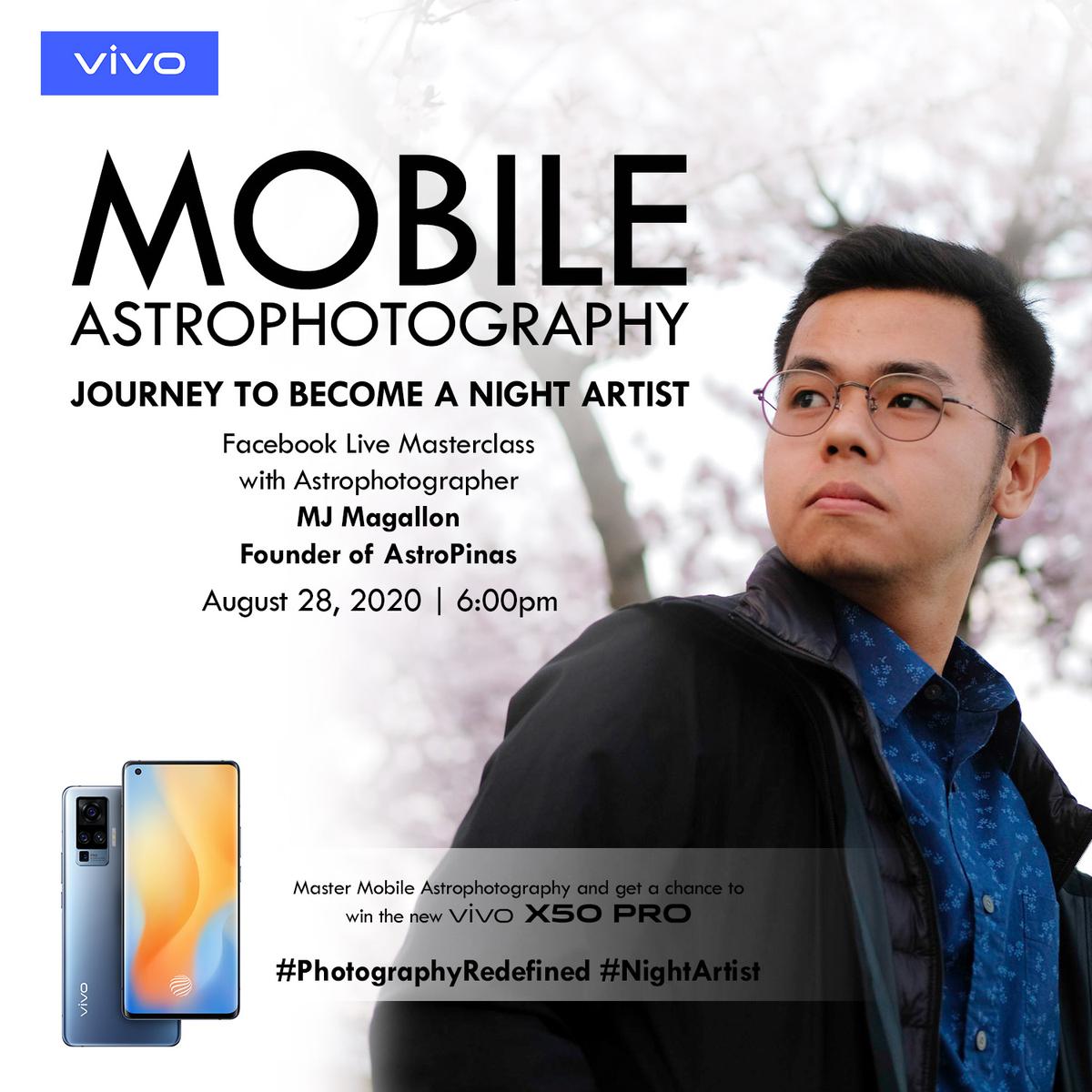 One lucky viewer will also get the chance to win a brand new vivo X50 Pro by simply: liking the vivo Philippines Facebook page; posting a mobile astrophotography picture on their personal Facebook page with the hashtags #PhotographyRedefined, #X50Pro, and #Night Artist; and interacting with MJ Magallon through the live comments section. The lucky winner will be announced on September 11, 2020.
With its Astro mode powered by the smartphone's state-of-the-art gimbal stabilization, Extreme Night Mode, and 60x Zoom, the vivo X50 Pro is the perfect mobile phone for aspiring astrophotographers.
To catch the Mobile Astrophotography: Journey to Become a Night Artist workshop and learn more about mobile astrophotography and the vivo X50 Pro visit  https://www.facebook.com/vivo.philippines/ or https://www.vivoglobal.ph/phone/vivo-X50Pro/. You can also explore the starry skies and avail the latest X50 Pro through Home Credit https://bit.ly/2WFSyhQ.