As the COVID-19 pandemic continues to evolve, this has had a major impact on physical activity levels for over 30 million active Fitbit users around the globe. Fitbit's mission has always been to help people around the world get healthier, and it is more important than ever to do so during these challenging times.
Data gathered from Fitbit users around the world reveals the impact of COVID-19 on global physical activity. As countries adapt to social distancing and community quarantines, it is not a surprise that almost all countries studied by Fitbit experienced a statistically significant decline in average step count, comparted to that of the same time in the previous year.  
The Impact of Coronavirus on Physical Activity All Over the World
Fitbit data scientists established a baseline for normal activity levels around step count in each area by analyzing the activity of millions of Fitbit users with similar characteristics during the same week from the previous year. According to this analysis, during the week of March 22, 2020, the United States saw a 12% decline in step count.
The graph below shows how step count behavior has changed over time on a country-by-country basis. For example, the deviation from normal activity for this time last year occurred much earlier in the year for countries like China and Hong Kong, which were the first to face COVID-19. There are also reasons for optimism, as the graphs reveal that step counts are starting to rise again in China, Japan, and Hong Kong.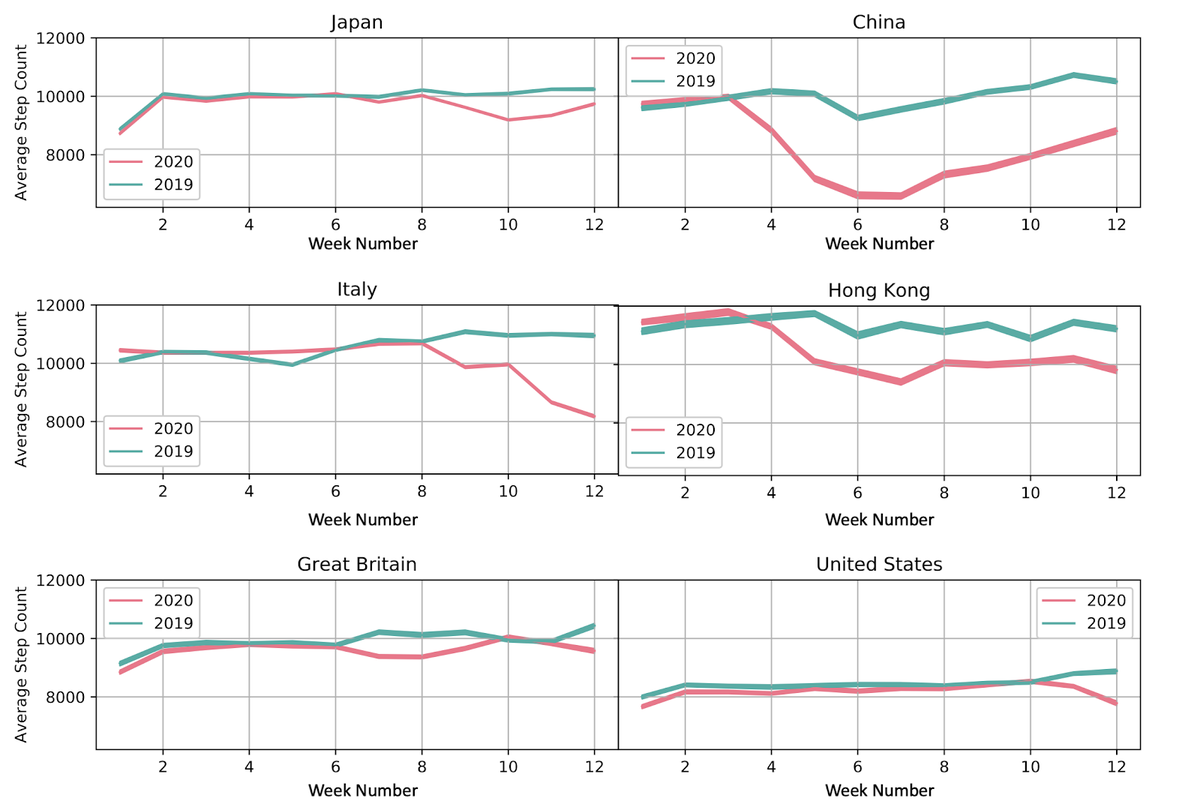 How Fitbit Can Help
Given the current circumstances, Fitbit understands that it is a difficult time to focus on one's own health and fitness. Here are Fitbit's tips to stay health and active to boost your mood and immunity:
To make health more accessible, Fitbit is offering a free 90-day trial of Fitbit Premium to users wherever Premium is available, and offering 40 new pieces of Premium content for free in the Fitbit app. Premium offers access to hundreds of workouts categorized by time, activity, and fitness level—so that you can easily find what's right for you.
You can also take advantage of a variety of guided programs, advanced insights, and sleep and mindfulness tools, to help you eat better, get more activity, and enjoy more quality ZZZ's. To take advantage of this trial, open the Fitbit app and tap on the "Premium" tab in the lower-right corner (this trial offer is only valid for new Premium users).
Maintain healthy habits like drinking lots of water and eating nutritious food.
Need some inspiration when it comes to cooking healthy meals at home? Try whipping up some of Fitbit's healthy recipes! These recipes are free for anyone to access at the Fitbit blog.
Remember to take mental health breaks. 
Are you working remotely and can't seem to turn off? Do you keep refreshing your social media feeds to get the latest intel? In this time of crisis and uncertainty, remembering to take regular mental health breaks is crucial. In fact, studies show that taking a few moments to relax each day can reduce blood pressure and lower your risk of cardiovascular disease. The Relax app provides personalized deep breathing sessions that can help you more easily find moments of calm throughout your day. Choose between two-minute or five-minute long sessions.
Support each other.
Invite friends and family to join you in Fitbit Challenges. These challenges allow you to start a friendly competition and to invite friends and fam to get more steps, support each other, and keep getting your gains virtually. Fitbit Challenges are all about pushing to see who can take the most steps over the course of one day, weekdays, or weekend. Because they are based on the total number of steps achieved—not who reaches a certain step count first—they're a great option for friends in different time zones.