A new study shows that Filipinos and their  Southeast Asian neighbors continue to be highly enthusiastic about owning an electrified vehicle. The enthusiasm is largely driven by a growing need to create a more sustainable future. 
The second edition of the Nissan-commissioned study by Frost & Sullivan, titled The Future of Electrified Vehicles in Southeast Asia was released last February 4, during Nissan FUTURES – Electrification and Beyond, a virtual gathering of industry leaders, government officials, and media. 
Consumer research in the Philippines, Indonesia, Malaysia, Thailand, Vietnam, and Singapore reveals that nearly two-thirds (64%) of respondents across Southeast Asia say they are more willing to consider an electrified vehicle than they were five years ago. 66% of consumers across the region believe they will inevitably adopt electrified mobility as part of their lives in the near future.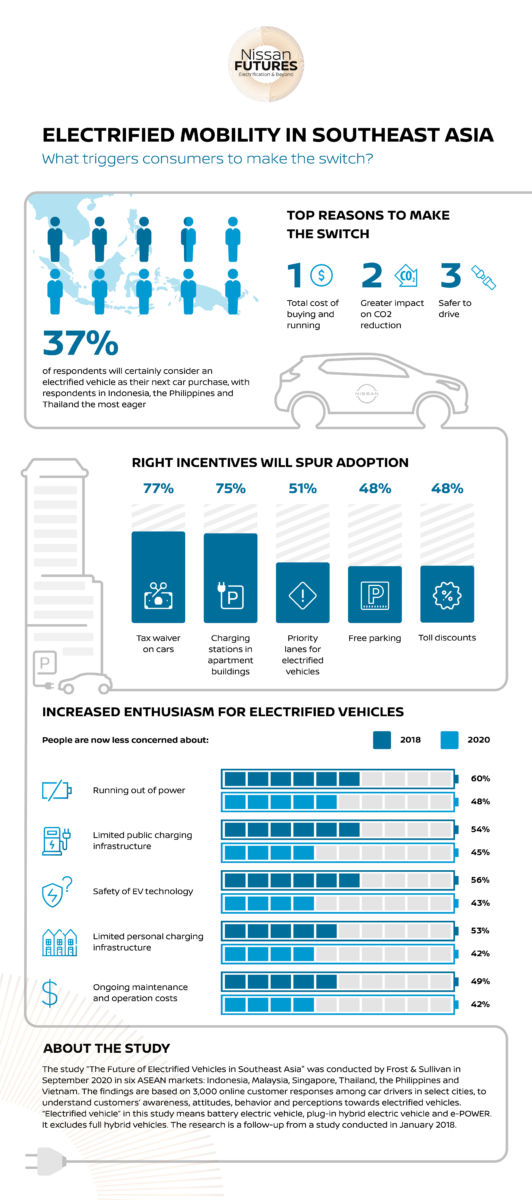 During the Nissan FUTURES discussion, data showed that 45% of Filipino car drivers state they would certainly consider an EV as their next car purchase within the next three years. The positive impact on the environment is the most motivating factor for Filipinos to buy an electrified vehicle, as 46% of respondents — the highest in the region — feel strongly about the environment and climate change.  
Contribution to a greener future
The study also unveils growing environmental awareness across Southeast Asia, with respondents believing that their adoption of an electrified vehicle would undoubtedly contribute to environmental protection. In 2020, 38% of regional respondents can be classified as 'environmentalists', compared to 34% in similar research in 2018.  
This group of consumers is driven by strong environmental awareness and climate change concerns. They view electrified vehicle use as a way to do their bit for the environment. 
81% of study respondents across the region mentioned that their choice would be significantly influenced by different power sources. This care for the environment was found to be most important to consumers in the Philippines and Thailand.
Barriers for adoption reduced
The fear of running out of power before arriving at the charging station (48%) continues to be the most significant barrier in the adoption of an electrified vehicle across the region. While barriers remain, consumers are more enthusiastic about the adoption of electrified vehicles.  
In line with the 2018 findings, over three-quarters of the recent study respondents (77%)  indicate that tax benefits and installation of charging stations at apartment buildings (75%)  are the top-2 incentives for them to switch to an electrified vehicle. For Filipinos to make that switch and be ready for EVs, survey respondents identify tax incentives (80%), charging infrastructure in residential areas (77%), and priority lanes for EVs (52%) as top incentives for that move. This demonstrates the ongoing need for car manufacturers, policymakers, and private parties to collaborate to spur the adoption of electrified mobility through changes that will make Filipinos ready for EVs.