Nissan is teaching Filipinos all about electric vehicles with its infographic, as they prepare for the arrival of the brand's LEAF EV to the country this year.
Nissan believes that the country is ready for EVs, citing a recently Frost & Sullivan survey that states 46 percent of Filipinos are considering EVs as their next vehicle. They also credited increasing government support and construction of infrastructure as key factors on why EVs will be next revolution in the country's automotive industry.
"Nissan is committed in meeting Filipinos' demand for sustainable, safe, and smart mobility by bringing the Nissan LEAF to the country. We will continue to support EV adoption in the Philippines by educating the public on the advantages and benefits of EVs for consumers and for the environment," shares Nissan Philippines, Inc. president and managing director Atsushi Najima.
Here are some of the key things Nissan wants you to know about the LEAF: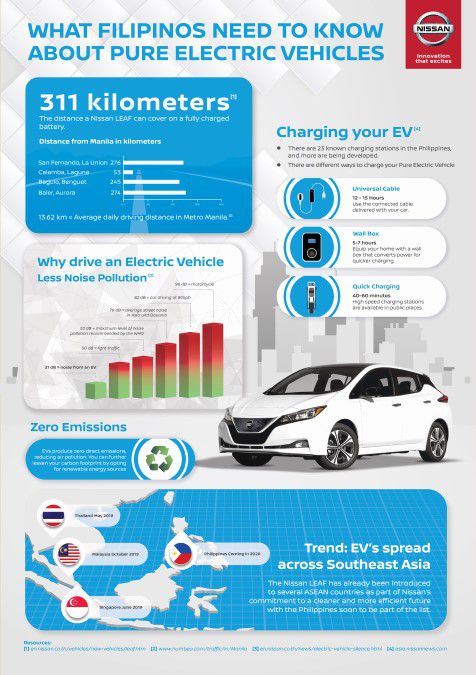 Range
The Nissan LEAF can cover 311 kilometers when fully charged. That's the distance between Manila and San Fernando, La Union. This allows drivers to easily travel to Calamba, Laguna (53 km), Baguio, Benguet (245 km), or Baler, Aurora (274 km) and not have to worry about completely losing battery charge while on the road. For reference, the average driving distance around Metro Manila per day is only 13.2 km.
Charging
There are three primary ways to charge an EV, according to consumer preference and ease. Charging at home, usually overnight, with a standard universal cable can be done right away and takes 12 to 15 hours to fully charge the Nissan LEAF. A wall box can also be installed at home or in any establishment and takes between five to seven hours per charge session. And there are currently 23 public charging stations in the Philippines, and more are being added. 
Environmental Impact
Electric vehicles produce zero direct emissions, which means they are a good environmental choice. Moreover, electric vehicles allow a reduction in noise pollution, a growing issue in urban centers. A Nissan LEAF has a running noise level of 21 decibels, compared to the average 82 decibels that a car produces when driving at 80 km per hour.
Trend
To support sustainable initiatives and reduction of emissions across Southeast Asia, Nissan has already introduced the Nissan LEAF to several countries like Thailand, Malaysia, and Singapore. In 2020, the Philippines will be the next country to join the electric mobility movement.