Petron, the official fuel and engine oil of the 2017 Formula 4 South East Asia (F4 SEA) Championship, recently held a briefing on the upcoming regional championship which commences today, October 21, 2017. The two-day championship event will be held at the Clark International Speedway, a highly challenging FIA-accredited motorsport venue.
The championship is an avenue for young motoring enthusiasts to mold and build on their career in motorsport racing. In a statement, F4 SEA chairman and CEO Peter Thompson said, "Formula 4 racing is the first step to develop enthusiasts for a professional motorsport career in the FIA pyramid, culminating in F1. Open to anyone 15 years old and above, F4 helps young drivers transition from karting to single-seat racing, and helps them learn the racecraft they need to move up in the world of Formula racing." Apart from developing tomorrow's batch of talent, the regional championships  also enable many countries to participate in a unique circuits, at competitions with a bigger pool of talent. The 4.2-km Clark International Speedway runs in a counterclockwise direction, and a has count of 18 challenging turns.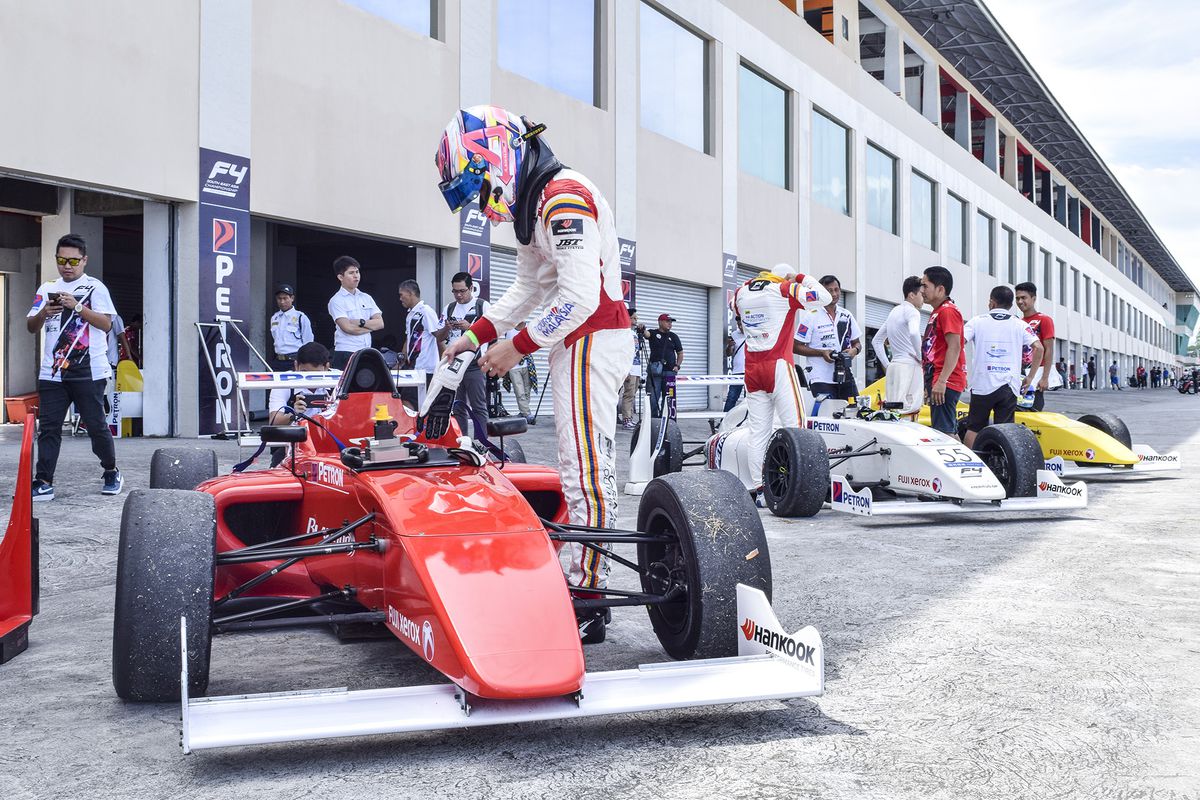 To ensure an equal playing field, the F4 SEA Championship follows a one-make, one-data, and one-cost concept. All race and engine data are made available to the participants to encourage a competition based on talent, rather than that of technical advantage.
This time around, powering all the F4 racing cars will be  Petron, the official fuel and engine oil  of the F4SEA Championship. "On average, the Person-supported cars perform more efficiently as opposed to other generic fuels. In the high-octane world of racing, every millisecond counts and that improvement helps each race driver refine their track record," commented  operations manager Mohd Sharli on the Petron Blaze 100 Euro 6 being the official fuel.
Validating the performance of the fuel, F4 SEA Sea technical director commented, "From our initial examinations, we can see that the fully-synthetic Petron Blaze Racing Engine Oil had markedly reduced levels of carbonizations after many laps of testing.  The oil was unaffected by the extreme temperatures experienced under racing conditions. There was no excessive wear and tear on vital components. Critically, there was no loss in oil pressure."
The Petron Blaze Euro 6 boasts of a 100-octane pure gasoline formulation that delivers unprecedented engine performance and acceleration, while the Petron Blaze racing Engine oil comprises of  high-performance oil that delivers excellent engine stress protection amongst several other thermal and cleanliness benefits.
The F4 SEA Championship held at the Clark International Speedway was the competition's the second leg. The first leg was held in Sepang Malaysia, while the third leg in Sentul, Indonesia. The penultimate leg will be held in the Buriram International Circuit in Thailand, and the finals in Sepang Malaysia on February 9 to 11, 2018.