Formally launched at the Philippine International Motorshow, the BAIC MZ40 is said to be the Chinese brand's first mini van. How does it fare against its competitors? Read on.
Design: 3.0/5.0
Known as the Weiwang 306 in China, the BAIC MZ40 is a sub-compact, 8-seater minivan locally distributed by the Universal Motors Corporation of Nissan fame, under the Bayan Automotive banner. Measuring all of 4030x1636x1907mm (LxWxH), it's just a smidgen shorter and narrower than the popular sub-compacts available in the market, but with more headroom and usable space, thanks to its form factor.
Unlike other vans with flat fronts, the MZ40 sports a bit of a nose. Popping the tiny hood gives you access to the radiator, as well as the reservoirs for water, the windshield wiper, power steering, and brake fluid. Interestingly enough, the vehicle's jack is also neatly tucked under there. It features a prominent grille with an equally prominent BAIC marque, framed between its hawkeye crystal diamond headlights and fog lamps. We tested a silver MZ40, and the grille, bumper, side mirrors, and door handles all came in body color—much to the delight of my OC eyes. The side panels feature a slightly protruding beltline under its huge windows, as well as a deep character line that aligns with the rails of its sliding doors. The MZ40 is fitted with vertical taillights and its rear door opens upwards for better access.
Inside the cabin, the dashboard is made of a mix of dark, textured, and matte plastic. The intelligent LCD instrument panel offers basic information needed by the driver—the conventional speedometer as well as a digital tachometer and odometer, and mobile phone-signal-like bars for temperature and fuel. For the convenience of all passengers, there are twenty-two different storage compartments in the cabin, starting with several on the dash to hold anything from coins, toll cards and mobile phones, to beverage holders and pockets located on the doors and side panels.
The center stack is straight forward, with a 1-DIN radio, AC vents and controls. Much to our surprise, the MZ40's glove compartment has a cooling mechanism via an AC vent you can open (or close) as needed. The 8-seater minivan is configured with 2-3-3 seating, with foldable seats and removable headrests.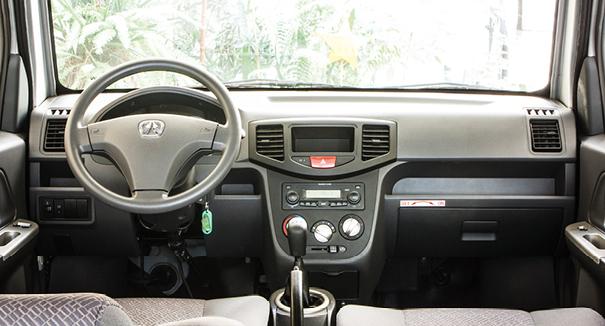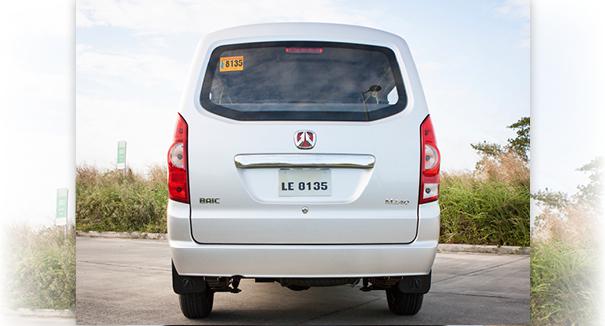 Hardware: 3.0/5.0
A 1.2-liter gasoline engine, mated with a 5-speed manual transmission, powers the MZ40. This combination produces 86Ps @ 6000rpm, and 108Nm of torque @ 4400rpm. It sports disk brakes in front, and drums in the rear, and is fitted with a MacPherson and leaf spring combination suspension. It ships with 175/70 R14 tires and 14-inch steel rims with cover, has a wheelbase of 2700mm, a curb weight of 1150 kilograms, and a fuel tank capacity of 45 liters.
To keep passengers comfortable, rear passengers have their own AC system with a separate control panel. All seats come with seatbelts, 3-point in front, and lap belts for rear passengers.
The MZ40 may look low-key, but its safety features exceed China's National Impact Standards with its Front Safety Structure (FSS) that controls crossbeam distortion during impact to maintain cabin integrity, and Body Safety Structure (BSS) with Power Cage Design that provides added protection in case of side impact.
User Experience: 4.0/5.0
Despite its small engine displacement and simple styling, the van actually handles pretty well. Well enough to claim CAGI's Best Micro-Van of the year award for 2014-15. The seats are comfortable enough, and there is adequate legroom for the second and third row passengers. While the seating is designed for eight, four or five adults is the sweet spot, with enough ballast to improve the ride significantly without straining the engine. And while it lacks ABS and other amenities, the package does include keyless entry, power locks and windows, a cooled glove box, and side mirrors with built-in turn signals.
Value: 4.0/5.0
Attractively priced at PHP 468,000, the BAIC MZ40 mini van should definitely be considered by the budget-conscious buyer. Aside from the obvious personal conveyance, it also proves to be a reasonable choice for small businesses with transportation requirements that can't quite fit in a car, but not enough to fill a full-sized van or truck.
What's Hot:
– Competitive price
– Versatile form factor
What's Not:
– Ride is a bit bumpy without enough passengers
Bottomline:
For work and for play, the BAIC MZ40 proves to be a versatile vehicle for those on a strict budget. Perfect for small families and businesses, check out the BAIC MZ40 and you might be pleasantly surprised.
Also published in GADGETS MAGAZINE February 2015 Issue.
Reviewed by Mika Fernandez-David | Photos by Mika Fernandez-David & Nicolo David