The 150 cc category represents a unique category in the local motorcycle market. It's both practical as a daily commuter, and has enough zip to it to let your average rider have a little fun with more spirited riding on the weekends. Of the 150 cc backbones, Honda's own CBR150R is one that we had been waiting for since its launch last year. I was lucky enough to get my hands on it, and here's what I found out riding it around in various conditions.
DESIGN: 4.5/5.0
The CBR150R is a handsome bike. Getting its looks from its larger brothers, this little 150 is unmistakably of the same lineage. From the dual LED headlights, aggressive, rearward-sweeping lines, and wasp-like profile, it's a Honda sportbike, no doubt. Only the raised handlebar and thinner tires would clue you in to its sub-200 displacement. Still, it's a good looking bike. It manages to look much larger than it actually
is—an illusion that it manages to hold until you sit on the bike, and find that it is pleasantly pint-sized, like a perfectly scaled-down GP racer. All the same, it's a nice bike to see, and be seen in. The seat is low, somewhere around 30 inches off the ground, and more than low enough to allow even shorter riders to touch the ground.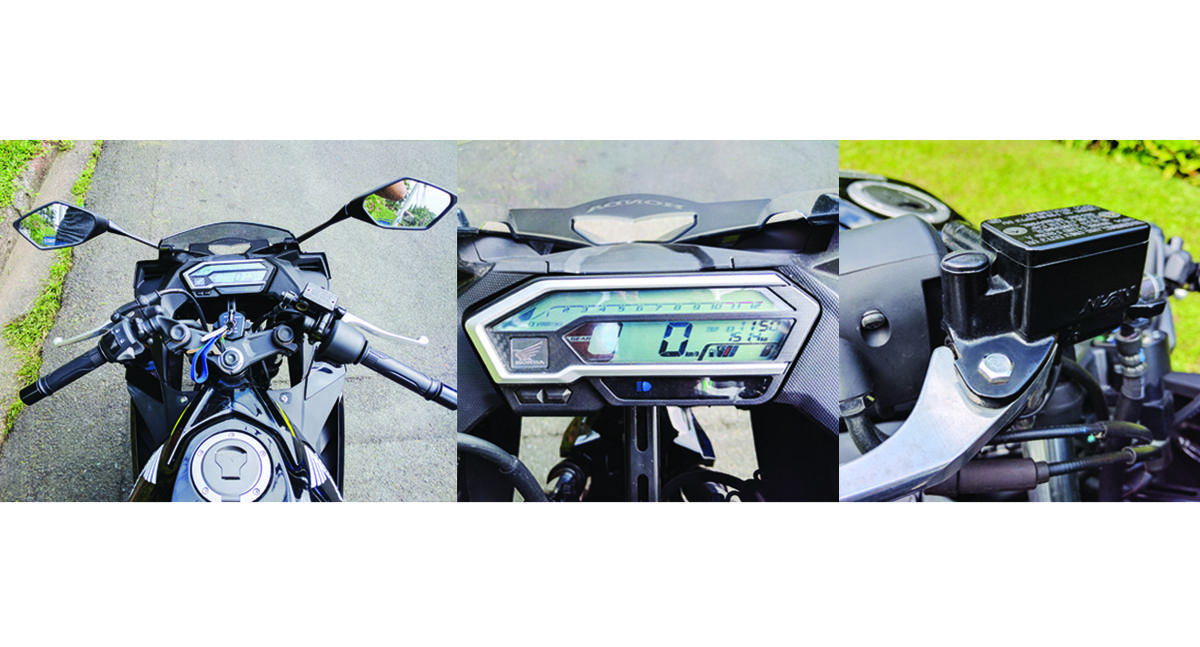 HARDWARE: 4.0/5.0
Where you would expect to see a liter-class engine, you'll find a happy little thumper of a heart. The single-cylinder, 150 cc engine is more than enough to propel the light little bike along at a good clip. The bike had been tuned to give a little less power, but more torque, making it even better for the city. This is mated to a 6-speed transmission, which drives power to the rear wheel via chain. Coming to a halt is achieved with help from single discs up front and to the rear. LED headlights keep nighttime driving safe, and the gauge cluster is completely digital, and evenly backlit, so your speed, tach, and fuel levels are easy to read both in broad daylight, and pitch blackness. For those who will be taking a passenger along, the bike has a rear pillion seat and passenger footpegs. That same seat comes off to reveal a surprising amount of storage—not enough for a helmet, but maybe enough to keep rain gear for one.
The bike only offers electric starting, and, unfortunately, no kill switch—you'll have to turn the key to shut the engine off. The frame has also changed from the previous iteration, and the bike now has a diamond truss frame, with a longer wheelbase than before, while being a little smaller overall. Both models have 100/80-17 tires up front, and 130/70-17 tires in the rear.
USER EXPERIENCE: 4.0/5.0
The walkaround is one of the first things I enjoyed about the bike. Less muscular than the previous version but no less mean-looking, the current CBR150R looks just as good in person as it does in ads. Sitting on the bike is a little strange at first, since it's smaller than it looks. That's not a bad thing. It's low enough for a small person such as myself to straddle and touch the ground, and almost light enough to very easily push around.
Being fuel injected, the bike always starts on the first click. It pops easily and positively into first, and the clutch pull is light, making it great for Manila traffic. It's a shame neither brake nor clutch lever is adjustable, as both levers are far from the grip, with relatively shallow engagement. The throttle responds readily to right hand inputs, and a little give on the clutch sends you forward. It doesn't take a lot of torque to get you moving, but the bike has plenty. Gearing is right there with you though, and while you can push it almost to redline if you really need to get going, it's perfectly happy staying around the 3000-4000 rpm range in the city. It'll chug along okay on higher gears, owing both to the light weight and extra oomph from the powerplant.
Riding position is very vertical, and the narrow tank doesn't really encourage a full racing tuck. You could do it, but you'd have to really get in there to make the most of the low, small windscreen. And while the bike is fully faired, there isn't a lot to go around, so you're going to feel the wind a bit at speed. It deflects most of the air away though, so it's not as bad as you might think when you first sit.
A little quirk I experienced with the transmission was that the bike would frequently get stuck between gears. Cycling down through the gearbox would sometimes come to a halt, because it would fail to drop into the lower gear until you'd ease up on the clutch a little bit. It's not a problem really, and if you know what's going on, you'll eventually do so without thinking.
Even with all that power, the little 150 cc powerplant sips fuel in a very dignified manner. I barely made the gauge move in the week of commuting from BGC to West Avenue, through moderate traffic. Being slim enough to be able to filter through traffic allowed me to stay off lower gears.
Punching the engine for more spirited runs shows that it's happiest upwards of 7000 rpm, where you get max torque. Even though you mostly feel like you're on, rather than in the bike, it gives great feedback, hugs the road well, and responds readily to user input. If this fails to put a smile on your face after some twisties, you might need medication.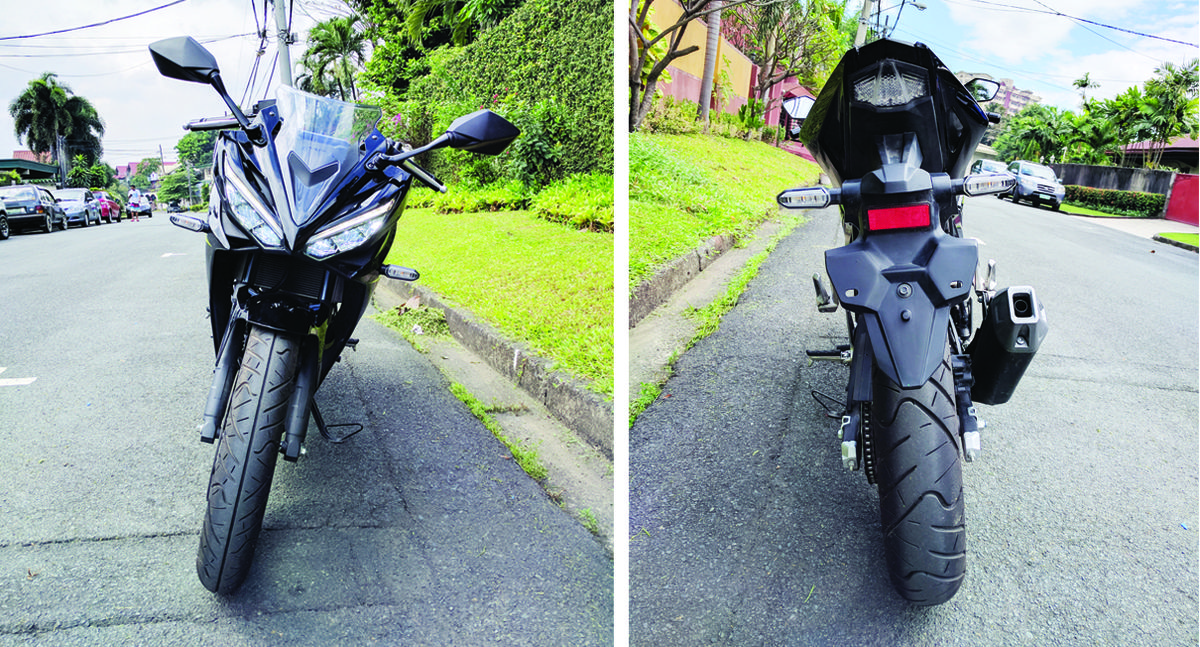 VALUE: 4.0/5.0
For a bike that costs PHP 150,000, this is one that represents quite some value. Easy on the street, and fun on the twisties, it's a bike that delivers what you need, when you need it, and does so with style. To recap: looks, performance, and value. I think we have a winner.
What's Hot:
– Gorgeous
– Light
– Fun!
What's Not:
– Better levers are necessary
– Price tag
Bottomline:
I'm in talks to keep the little sportbike just a liiiiitle longer.
Also published in GADGETS MAGAZINE February 2017
Words and Photos by Ren Alcantara