The Mitsubishi Pajero has represented power and authority for many generations of Filipinos, often seen in important-looking convoys behind motorcycle escorts. Spending time with the current model gave me an appreciation for why it remains the iconic macho machine.
Design: 4.0/5.0
Design-wise, this fourth generation model is still recognizably a Mitsubishi Pajero, retaining its no-frills, tall and boxy silhouette. Some refinements, such as HID headlamps with auto-dimming and LED daytime running lights give a nod to new trends and updated technology.
The 2865-kg body rides on 18-inch alloy wheels with 265/60 R18 tires for a commanding presence on the road, and the spare tire cover is nicely integrated to the overall rear design. A power tilt and slide sunroof is useful for quickly dispersing hot air inside the vehicle, or for waving to constituents or fans during motorcades.
The interior also feels very familiar, with its all-black leather seats and trim. The driver's seat is 10-way power adjustable, with a matching 4-way power adjustable front passenger seat. The second row bench seats three, and the center back rest can be folded down into an armrest with cupholders. The third row, which is normally hidden flat on the floor, can seat two small-sized individuals. The interior is roomy with more than ample legroom and headroom (except for the third row). With the third row hidden away on the floor, the rear cargo space is cavernous.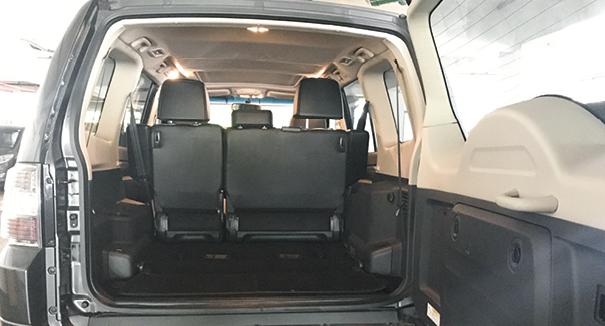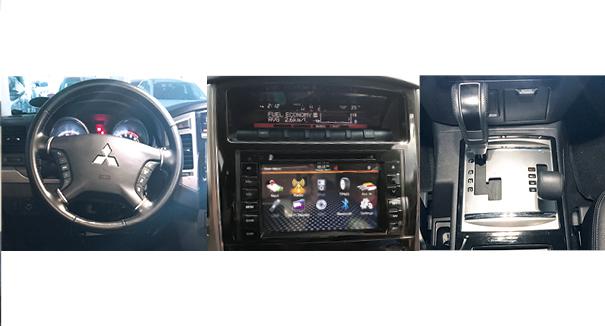 Hardware: 4.0/5.0
he Mitsubishi Pajero GLS 3.2 Di-D 4WD AT is powered by a 3.2L 16-valve DOHC common rail direct injection diesel with variable geometry turbo (VGT) engine. Now Euro-4 compliant, this power plant produces a maximum output of 192 ps and torque of 441 Nm. Now Euro-4 compliant, this power plant This is mated to a 5-speed automatic transmission with sports mode.
For its 4WD system, Mitsubishi's proprietary Super Select II has four settings to address various driving conditions. With 2H selected, power comes from the rear wheels, and this mode is recommended for daily driving in good weather conditions. For rough roads or hazardous conditions, switching to 4H or full-time 4WD provides independent power to all the wheels. When going off-road at speeds over 30 kph, the 4HLC mode locks the center differential to maintain stability and control. In extreme low traction situations like steep hills, sand or mud, 4LLC or 4WD low range with locked center differential sets the transmission into low gear so power is delivered slowly to all four wheels, useful for driving through difficult terrain.
The suspension system consists of front double wishbone coil springs with stabilizer bar, and rear multi-link coil springs with stabilizer bar. The 17-inch brakes are ventilated discs in front and ventilated drum in discs for the rear.
The multi-media system includes a 6.5-inch touchscreen monitor, single in-dash DVD, MP3 player, radio tuner, USB port, audio jack, and Bluetooth connectivity. Four speakers and two tweeters complete the audio system.
Above this, the center console multi-information display provides information on average fuel consumption, average speed, outside temperature, date/time, as well as barometric pressure and compass direction.
Safety equipment include front, side and curtain airbags; anti-lock brakes; 3-point seatbelts for all 7 seats; a tire pressure mitigation system; and reverse camera. In addition, this GLS 3.2 Di-D variant also features active stability and traction control, as well as hill start assist.
User Experience: 4.0/5.0
Considering Metro Manila traffic conditions, the Mitsubishi Pajero is best enjoyed when it is chauffeur-driven. Its massive body, while good for going nose-to-nose against unruly buses, puts you at a disadvantage when jockeying for that small lane opening, and its hydraulic power steering requires more effort at low speeds. On the other hand, the high ground clearance gives you a commanding presence, with just that bit of intimidation factor for other motorists to give you a bit of extra space. Surprisingly, tight corners and U-turns are quite manageable, thanks to its 5.7-meter turning radius.
The Pajero's virtues really come to the fore on long out-of-town drives. On the expressways, with cruise control set at 120-kph, it feels very safe and stable, with excellent handling. Except for some road noise from the tires, passengers are insulated from noise, vibration, and harshness. For second row passengers, the seat back can be reclined should they wish to catch some zzzz's.
One minor issue I have is with the steering wheel, which is height adjustable but not telescopic. To achieve the ideal hand position on the wheel, I had to move the seat with my knees almost touching the dashboard and my legs feeling cramped.
Even on the warmest days, a fully automatic climate control system ensures a cool and comfortable ride. Rear passengers have their own controls, with corresponding air vents for the second and third row seats.
The unit we tested had over 11,000-kilometers logged on its odometer, or about a year's worth of normal driving. Given that it wasn't a fresh unit, we didn't detect any creaks or rattles, a testament to the good build quality and long-term durability of this vehicle.
Value: 4.0/5.0
Priced at Php 2,770,000, the Pajero GLS 3.2 Di-D 4WD AT is the most expensive model in the Mitsubishi line-up, not including its trucks and special purpose vehicles. Though way above the typical car buyers price range, this is actually one of the more affordable large SUVs, which may account for why it continues to enjoy a loyal following.
Like many in its class, fuel efficiency is not built into the Pajero's DNA. Cruising at 120 kph on the expressways, we were able to average only a little over 10 km/L. Don't even ask about city driving fuel consumption!
On the more positive side, though, the Pajero enjoys a reputation for durability, and with its premium resale value and its loyalists, owners should be able to recoup some part of their initial investment, particularly if the unit is well-maintained.
What's Hot:
– It's huge!
– Feels very safe on the highway
What's Not:
– Don't expect fuel efficiency
– Could be a handful in traffic
– Steering wheel is not telescopic
Bottomline:
For over thirty years, the Mitsubishi Pajero has been an icon for power. This latest generation continues the legacy.
Also published in GADGETS MAGAZINE October 2017
Words and Photos by Maribelle Alba