Definitely a conversation starter and one of the most unique car brands available in the Philippine market, many still haven't heard about the Korean brand, Ssangyong. For a brand that has yet to make a familiar name, Ssangyong's Tivoli EXG is definitely one that can compete.
Design: 3.5/5.0
Ever heard of the Korean car brand, Ssangyong? Many haven't. A quick Google image search turns up photos of the bizarre looking Ssangyong Rodius, and other cars with daring designs that could trigger an "Oh… That car" response.
Notorious for experimenting with outlandish designs, Ssangyong has gone a different design route with much more attractive ones in its newest cars. That isn't to say that Ssangyong strayed away from its utilitarian heritage. The Tivoli features a functional design with an aesthetic that actually works.
Without sacrificing its trademark of unique designs, Ssangyong's Tivoli still sports an unusually aggressive look albeit now an attractive one. Its design is anything but boring. The metal exterior is sculpted with accents and lines that accentuate a sporty look appropriate for a crossover car. The overall architecture is derived from nature: there's rhythmical lines in its body; the slim, wide grille; the trapezoidal LED headlights near its front fog lights; and the floating roof design which, by the way, provides perfect peripheral vision.
Much of the attractive styling is due to its strong and aggressive theme. The nose of the Tivoli features sculpted lines also seen in the car's muscular front and rear wheel housings. To add to that is the aggressive rear bumper and the 16-inch aluminum alloy wheels. Beyond the muscular look is balance, achieved by the addition of the floating glass roof design and the centrally-mounted rear fog lamp.
When it comes to the interior, all I can say is that it is both comfortable and classy. Its D-cut steering wheel is comfortable to hold on long drives and the leather wrapped seats give it a luxurious feel. The only caveat? If you're a back passenger and wish to store papers, books, or whatnot, in the back of the front seats, you won't really be able to, not securely at least. The back portion of the seats only have garters in place of the usual small pouches.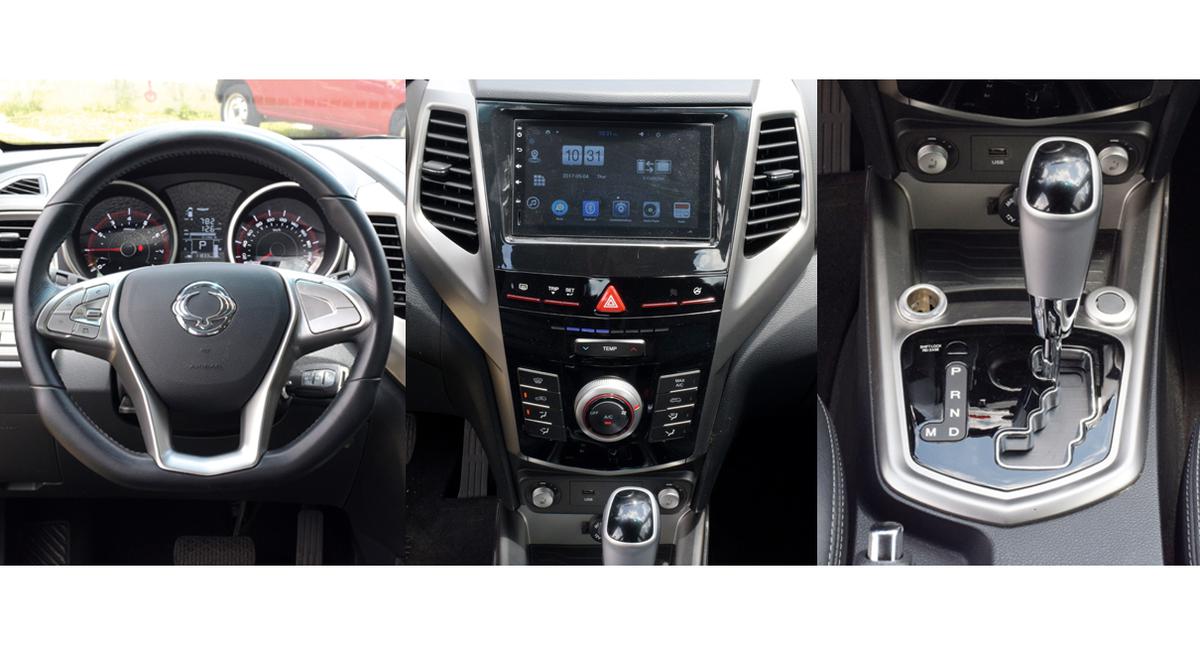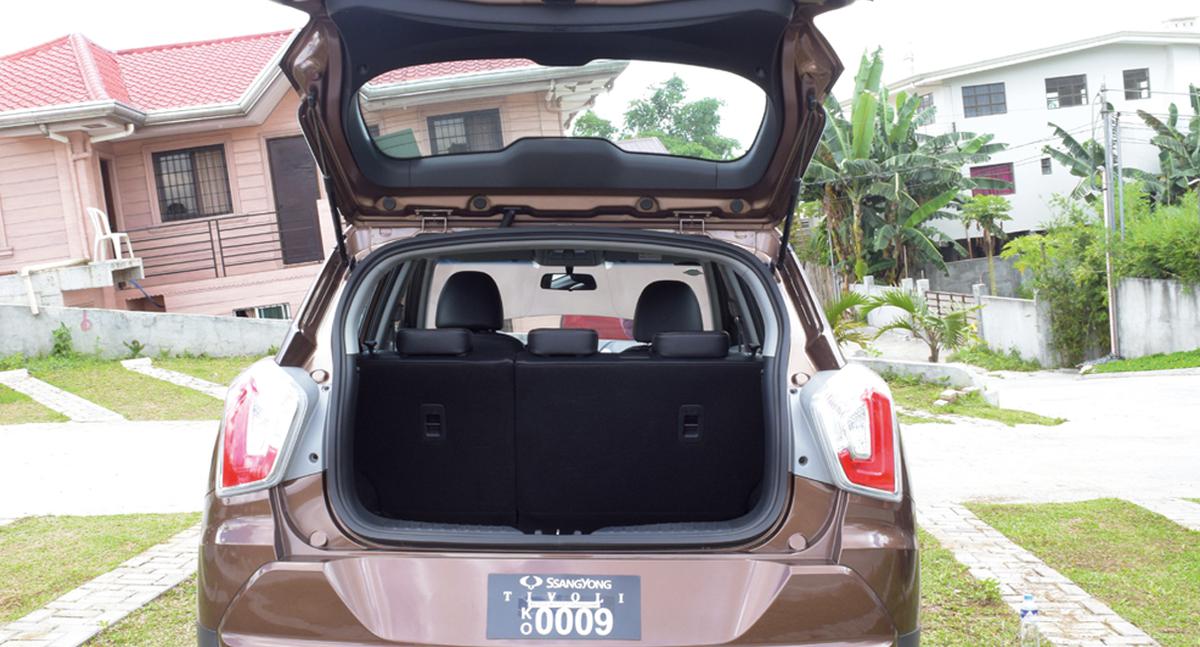 Hardware: 4.0/5.0
Powering the Tivoli is the 1.6-liter XGI160 gasoline engine that's rated at 128 PS. It has 150 Nm of torque that's available at 4,000 rpm. Latest engine technologies such as the dual variable valve timing, and an exhaust layout that minimizes exhaust gas interference enhance the Tivoli's engine response making it extra efficient. By efficient, I mean really efficient. Personally attesting to its performance, we drove the car to Tagaytay from Quezon City consuming only two bars of gas. Highly efficient and quiet running is what the Tivoli's engine is. A six-speed automatic transmission is equipped in this car that's full of surprises.
For entertainment, there's the seven-inch Android based HD monitor that is also Bluetooth capable. For navigation, Waze is preinstalled in the system. Whether it be for navigation or keeping the passengers entertained, the HD monitor doesn't fail in providing easy access.
User Experience: 4.0/5.0
I've never driven a Tivoli nor have I closely examined one before this review, and I have to say, it's a car full of surprises. For starters, the car, the brand, and its look is very unique; so unique that it merited curious gazes whenever we took it out for a drive. The driving experience was a pleasurable one too.
Maneuvering the Tivoli felt very light and smooth. On flat roads, the shifts in the transmission were quite seamless, assuring me of a swift overtake when needed. However, on sloped roads, I found the the Tivoli to be slightly inconsistent as it took a while to pick up. At times it would even jolt. Bottomline is, for flat roads with or without the presence of traffic, the Tivoli will swiftly glide through the streets until a slope is met.
The Tivoli EXG model offers three driving settings: Normal, Comfort, and Sport. For Philippine streets that greatly vary in traffic depending on the time, the Comfort setting would be best. When out of town, or without traffic, the Sport mode would be a good change especially since it tightens up the electric power steering wheel for a more enthusiastic and professional driving style.
Space is not an issue: the Tivoli has plenty for a five-seater crossover. The back compartment packs enough space for light to medium loads.
The entertainment system is superb. Waze is readily available on the LCD screen for navigation (though it occasionally stops music playback whenever there is a switch in modes) and several speakers make sound tripping a boredom killer.
Value: 4.0/5.0
The 1.6 Tivoli EXG variant retails for PHP 945,000. For the quality of its efficient engine as well as its unique interior and exterior design, the price is certainly acceptable. If you want to drive one of the most unique brands available without spending a luxurious amount, then the Tivoli is for you.
What's Hot:
– The unique exterior
– Classy leather interior
– Efficient engine
What's Not:
– Transmission pickup in slopes
– No decent back seat pouch
Bottomline:
Tivoli spelled backwards is "I lov it" and by the end of the test drive duration, I did love it. With a styling that's both unique and attractive, and an engine that's adaptable to city and out of town driving, it's car I would love to have.
Also published in GADGETS MAGAZINE June 2017
Reviewed by Gerry Gaviola • Photos by Jael Mendoza