Some pleasures in life are simple: a drink at the end of the day, a perfectly done steak, great coffee, and turbo. I'm not entirely sure how engineers at Subaru like their drinks, steaks, and coffee, but I'm absolutely certain they know how to make a car with turbo. For a few extremely enjoyable days at the very end of last year, I got to drive the last turbo-equipped Forester. It's still up for grabs, but you have to act fast. Here's what we think of it, and a few reasons you should pull the trigger if you've been thinking about it.
Design: 4/5
This incarnation of the Forester is a great balance of toughness and elegance. Setting your eyes on it for the first time, you get an air of elegance to its power. It's not brutishly muscular, nor would its design described as playful. It has a strong stance, raised neatly off the ground, and with bold lines playing neatly with gentle curves. Like an athlete in formal wear, this Forester looks sophisticated, but it doesn't try to hide the fact that it has a few hundred horses under that dressed-up exterior.
Inside, the Forester ups the elegance further. Plenty of leather, loads of creature comforts, including multi-zone air-conditioning, power seat adjustment with presets, and sunroof for when you want to let a little more of the outside in. The gauge cluster is large, visible, and informative, with a digital panel at the center of the dash to give your choice of extra info when you need it. Sitting inside spoils the driver, but giving things closer tells you a little more. Driving modes, slightly deeper seats, and an eagerness to rev belie its true purpose: put as much road behind you in as little
time as possible.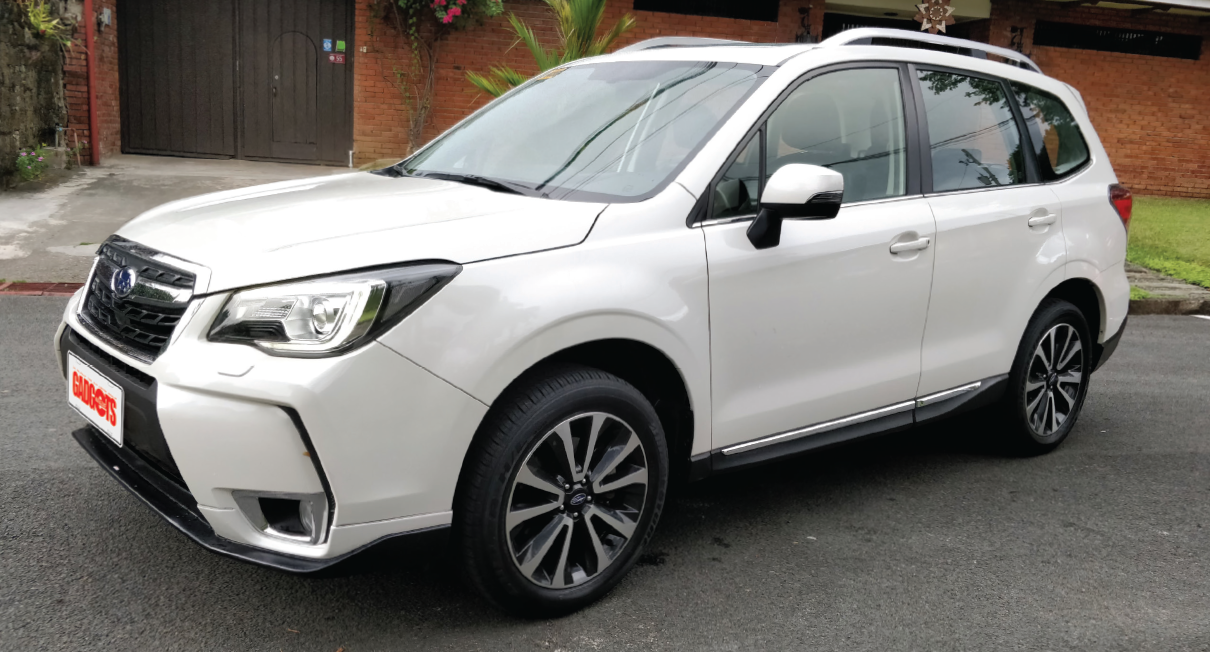 Hardware: 5/5
This iteration of the Forester packs a turbocharged 2.0-Liter engine that puts out a huge 238 HP and 350 Nm of torque. A CVT with paddle shifters, and their superb symmetrical all-wheel drive harness that power nicely. Being an SUV, you get loads of room. Seating for five, with plenty of space in the back for bags make it a great way to get far from the city, and with all that power, you'll be doing so in a hurry.
It's class-leading in terms of safety, with driver and passenger airbags, side curtain airbags on both rows, as well as side impact airbags. The Forester is definitely one of the safest SUVs you can get your hands on.
The entertainment system is likewise top-notch, with six speakers, UC bluetooth connectivity, and a huge LCD display for ease of use, and all the driving music you could ever want.

User Experience: 5/5
I have to admit, I hadn't always been a fan of the Forester. I knew it was a fantastic car, but being a sportbike guy myself, it seemed a little too large for my liking. I have since changed my mind. This thing is a rocket.
The Forester look like a large vehicle, and while it's no sub-compact, it seems to mostly be an illusion. Sitting inside, you immediately have a good feel for the size of it. It doesn't stick out awkwardly, or bulge unnecessarily in odd spots. Taking it out for the first time, and you realize it handles its size well.
Being the last of the Turbo Foresters, you can bet I was heavy on the accelerator, though well within the realm of sane driving. Hitting the throttle produces copious amounts of go in very short order. This will easily outpace the vast majority of vehicles on the road, and get you out of (possibly into) trouble fast. Supremely attentive to your whims, stepping on the gas elicits a quick grunt from that glorious boxer engine, followed by an immediate surge forward. The steering is just as eager, and is razor-sharp at any speed. One wouldn't imagine an SUV of this size, with this much power to handle as sweet as it does, but the motorcycle rider inside me was extremely pleased at how beautifully it steered. It's so well-balanced and sure-footed–a function of both the layout, and the technology keeping power distribution in check. To be honest, this is one of the things I loved most about the Forester. Power is great, and this vehicle has it in spades, but the steering is just superb. To make sure you don't get yourself into too much trouble, the Forester has braking to match. Powerful, and with plenty of feedback, you can smoothly scrub speed, or bring yourself to a solid stop without having second thoughts.
While the Forester gives you superb handling, and more power than you will know what to do with at first, it doesn't spare comfort. Inside the cabin, you're treated with plenty of leather, plush seats, easy access to vehicle controls and settings. There are quite a few, from cruise control, driving modes, and entertainment setting. Everything is within reach of a thumb, without even having to worry about taking your eyes off the road. If you are the type to travel around a lot, there's plenty of room in the back for luggage, sports equipment, and miscellaneous cargo, without having to sacrifice seating by aircon vents on the rear console.
Value: 4.5/5
It's hard to put a number to the value of this particular variant of the Forester. If you're after the turbo, then it's a no-brainer. It's your last chance to grab it. Subaru is even offering extremely attractive discounts to those who want to take one home while they're around. Overall, with it being so responsive, comfortable, powerful, and handsome, there really isn't any reason not to get one if you're in the market for a great SUV.
What's Hot:
– So much power
– Steering is on-point
– Plenty of great tech
What's Not:
– It's the last one
Bottomline:
If I had about PHP 2M to spare, I wouldn't have given it back.
Also published in GADGETS MAGAZINE February 2019 Issue.
Reviewed and photos by Ren Alcantara