Suzuki Philippines lent us their brand new Jimny to put through its paces. Being a city gal, I was immediately wary of being bullied on the streets of the metro—but the tiny Jimny proved to be agile on the road, and showed me why it has such a cult following.
Design: 4.0/5.0
The Suzuki Jimny is arguably the smallest honest-to-goodness sports utility vehicle available in the market today. It has been around since 1970, and its current form is its fifth generation design. It measures a petite 2645x1600x1705mm (LxWxH) making it shorter than most Japanese subcompact hatches, and almost the same length and width as the newer micro cars. It has a wheelbase of 2250mm, a turning radius of 4.9m and minimum ground clearance of 190mm.
The three-door Jimny is built on a ladder-type chassis. As opposed to the unibody type of design that is more common to newer vehicles, the Jimny's top hat is mounted to a rigid frame that supports its drivetrain. This design, while old-school, is more affordable and faster to build, since changes can be done to the exterior without touching the integrity of the chassis.
The Suzuki Jimny's exterior is pretty much utilitarian. On its hood is an intake scoop that funnels air directly to the carburetor reinforcing its sporty look. Its sides feature a strong beltline and a protruding side panel that is aligned with the front (and rear bumbers) to give it the illusion of being wider than it really is. It has huge windows all around for an unobstructed view, and its spare tire is center-mounted to the rear door.
Inside the cabin, the Jimny is cozier than you'd think. For average-sized passengers sitting in front, it takes creative positioning and synchronized movement to avoid elbowing each other. And although rated for 4 passengers, it is best to carry only two, and use the rear seat for cargo.
The interior sports a black on gray color scheme, and is made of hard plastic which makes it easy to clean. The Jimny's instrument panel is bright and easy to read, and like its exterior, is basic and no-frills. The one thing I missed the most, though, was an onboard computer that measured fuel consumption.
The center stack holds the AC vents and its controls, the integrated 2-DIN stereo and most importantly, the three buttons that make you switch from 2WD (which is default), to 4WD (and/or 4WD-L) with just a long push—even while moving.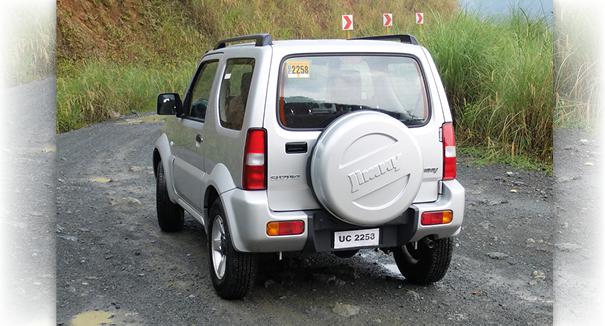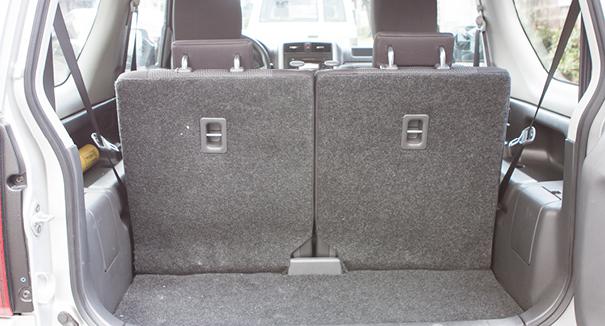 Hardware: 3.0/5.0
The Suzuki Jimny is fitted with a 1.3-liter 16 Valve DOHC engine mated with a 5-speed manual gearbox. The engine produces a maximum output of 81Ps @5500rpm, and maximum torque of 110Nm @ 4500rpm. It ships with 205/70 R25 alloy wheels, and comes with ventilated disc breaks in front and drums in the rear. Front and rear suspension is via 3-link rigid axles with coil springs.
User Experience: 4.0/5.0
Navigating traffic is a breeze with the Jimny's tiny body. Parking is another thing that is easy to do with a small car. Because the seat height is high, the driver has a good view of the road (or path) he is traversing. Very much like old-school SUVs, the ride is a bit bouncy on the road and takes a bit getting used to, although it's all part of the Jimny's "roughing it" appeal. Think of it sort like "glamping" if you will. Off-road is where the Jimny shines. It's small displacement is made up for by its smaller, lighter shell, making it easy to maneuver through trees and the like, and it also makes it easier to rescue should it be required.
On paper, the Jimny is pegged as a 4-seater, but you actually are better off with just 2 passengers in front, and with the rear seats folded down for additional cargo space.
Value: 3.0/5.0
The Suzuki Jimny, is priced at PHP 738,000 for the base JX model, and PHP 845,000 for the top tier JLX AT model. The unit we tested is pegged at PHP 790,000. It is available in superior white, silky silver metallic, and bluish black pearl.
What's Hot:
– Fun to drive
– Easy to maneuver
What's Not:
– Very basic
– Ride is a bit too bouncy for the city
Bottomline :
Albeit pint-sized, and with less power on tap than other SUVs, the Suzuki Jimny is a workhorse, loaded with lots of fun and the potential for many adventures.
Also published in GADGETS MAGAZINE February 2015 Issue.
Reviewed by Mika Fernandez-David | Photos by Nicolo David