I have fond memories of the Suzuki Vitara. A friend and former colleague and I would take her trusty early 2000s Vitara on beach trips about once a month in order to decompress from the rigors of magazine work. Our constant and faithful companion, Suzie, as she was called, has since been sold to a new owner. That was years ago. The Vitara has since been reborn, and with quite a different look. Let's see how it drives.
Design: 5/5
One of the strongest suits of the new Vitara is how it looks. Ours came in red, with the top and pillars done in a nice glossy black. It's visually larger and wider than the older model, with a generally smoother, curvier look to it. A solid, two bar-grille with the Suzuki plate on it sweeps sideways and upwards to the corners of the headlamps. The high front joins the windshield at quite a steep angle, then comes up and drops down lightly as it follows the roof line, and falls to meet the rear glass. This iteration of the Vitara has a slightly more muscular stance than the model it followed, though the old design peeks through the longer you stare at it. It's absolutely familiar, but certainly new. 17-inch alloy wheels go with the curves of the Vitara to give it an overall sportier appearance.
The interior of our test model was a mixed bag. Deep seats done in what felt like suede were comfortable and plush, though the dash and inside door panels were plastic. You wouldn't be able to tell at first glance though, as little details try to convince you they're leather, and actually succeeds until the first touch.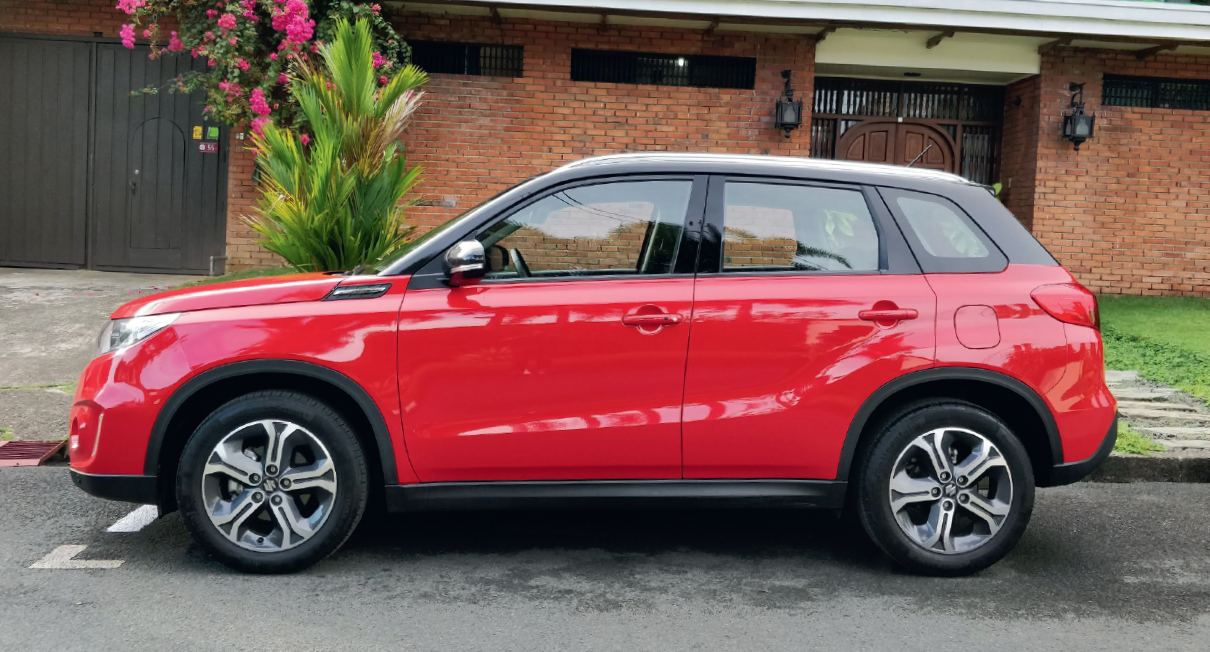 Hardware: 4/5
The 2018 Vitara GLX is pushed along by a 1.6 L gasoline engine that produces 115 HP at 6,000 RPM, and 156 Nm of torque at 4,400 RPM. It comes with a six-speed automatic transmission with paddle shifters, if you need to move more urgently than the vehicle lets you on its own. Being a Vitara, you get a decent 185 mm of ground clearance, and plenty of storage—375 L behind the hatch.
Suzuki has seen fit to include a fair share of safety features in the new Vitara. You have airbags all around for both the driver and front passenger, save for the knees. Driver assists include power steering, ABS with electronic brakeforce distribution, and brake assist.
Suzuki also prides itself with stellar entertainment systems in their vehicles, and this little SUV is no exception. A huge, 10-inch Android-powered head unit gives you all the functionality of a normal auto entertainment system, with the additional features of a full Android tablet. YouTube, Maps, and basically any app you have available for Android devices are fair game. It's a tech nerd's dream come true! It even has all the usual connectivity options, so streaming music (or watching right from the display) are possible. It also serves as the display for the reverse camera, so you have a HUGE view of what's behind you. Should you get tired of the indoors, pop the moon roof open, and let the outside world in.

User Experience: 4.5/5
My memories of driving the Vitara are all pleasant. Being small-ish and narrow, it was quite nimble for a pocket SUV, if a little spartan. I'm extremely happy to report that this reincarnation of the beloved Vitara is not that far removed. Though it looks larger, and has more creature comforts by several miles than the original, it reminded me a lot of its older self. Eager to get into a turn, and far more solid than you might credit it given its height, it's also far roomier, and less
fatigue-inducing, particularly on long drives.
Suspension is on the softer side, and you'll be able to take the truck lane at speed without having to worry about your fillings getting rattled out. This isn't something I'm willing to do with my daily driver, or anything similar.
Seat height is also great. You have quite a commanding view of the road ahead which I appreciated, though the low windshield limits the overall feel of openness somewhat. It's something I did get used to after the first day. There are, however, larger blind spots than I am accustomed to. The pillars get in the way of your peripheral vision a bit, so be careful of your surroundings, and adjust your mirrors correctly. Power mirrors are a huge boon in this case.
I'm overall quite pleased with the Vitara in its current form. There are a few things I hope to see improved. The engine could use a bit more zip for one. It seems to be more for sedate city driving, as it takes a little while to get going. When you pop down a gear, the engine really has to get going to bring you up to speed. There is an upside to this engine and gearing combination. I received the Vitara with 11.1 Km/L on the clock. After a reset, no highway driving, and through truly horrendous daily C5 traffic, I still managed 9.7 Km/L, without trying to be easy on the pedal at all. Impressive.
Value: 4/5
With an MSRP of PHP 1,098,000, this is a great option for a city car that has plenty of comfort for longer drives. You won't be racing anyone with it, but that's not the reason the vitara was created. It might not be the same baby 4×4 platform its old self was known to be, but trading those jungle cops for a tamer, more city-oriented ride isn't a bad thing in the least. Say what you will about heritage, this is a little SUV you're going to love to drive.
What's Hot:
– Comfy
– Compelling price
– Lots of creature comforts
What's Not:
– Missing a little zip
Bottomline:
I would line up for one if I needed a daily ride right now.
Also published in GADGETS MAGAZINE June 2018 Issue.
Reviewed and photos by Ren Alcantara