Practical is a strong word. Choosing something that is practical certainly has its appeal, but let's be honest with ourselves: it takes a very determined individual to choose to drive something like an MPV with other, arguably cooler, options in the market, even though an MUV does have a lot of room, comfort and practicality.
Enter Honda's Mobilio. At once a compact people-mover and somehow, still very much a sedan, the Mobilio is a curious, and good-looking option for those who seek practicality and style. We got to take the RS Navi variant out for some city and long-distance driving to see if the formula works, or it's a compromise that falls flat.
Design: 4/5
I can't say anything other than the truth. I really like how the Mobilio looks. Where other vehicles in its class are large, curvy, and vaguely whale-like, the Mobilio is edgy, sharp, and stylish—like everything else seems to be skewed towards the "van" side of the scale, while this vehicle is deeper in the "sedan" part of the spectrum. You might even call the Mobilio aggressive. The low vehicle profile, low front, and sharp angles make it look smaller, tighter, and faster, which is a big plus in our book. Our ride came in a plain white, with just enough black and chrome to keep things interesting. Looking at it head-on, it might be mistaken for a new generation City or Jazz. While it's larger than either car, it's nicely sculpted, so it ends up looking very sleek overall. The front, and its rear- and upward-swept lights, the Honda emblem, solid grilles and low fog lamps make it look like it means business. It's fascinatingly muscular for something that some might call a mommy van. The only thing that throws the overall look off are the small wheels on the Mobilio, which blunt the overall effect somewhat.
The doors on the Mobilio all open outwards, so if you are in the market for sliding doors, you may have to look elsewhere. Inside, you'll be surprised at just how much room you have available. More than once, our passengers remarked at how that "tiny car" seats seven people comfortably. Both the driver and front passenger have large, deep seats and ample legroom. The rear, on the other hand, has two rows of seats, all similarly large, wide, and comfortable, with the last row able to fold back to hold more baggage.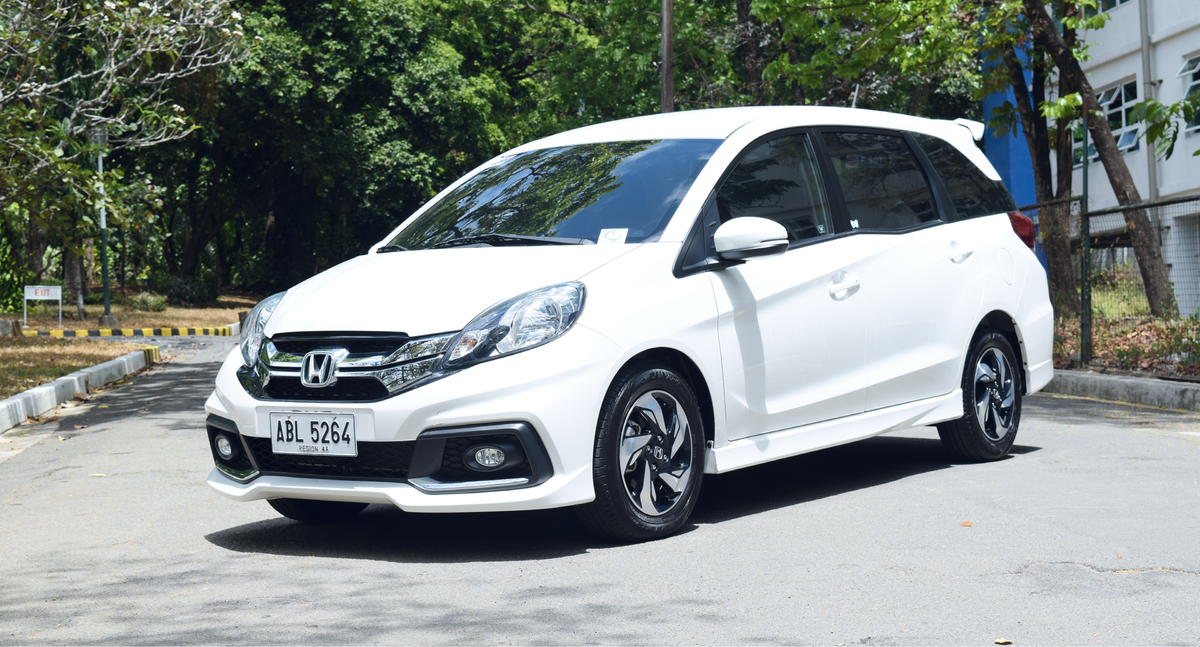 Hardware: 4/5
The Mobilio is powered by a four-cylinder, 1.5L, 16-valve engine mated to a continuously variable transmission. This powerplant produces 120ps at 6000 rpm, and 145Nm of torque at 4600 rpm,
and can move the vehicle to a top speed of 150 kph. Creature comforts include two-zone air conditioning, power windows, and a head unit that also allows for real-time GPS navigation. The driver has audio controls on the steering wheel, and the analog gauge cluster has a variable digital readout that can display additional info such as trip distance, and real-time fuel economy.
The Mobilio also has safety features, including front airbags, ABS with electronic brakeforce distribution, and speed-sensing door locks, to make sure you and your passengers are safe.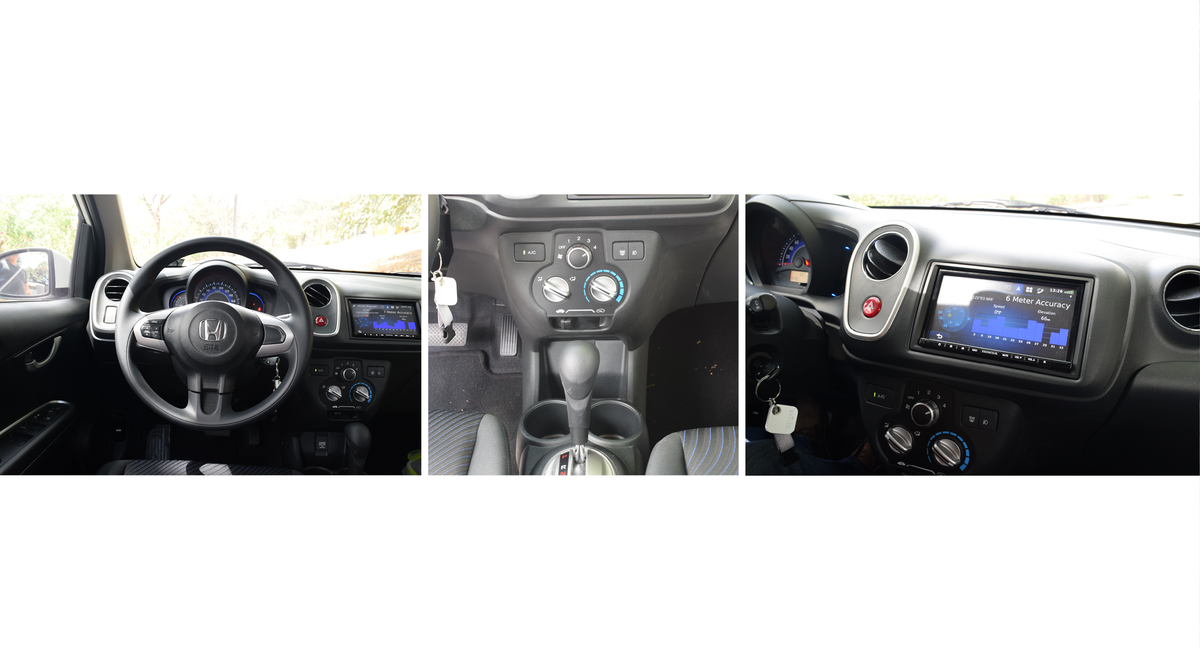 User Experience: 4/5
I honestly had no idea what to expect with the Mobilio. I knew what it was, its intended purpose, and the specs on paper, but seeing it in person threw me off completely. It was nice-looking; nicer-looking than most MUVs out there, and so I had in my mind I was driving a sedan. Getting into the driver's seat just reinforced that feeling further. The Mobilio is low, with the accompanying view, so you feel like you're in a much smaller, more agile vehicle.
Driving the MUV around is a lot of fun. While it's a little longer, steering and handling are really quite tight. It's very sensitive to both steering and accelerator input, and save for the shortest little beat between flooring it and really hauling along, it's very easy to forget you're driving a seven-seater. For such a big car, it's also very nimble in traffic, and dead stable at speed. There was a time I got a little carried away, and pushed it past 135 kph while all my passengers were preoccupied with chatting, tapping away on their phones, and generally doing everything but realizing that we were inching closer to hitting 140 kph as they sat in the comfort of their seats.
I'm not a fan of driving big cars, but this is something I could really get behind.
One of my small gripes with the Mobilio though, is that it is tuned for a heavy load. With seven passengers, the ride is smooth, comfortable, and solid. With just one or two however, it's floaty, as if you were on a boat in calm seas. It's not so bad as to trigger motion sickness, but coming from a sedan, or even a Mobilio packed full with passengers, it is definitely noticeable.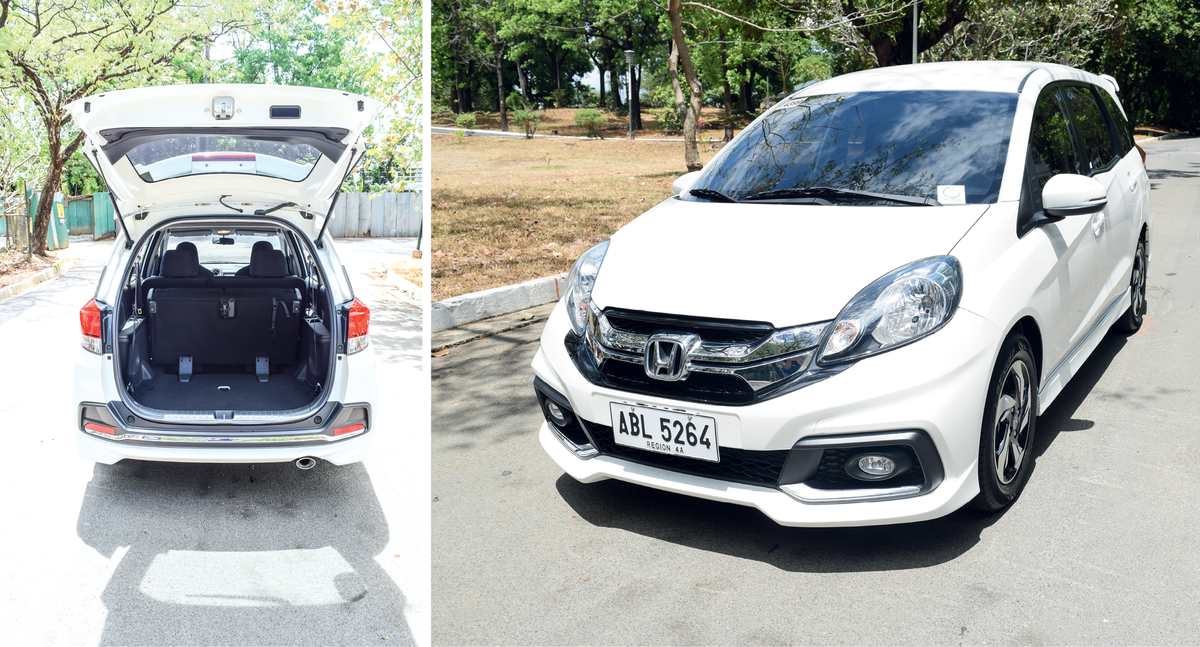 Value: 4/5
At under PHP 977,000, the Mobilio gives you great value for money. It's at once practical and fun, sedate, but with just enough spunk to keep things interesting. If you have a family, lots of friends, or aren't fond of packing light, give it a spin. You might like what you find.
What's Hot:
– Roomy
– Excellent styling
– Zippy
What's Not:
– Floaty when it's not loaded
Bottomline:
Should I have a family of my own someday, I don't think I would be ashamed to be behind the wheel of one of these.
Also published in GADGETS MAGAZINE May 2016 issue
Words by Ren Alcantara
Photos by Emmanuel Luz