I much prefer being on two wheels than on four. The sensation of speed, responsiveness of a motorcycle throttle, and generally just how visceral the ride is makes me want to ride farther than I really have to. Honda was kind enough to lend us one of their latest bikes, the RS150, to feel my need for speed. Launched just this April, it's a bike many people have been waiting for. Here's what we learned.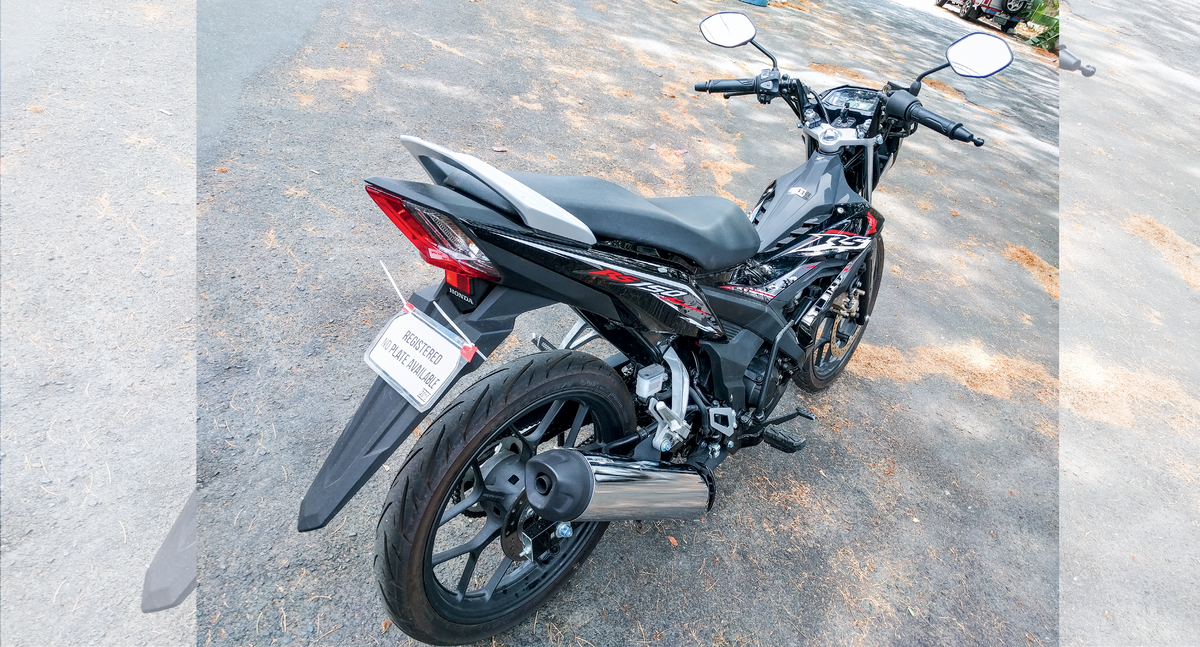 Design: 3.5/5
The RS150 leaves no room to doubt its racing pedigree. Aggressive lines, a low-slung profile, and what Honda calls its "MotoGP DNA" all make for a bike that's built for speed. The RS 150 carries this aggressive look from the sharp, sporty LED headlight that's beautifully angular, down to the huge brake rotors, cast wheels, and sport-oriented undercowl. Despite its intended purpose, the seat provided is wide and comfortable, with plenty of room to move around on, or even take a passenger comfortably along. The tail terminates in a pointed tail light that drives the bike's assertive stance home. It's certainly a handsome-looking bike, though part of us does wish it had a few more details here and there to make it stand out as a Honda steed.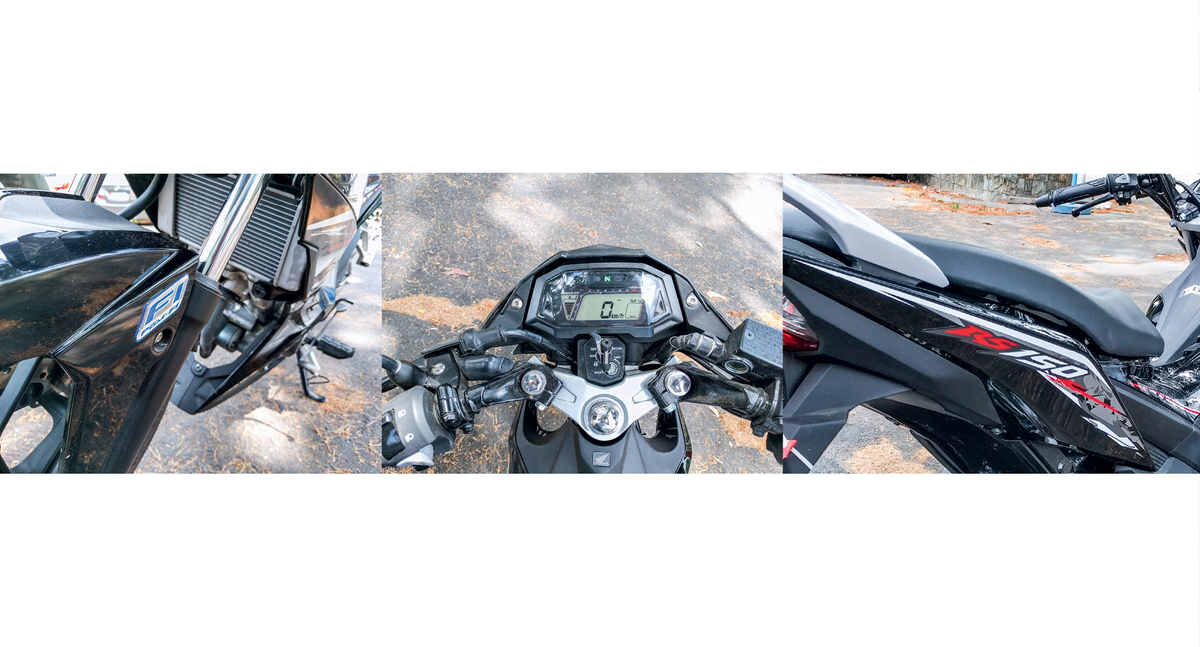 Hardware: 4/5
The RS150 runs a 4-stroke, 4-valve, 150cc DOHC fuel-injected engine. It gives 11.5kW of power at 9,000 rpm, and 13.5Nm of torque at 6,500 rpm. This is paired with a 6-speed transmission, and while the numbers might not seem that high in an absolute sense, bear in mind that the bike is all of 111kg dry, so it's hardly more than an engine with two wheels bolted on. The bike measures in at 1,941 x 699 x 977 mm, with a wheelbase of 1,275mm, and has 140mm of ground clearance. Stopping is handled by hydraulic disc brakes front and rear, and it has a rear monoshock, keeping the swingarm on the ground. The bike is fuel-injected, and the tank carries 4.3 liters of gas. You also get a digital gauge cluster that's both cool-looking and actually quite easy to read, though just a bit on the small side, if you're popping a quick glance.
User Experience: 4/5
Where do I start with this bike? I thought this bike would be a regular review, with me taking the bike out a few days, enjoying it, writing it up, and moving on to the next one. While it was mostly the case, a few things made sure that I won't forget this bike for a good while yet.
Starting the bike is nice. The engine is low, rumbly, and sounds like a monster holding itself back. There's a lot of engine between the wheels of this machine, and it makes no point of trying to hide that fact. The comfortable seating might lull you into a false sense of security though. The seat is wide, soft, and has plenty of give. Later on, while stuck in traffic, I would appreciate both the set height and softness, which didn't pinch the thighs, or pinch the tailbone. The bike pops happily into gear, but when you let go of the clutch, you'd better be ready for it.
If, after seeing the bike, you have any doubt as to what it can do, click it into first, pop the clutch, and give the throttle a little twist. You'll find that the sedate rumbling was in fact a beast holding back. This thing just rockets out the gate. When you're in a real hurry, you'll be going through the gears in short order, and the whole time, it doesn't feel like the bike is going to run out of push. It does enjoy playing around the 6,000 mark, so keep it cooking there, and you'll both be happy. RS 150 is also surprisingly agile. It takes leaning very well, and while I didn't find myself in a position where I needed to turn aggressively enough to have to countersteer, I have little doubt in my mind that it would oblige without hesitation. It will probably go lower than my courage would allow, but due to narrow, squared-off tires, I decided not to push my luck. It's a heck of a ride, and fortunately, the low weight that lets it just fly, also makes the brakes very effective in scrubbing off speed. They do tend to bite suddenly, and whether that's a quirk that would have disappeared with more riding or not, it's something you have to be aware of. I've never really been scared of a bike before, but the power, low weight, and eagerness to change direction really got me thinking about backing off from the throttle a bit.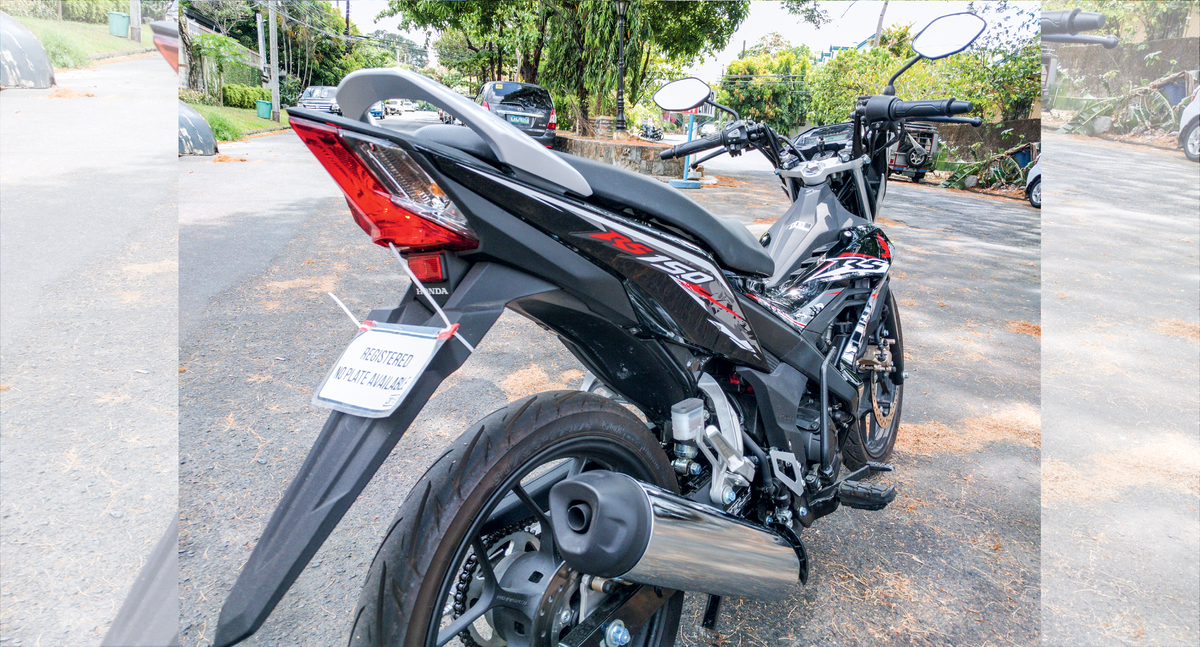 Value: 3.5/5
At about PHP 95,000, this is a bike that is certain to put a smile on your face, as soon as you know how to treat it right. It's a lot of bike for quite a low weight, so be careful don't push yourself too hard, and you'll be off to great rides with this beast.
What's Hot:
Great power to weight radio
Responsive
Comfortable
What's Not:
A little scary at full tilt
Brakes take some getting used to
Bottomline:
If you just can't get enough out of your current underbone, this might be the way to go.
Also published in GADGETS MAGAZINE June 2016 issue
Words and Photos by Ren Alcantara