Subaru describes the Levorg as an "innovative sports tourer" built for people with active lifestyles. We took it for a spin through the twisties of Tanayburgring and also crawled through EDSA traffic behind its wheel. Read on for our verdict.
Design: 4/5
At first glance, the Levorg's hawkeye LED front lamps, chrome-trimmed front grille, and aggressive hood scoop make a bold, powerful statement. Twin tail mufflers and LED rear combination lights combined with 18-inch alloy wheels reinforce the sporty image.
Inside, plush leather upholstery and trimmings convey premium luxury, while the D-shaped steering wheel with paddle shifters and large metal foot pedals impart sportiness. Something I would immediately replace if I had the chance would be the floor mats which feel slippery even when wearing rubber-soled footwear.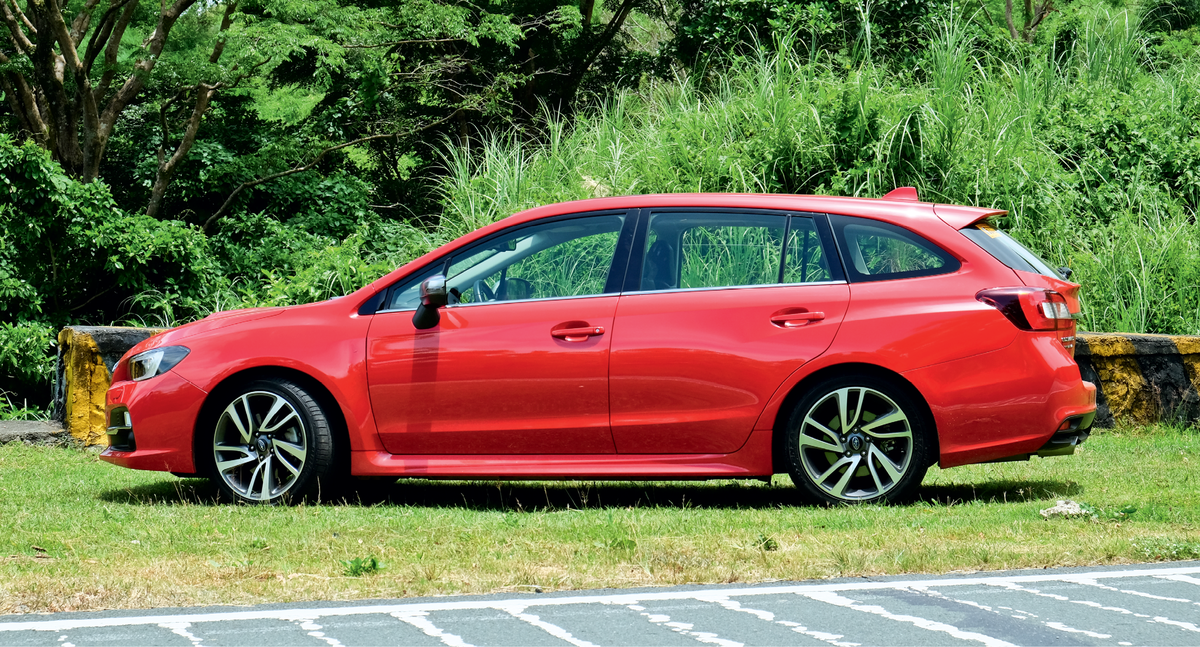 The Levorg's wagon body configuration makes it a versatile cargo hauler as well, with 60-40 folding rear seats easily accommodating bulkier/longer items.
Personally, I really like the quarter glass on the front windows it's a small detail that does a lot to improve driving visibility.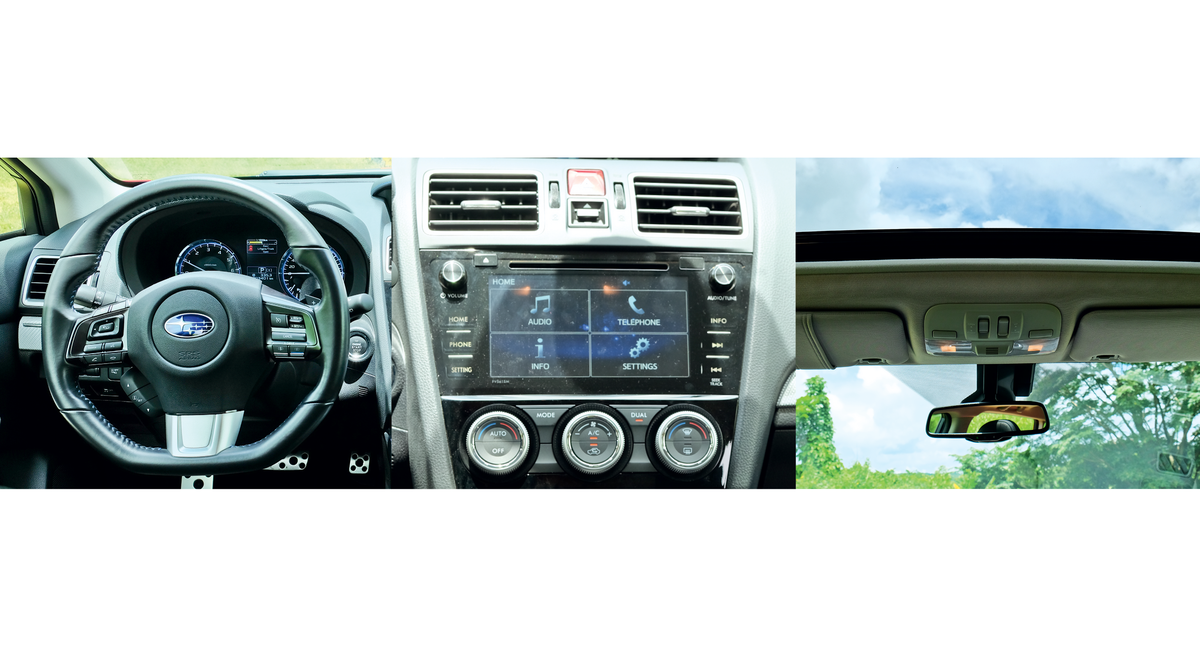 Hardware: 4.5/5
A horizontally-opposed, 4-cylinder, turbo-charged, double-overhead camshaft, 16-valve, 1600 cc Boxer gasoline engine is the heart of the Subaru Levorg. It delivers an astounding 250 Nm of maximum torque, as well as power output up to 170 ps. A reengineered, more compact lineartronic continuously variable transmission ensures smooth acceleration with optimal fuel efficiency. At the same time, Subaru Intelligent Drive (SI-Drive) settings lets you choose between (I)-intelligent or (S) sport mode, while paddle shifters let you experience six-speed manual shifting.
Subaru is renowned for its symmetrical all-wheel drive system, where power is evenly distributed to all four wheels. For improved drivability, the Levorg is equipped with a vehicle dynamics control system that adjusts AWD torque distribution, engine output, and braking force distribution to each wheel for better driver control. Meanwhile, active torque vectoring strategically applies the brakes during cornering for improved steering control. Brakes are ventilated discs on front and rear, while suspensions are front McPherson struts and rear double wishbones.
Subaru's advanced safety package includes high beam assist (HBA) that detects road conditions and automatically toggles between high and low beams for improved night visibility, and Subaru rear vehicle detection (SRVD) that alerts you of vehicles in your blind spots for safer reversing and lane changes. A rear vision camera system also ensures that you get a clear view of what's behind you when backing up.
The usual slew of safety features—antilock brakes with electronic brake force distribution, front and curtain airbags, etc.—come standard.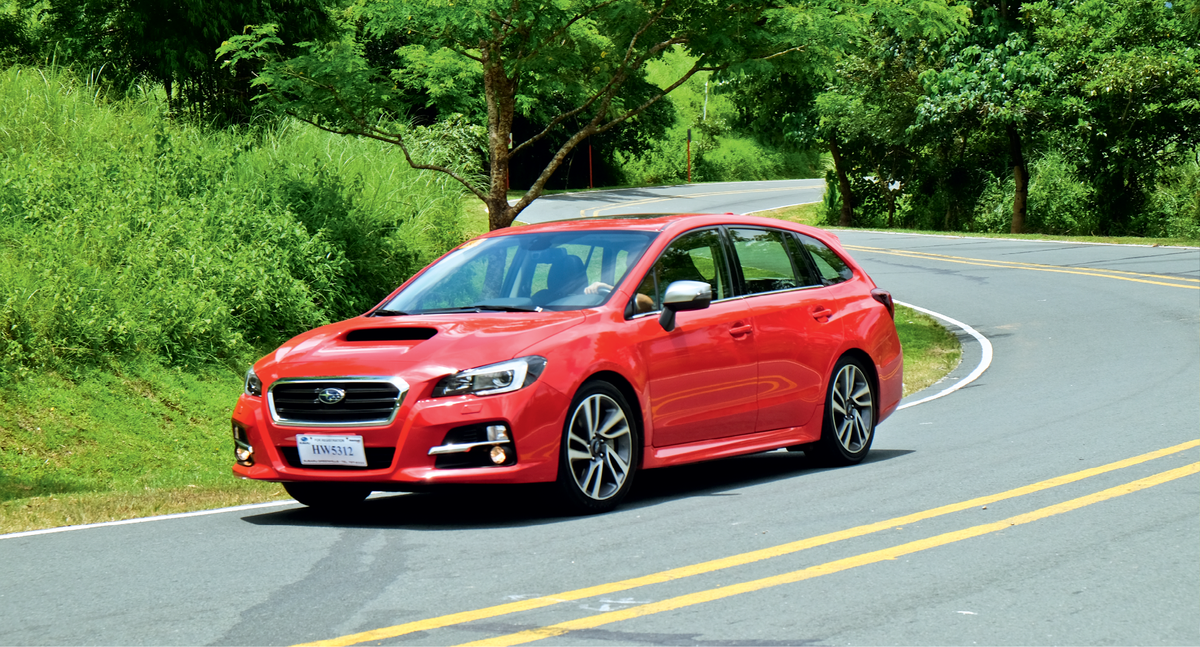 User Experience: 4/5
What's the best thing about the Levorg? For me, it's the combination of high-torque and all-wheel drive stability, tempting one to attack the twists and turns of Tanay's winding mountain roads at speed. Even on the uphill stretches, you sense the pulling power of the high-torque turbo engine. On the corners, there is no drift or body roll, and you know that the car has the traction to stay in your lane. Power, speed, stability, control—these are what you get from the Levorg on open roads.
It's a totally different story on the mind-numbing stop-and-go crush of EDSA traffic. The Levorg's suspension, tuned to give you great road feel, does just that, so you really feel every bump and rough patch. When crawling along at below 10 kph, it's hard to keep the engine rev steady and you get the occasional jerks and stutters. What about the eco-mode auto-stop/go function? The short answer is, just disable it.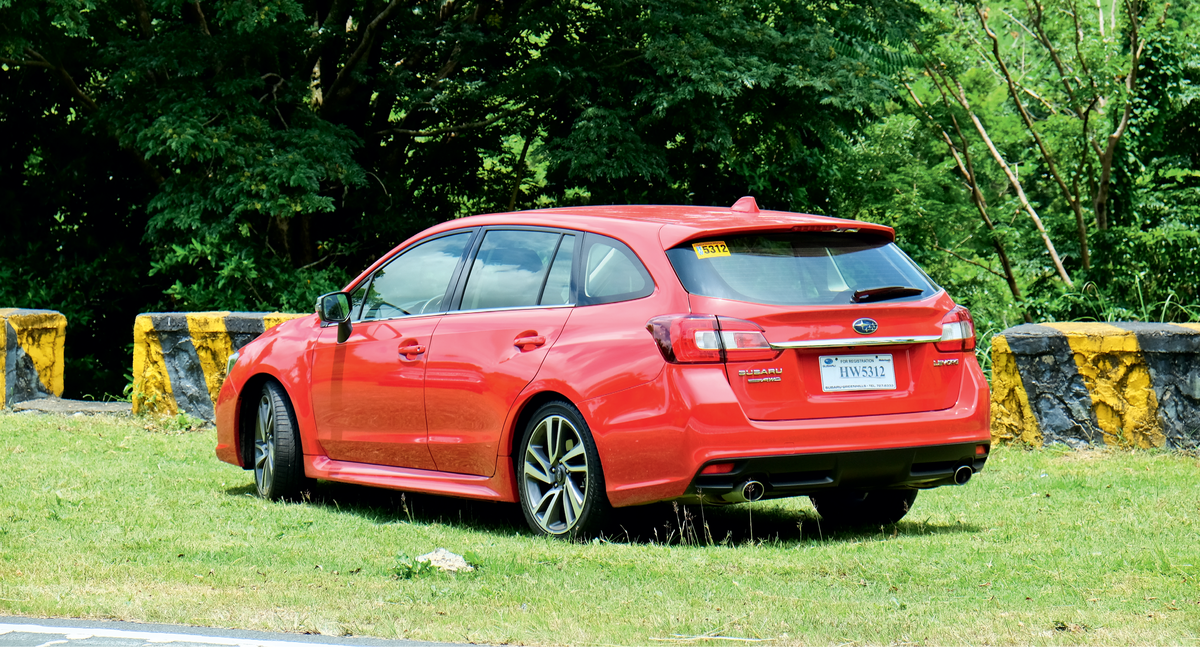 What else did I like about the Levorg? It has a number of features and amenities that cater to the techie lifestyle. First, the multifunction display on the center of the dashboard lets you configure the vehicle data you'd like to see. The audio system has a large touchscreen display that lets you connect your smartphone and play your music via Bluetooth. Steering wheel controls offer convenient access to the vehicle menu and audio system as well as cruise control. There are USB power outlets for the front and rear, so you can keep your devices powered up.
Auto-headlights as well as rain-sensing wipers let you focus on driving, without having to worry about darkened roads or bad weather.
What else is missing? Strangely, the Levorg does not have speed-sensing auto-door locks, so if you value your personal safety, you will have to remember to press the lock button every time you hit the road.
Value: 4/5
The sticker price on the Subaru Levorg is PHP 1,718,000 placing it in the premium range but not totally out of reach for ordinary mortals. Taking into account the turbo-charged engine, all-wheel drive, and all the other equipment and convenience features included in the total package, the price tag seems reasonable and well-justified. At this price category, a head-to-head comparo gives the Levorg many plus points over competing models.
What's Hot:
All Wheel Drive!
Sporty, fun to drive
What's Not:
Suspension is too stiff for our roads
Stutters in stop-and-go traffic
No speed-sensing door locks
Bottomline:
The men in the family will definitely covet this mom-mobile on steroids!
Also published in GADGETS MAGAZINE August 2016 issue
Words by Maribelle Alba
Photos by Barry Ortiz