There comes a time in every gearhead's life where small three-door hatches, wings, tow eyes, and excessive carbon fiber give way to practicality. Maybe it's marriage, a second child, or a promotion that makes all that seem irrelevant, maybe even ridiculous. The truth of the matter though, is that once you get that feeling in your brain, there's very little you can do to escape it, at least not completely. This seems to be the takeoff point for Subaru's Levorg. It's a practical station wagon, with room for a modestly sized family, their luggage, and maybe the family pet. There's more to it than that though. Under the hood is the heart of something wilder, a heart that might be more appropriate for something with fewer doors, and more carbon fiber, and tow eyelets. The Levorg is a strange beast, and we got to review it for a week, and up a trip to Tagaytay. Here's how we enjoyed it.
DESIGN – 4 / 5
TThe Levorg is one of those cars that looks better the longer you stare at it. At first glance, it's not particularly exciting—it is a station wagon after all. As your gaze wanders around the car, you'll start to notice an aggressiveness to it, with an angular face pushing lines up the hood, to the large scoop, and past the windshield, and up the roof. The sharp grille, with the unmistakable Subaru stars, slanted headlights, and low stance all come together, making for a vehicle that's worth a second, even third look. Yes, it's a station wagon, but it's more than just that, and the Subaru designers were very successfully able to translate that into how the vehicle looks. There's a slight disconnect between action at the front, and the more sedate rear, but it's not a major flaw, and overall, it's still quite a looker.
Inside is just as good. Lots of leather, a sporty look, and an incredibly convenient (if busy) set of steering wheel controls, plus a highly informative MID at the top center of the dash give you a feeling that this is more performance machine than family car—something that more than a few of us appreciate, I'm sure.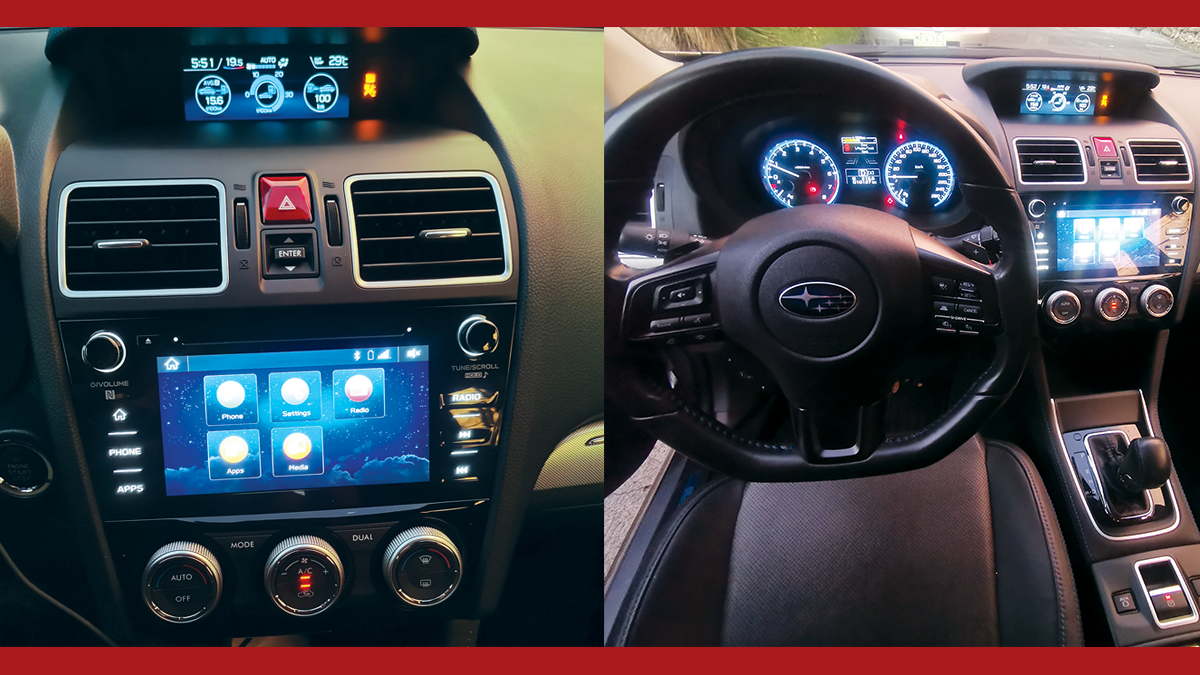 HARDWARE – 4.5 / 5
This is where it gets interesting. If you look at it, it's actually a reasonably practical vehicle. There's room for seating four and a driver as long as the middle rear passenger hasn't had too much to eat that day, a massive 522 liters of storage space, and superb comfort inside the cabin. You even get EyeSight which, if you've read any of our Subaru reviews recently, you'll know is something I can't stop praising.
Where the Levorg really got our attention though, was under the hood. Those who know, and those who don't, just need to look at the scoop to figure out what's up. In the engine bay is the same 2.0-liter turbo intercooler boxer engine as in the 2018 WRX. Let that sink in for a minute.
This monster of a power plant is mated to a CVT which the driver can take command over thanks to paddle shifters, and maximize thanks to SI-Drive. Did I mention it has the 2018 WRX engine in it? That's important.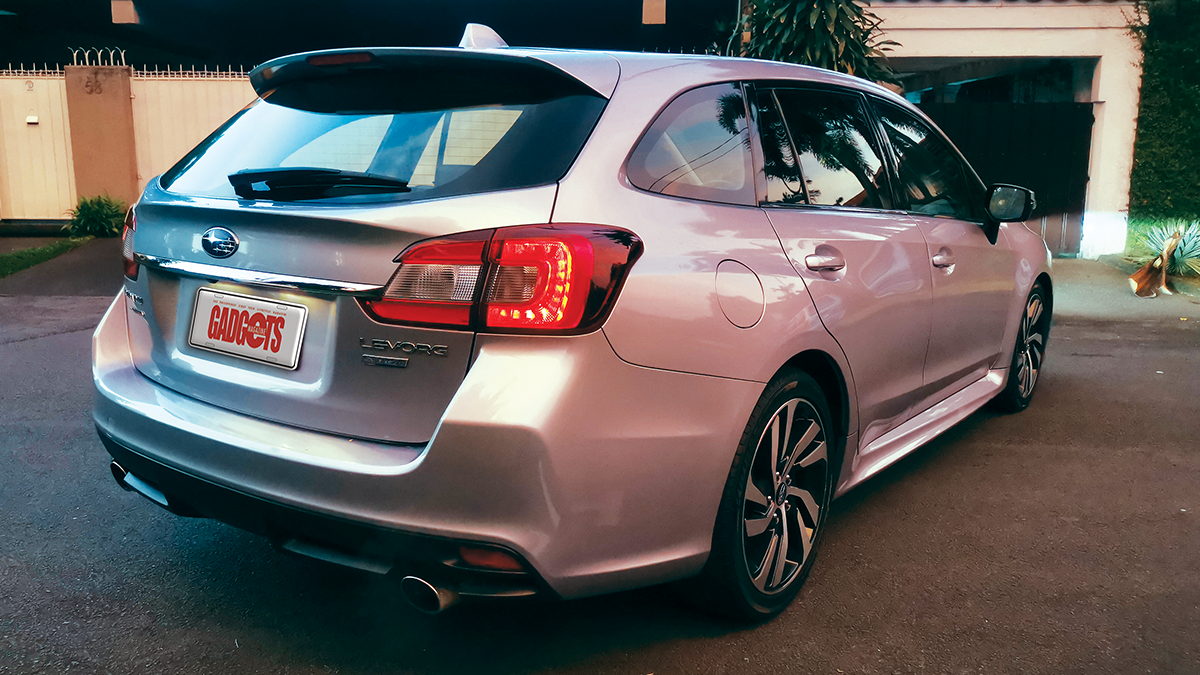 USER EXPERIENCE – 5 / 5
En route to a Tagaytay wedding, I was under the flawed impression that leaving for Tagaytay at 5:30 AM would be early enough to avoid the SLEX traffic. An hour later, still on the same stretch of superhighway, I was already thanking the engineers at Subaru for developing EyeSight. It proved invaluable in the slow crawl we were slogging through, along with the decreased focus of an early-morning drive. As with other models we tried, the system performed flawlessly, bringing us to a gentle stop, and maintaining the proper distance from the car in front with no effort on my part.
Once the roads finally opened up, there was enough space for the Levorg to stretch its legs. In Sport mode, a slight tap on the accelerator quickly brings the 2.0 boxer engine rumbling to life, and a split-second later, you're rocketing down the road with the acceleration that feels much more appropriate for a track toy than a family car. It's a great engine, and while I might not have considered it for a car like the Levorg, I am eternally thankful that Subaru's designers are much more intelligent people than I. It handled the extra weight well, and didn't leave me hanging when I needed power, even with a reasonably heavy load.
Through the empty twisting roads on the ascent to our destination, the Levorg didn't miss a beat. Sure-footed and impeccably stable with its low-slung frame, I could tell that it would take much more than my driving and the Tagaytay highway to push it even close to its limits.The paddle shifters responded with no discernable lag, allowing me to drop down a gear, give it some gas, and overtake without fear of having the window close on me. Our rear passengers slept soundly throughout the entire ordeal, a testament not to my own driving, but the levels of comfort, control, and safety the Levorg offers. As a passenger car, it has more than enough, even if you fancy yourself a car guy or car gal.
There's no such thing as a free lunch and this becomes particularly evident when you spend the better part of a trip flooring it on a car with rally genes. The fuel consumption total came out to about 6.5 km/L for the trip, though to be fair, there was a lot of gnarly traffic, and the parts that weren't clogged were extremely tempting. Brakes on the Levorg were solid, and never paused to give me second thought, even with significantly more weight than the WRX with which it shares a heart. On the whole, this is another one of those cars that I absolutely did not want to return.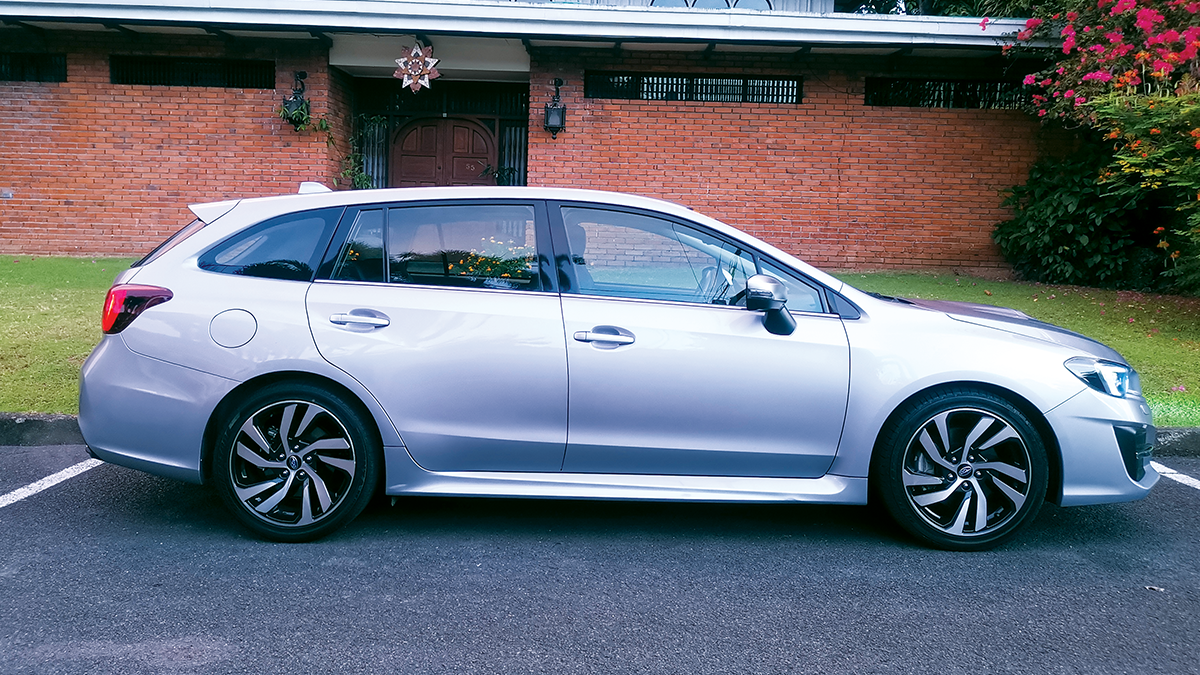 VALUE – 4.5 / 5
Are there sportier cars? Yes, many. Are there more practical cars? Even more than sporty ones. But are there vehicles that manage to bring equal parts of both, for a ride that will just as happily take your family on a roadtrip, and get your heart going on a quick run up a mountain? I'm not quite so sure. This alone justifies the PHP 1.998 million price tag. Now, i'm finding a way to get my wife to agree to buying one.
What's Hot:
Actually reasonably practical
0-100 in under 7 seconds
So many features
What's Not:
Really drinks up fuel
– Looks aren't for everyone
Bottomline:
"Wolf in sheep's clothing" doesn't do it justice. This thing is a tiger.
Reviewed and photos by Ren Alcantara
Also published in GADGETS MAGAZINE February 2020 Issue