The Volvo XC40 is the Swedish marquee's entry to the premium compact SUV category. It earned the prestigious European Car of the Year 2018 and Japan Car of the Year 2018-2019 awards when it was first launched. Let's find out what makes this car a winner.
DESIGN – 4/5
Street fashion was the inspiration for the Volvo XC40, designed to be tough and vibrant yet fresh and playful. The two-tone color scheme with the solid black roof top, roof rails, side mirrors, and skid plates complement the R-Design front grille and 19-inch black diamond cut alloy wheels for a striking visual impact that is muscular yet sleekly Scandinavian. It has a panoramic sunroof, for those who want to let in some sun and wind.
The R-Design interior trim is similarly pleasing, with that level of attention to detail that marks this car as above the ordinary. The décor inlay is bold and different, towards which I initially had ambivalent feelings until familiarity turned into liking. I love the combination of leather and Nubuck upholstery on the seats as pure leather seats can turn uncomfortably warm and can be slippery so you're always trying to slide back up to a more upright seating position. The driver seat can be programmed to remember settings including the exterior mirrors, so if you're sharing the XC40 with another driver in the family, you can just press a button to quickly adjust the seat and mirrors to your ideal position.
Clearly, a lot of thought also went into the design and location of storage spaces. For instance, the door pockets are deep and large enough to accommodate my 12-inch iPad which, in other cars, I would usually slip into the space beside the front seat and the center console. The compartment under the front center armrest has room for a small bag. There's also a smaller bin in front of the armrest for trash or other small items. Below the center display is a tunnel console with wireless charging for your smartphone—neat! The rear cargo area can be accessed hands-free with its power tailgate. Inside, the spacious trunk space, with its foldable load floor with bag holder, can be configured so smaller bags or boxes don't slide around.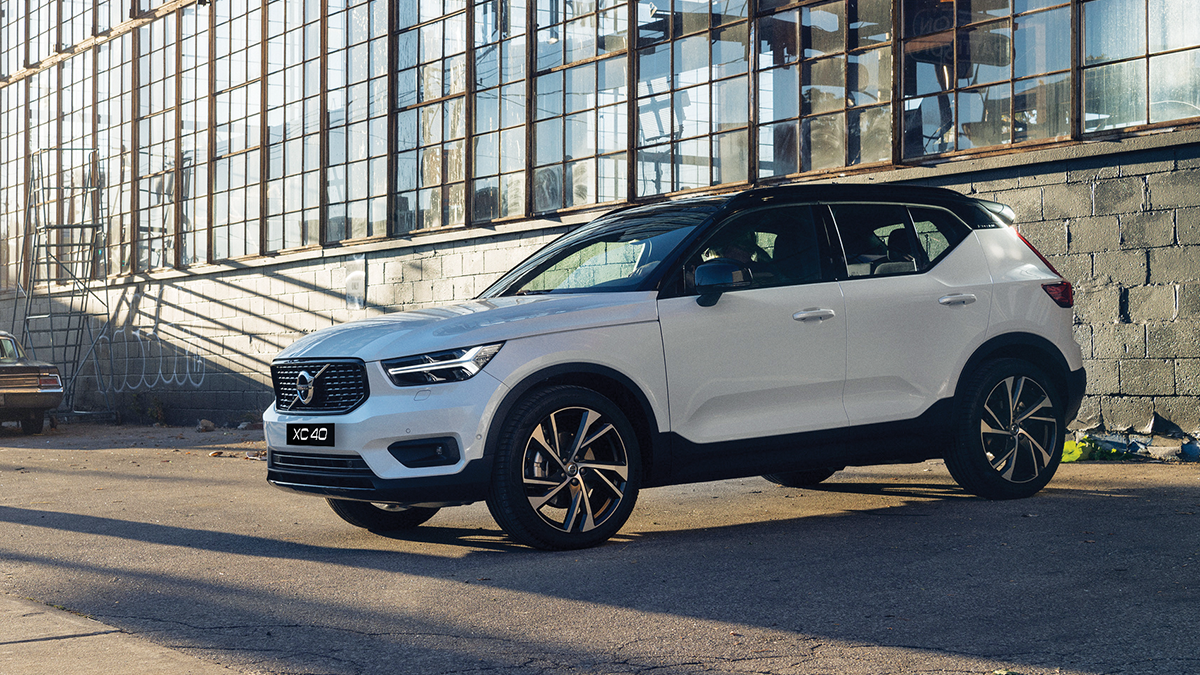 EQUIPMENT – 4.5/5
The Volvo T5 engine mounted on this variant is a 2.0-liter turbo-charged gasoline engine mated to an 8-speed automatic transmission with geartronic. With an all-wheel drive powertrain, it is able to accelerate to 100kph in 6.5-seconds, thanks to a maximum output of 252hp and maximum torque of 350Nm.
The R-Design's sport chassis is tuned to have stiffer shock absorbers and springs. Additionally, drive mode controls—Comfort, Eco, Dynamic, Off-road, and Individual—let you choose the powertrain and steering behavior to suit your driving preferences.
Volvo is renowned for its superior safety, and the XC40 is certainly overloaded with a plethora of safety features. Here's a quick rundown:
For preventive safety, there's collision avoidance and mitigation with intersection support; pedestrian, cyclist, and large animal detection; front and rear collision warning; driver alert control; lane keeping aid; run-off road mitigation with road edge detection; oncoming lane mitigation; blind spot information with steer assist; cross-traffic alert; seat belt detection for all seats; anti-lock brakes; and emergency brake assist.
For protective safety, the XC40 has pre-prepared restraints; run-off road protection; driver and front passenger dual stage airbags; driver's side knee airbags; side impact protection with dual-chamber side airbags; full-length inflatable curtains; whiplash protection system for front seats; post-collision auto braking and unlocking; collapsible steering column; brake pedal release; and energy absorbing seat cushions.
Finally, child safety features include power child safety lock; passenger airbag cut-off switch; ISOFIX attachment rear outer seats; power windows with pinch protection; and integrated two-stage booster cushion on the rear center seat.
For me, the centerpiece of the XC40 is, without doubt, the huge 9-inch touchscreen center display that is the control center for all the technology features packed into the car. With support for Apple CarPlay and Android Auto, you have access to essential smartphone functions without sacrificing safety. Eight high-performance speakers deliver outstanding audio. Techies will appreciate Bluetooth connectivity as well as two USB ports, one USB Type-C port, and two 12V sockets for all their gadgetry.
In addition to its two-zone electronic climate control system, the XC40 protects occupants from unhealthy air with its clean zone interior air quality system.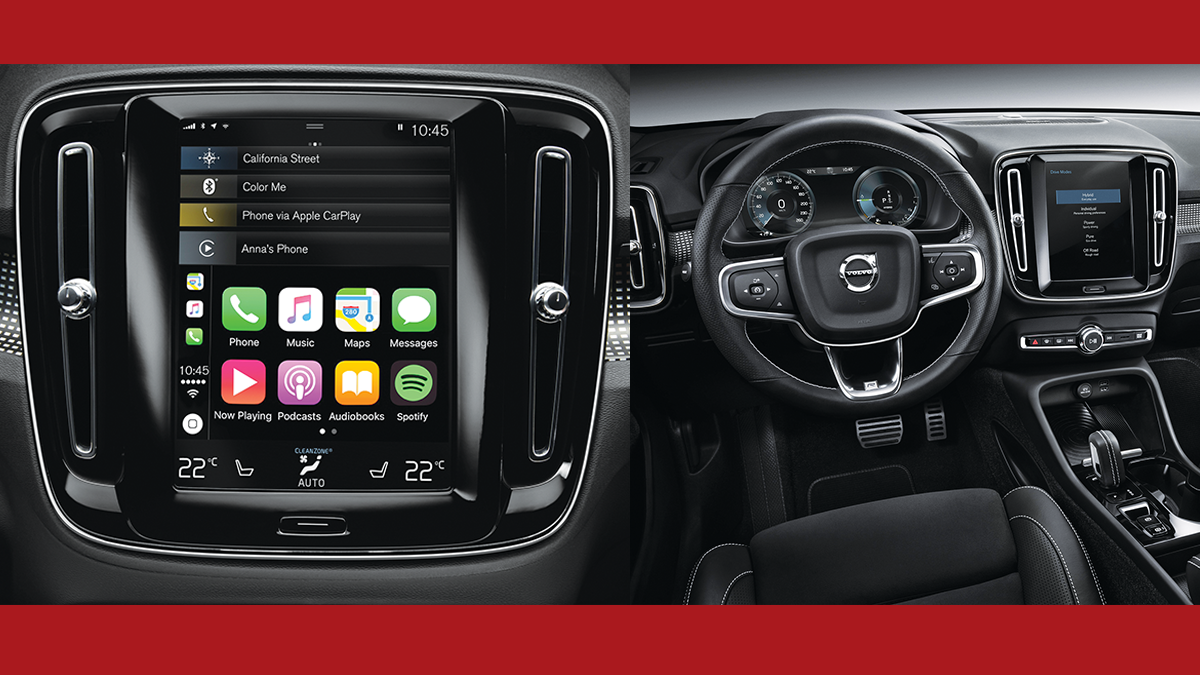 USER EXPERIENCE – 4.5/5
With all the equipment packed into the XC40, all you have to do when you get behind the wheel is drive. Wait. Like any gadget, you first have to configure the XC40 to your personal preferences—driver seat position, exterior mirrors, drive mode, etc. Then you pair your smartphone via Bluetooth for audio streaming and other phone functions. Download and update additional apps like Spotify and other on-board apps. There's even a Volvo On Call app that's supposed to let you control major vehicle functions, such as turning on the aircon, from your smartphone or wearable.
Having done all that, then you can get behind the wheel, push the Start button, wait a few seconds as the dashboard display lights up and runs through a checklist indicating that all systems are working properly, and then drive off.
The Sensus navigation system installed in the XC40 is actually quite precise for location tracking. However, directions can be iffy, and you don't get real-time traffic updates. If I had more test drive time, perhaps I would have been able to figure it out eventually. In any case, navigation wasn't really an issue with access to Google Maps on my phone.
Weather was bad during my test drive days and I was often driving through unceasing rain, overcast skies, and heavy stop-and-go traffic. Thankfully, the XC40 is packed with features that address many driving woes. For instance, I really appreciated the auto brake hold when stuck in traffic since it allowed me to take my foot off the brake pedal and stretch my knee without fear of accidentally hitting the car in front. My commute home requires me to go through a tight, two-lane municipal road that's often congested with bikes, tricycles, jeepneys, and pedestrians. Volvo's intelligent preventive safety features give me the extra reassurance that I can safely avoid any untoward incidents involving other road users.
Regrettably, I did not have the opportunity to take the XC40 out on the expressways for a more extended road trip which, I am sure, would have been a most enjoyable experience. Sigh.
I was not quite ready to say goodbye to the XC40, and I'm afraid Brigitte, my trusty 6-year old B-Class, has developed an inferiority complex to the superior tech features of the XC40. When I picked her up from the Volvo office in Makati, she was feeling really sorry for herself and it took a while to reassure her that we still had many road trips ahead of us.
VALUE – 4/5
The price tag on the Volvo XC40 R-Design T5 is PHP 3,895,000—hefty, but in the same price range as its competitors. Taking into account all the good stuff packed into the vehicle, it's a price worth paying if you have the funds available. Moreover, with Volvo's solid engineering and technology, it's safe to say that the XC40 will hold its value and functionality for many years, particularly with access to firmware and software updates to future-proof the car.
What's Hot:
So much tech stuff
Great attention to details
What's Not:
Bottomline:
Great looks, great performance, great tech—what's not to love?
Reviewed by Maribelle Alba | Photos supplied by Volvo
Also published in GADGETS MAGAZINE March 2020 Issue