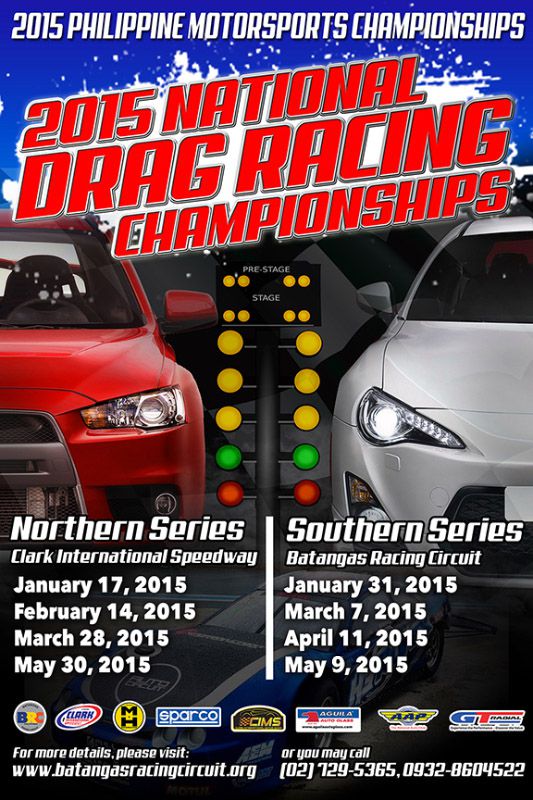 The Batangas Racing Circuit has laid out the schedule of this year's National Drag Racing Championship (NDRC) with the season opener set for tomorrow, January 17.
Certified by the Automobile Association (AAP), the 2015 leg of the NDRC will have a total of eight races: four each for the Northern Series at Clark International Speedway (CIS) and Southern Series at the Batangas Racing Circuit (BRC). Though both series will have their division champion, only the racer who accumulates the highest total points will be named as the National Series Champion at the yearly Golden Wheel Awards.
Competitors will be divided into five groups based on their qualifying quarter mile times. These are the: HotStreet Class (16.00 seconds and slower), Sportsman Class (14.00 to 15.99 seconds), Expert Class (12.50 to 13.99 seconds), Pro Class (11.00 to 12. 49 seconds), and Super Pro Class (10.99 seconds and better). The NDRC also uses a bracket racing system emphasizing driving skills over car performance so vehicles of all calibers start on the same foot.
Some of the fastest drivers in the previous competitions will be returning, including Vanni Garcia of Vannitech W-Autosport, Danes Sarmiento of H3-Rurex, and reigning 2014 champion, Jonathan Tiu of JCT-Blanche who covered a quarter mile in a record time of 8.806 seconds in his Nissan GT-R.
Those interested in joining need to prepare an entry fee of PHP 2,000, AAP day license of PHP 300, and driver insurance of PHP 400. Those in the Super Pro and Pro groups must also acquire an AAP National Competition License before joining. The full list of requirements and regulations are available at http://www.batangasracingcircuit.org./
The 2015 Season of the National Drag Racing Championship is as follows:
Northern Series (Clark International Speedway)
January 17, 2015
February 14, 2015
March 28, 2015
May 30, 2015
Southern Series (Batangas Racing Circuit)
January 31, 2015
March 7, 2015
April 11, 2015
May 9, 2015
The 2015 National Drag Racing Championship is sanctioned by the Automobile Association Philippines (AAP) and sponsored by M&H Tires, Sparco, GT Radial, and Aguila Auto Glass.
For more info or inquiries about the National Drag Racing Championship, please contact BRCI at (02) 729-5365 or 0932-860-4522. Get the latest announcements at https://www.facebook.com/batangasracing.circuit/ or log on to http://www.batangasracingcircuit.org./