Toyota Motor Philippines leads industry recovery in 2019
From a market contraction in 2018, the Philippine automotive market finished 2019 with 2.4% growth rate led by a strong fourth quarter from most industry players.
"As industry leader, it is Toyota's role to drive the industry back to sustainable growth. We will continue to be this country's solid partner in nation-building. In fact as of end 2019, TMP has paid a total of PHP 384.3 Billion cumulative taxes since the start of our operations," expressed Chairman Alfred V. Ty.
"Despite the downturn of 2018, Toyota Motor Philippines maintained its workforce of 2,195 Filipinos, on top of those employed by its network of 71 dealers nationwide," he added.
Recognizing the significance of its responsibility as industry leader, Toyota Motor Philippines beefed up its efforts to stimulate the market through various customer service and value-added activities, resulting to sales of 162,011 units and a share of 39.5% for the year.  Of this number, 54,028 were produced locally in its Sta. Rosa manufacturing plant furthering our commitment to the development of the local automotive industry.  
TMP's locally-assembled flagship passenger car, the Toyota Vios, which is entered under the Comprehensive Automotive Reform (CARS) program, remained the country's best-selling vehicle with 33,181 units sold.  This puts Toyota on track to deliver its commitment under the program.
Sherwin Chualim, first vice president for marketing division, went on to say, "we sincerely appreciate the motoring public for their trust and confidence in Toyota throughout the years."
Donations for families displaced by Taal Volcano eruption
To help families affected by the recent Taal volcano eruption, Toyota Motor Philippines (TMP) and its media partners pledged PHP 2-million as aid for evacuees in regional relief centers in Batangas and Laguna province.
The announcement was made during TMP President-designate Atsuhiro Okamoto's welcome remarks during the annual Media Thanksgiving event. The usually festive media appreciation party was scaled down this year to a simpler dinner gathering. Savings from the event formed part of the PHP 2M-donation given in the name of the media attendees.
"The eruption of Taal Volcano during my first month here in the Philippines is very unfortunate for many Filipinos," said Okamoto. "But it also shows the Filipino values of bayanihan and resilience.  The ability to stay positive during hard challenges is truly a wonder. I believe this is what moves this country forward.  I hope to make this my second home in the coming years."
"We have decided to downscale this year's party and reallocate funds to support the victims of the Taal Volcano eruption. I thank you, our friends from the media, for joining us in this sacrifice," he added.
The financial contribution will be allocated for necessary supplies to support the evacuees displaced by the Taal Volcano eruption in various centers in the Province of Batangas, and to the City of Santa Rosa which is assigned as the Regional Evacuation Center of CALABARZON.
Toyota Football for Tomorrow kick-off
Toyota Motor Philippines (TMP) also officially kicked-off its mission to find, train and mentor the country's future football stars.
The country's leading automotive company has partnered with football academy and league operator 7×7 to launch Toyota Football for Tomorrow (TFFT) in the Philippines. TFFT is Toyota's youth program, created to help young and aspiring football players have access to proper training and development.
Launched under Toyota's Start Your Impossible (SYI) global initiative, TFFT will focus on the underprivileged yet promising football talents, aged 15 and below, through free football clinics that will run in key locations across the country.
"Toyota espouses mobility for all, and we believe that sports has a profound power to improve the lives of young Filipinos," said Elijah Marcial, vice president for marketing services at TMP. "Through Toyota Football for Tomorrow program, we are giving deserving kids a chance to achieve their dreams by polishing their raw talent. Hopefully, this leads to more opportunities for them to have a future in football, uplift their families and contribute to society."
Qualifying participants of the regional clinics to be held in Luzon, Metro Manila, Visayas and Mindanao will be selected to form regional teams. These teams will then compete in a national tournament to be organized by TMP and 7×7, with the goal of assembling a national TMP Football Team that will get the chance to represent the country in international Toyota tournaments.
TFFT is designed to be a continuous youth development program, which means the selected athletes will be molded by football professionals, with the goal of eventually landing a career in sports.
Former Philippine Azkals national football team athlete Anton Del Rosario, who heads 7×7 and its 7s Football League has been selected by TMP to lead and operate TFFT in the Philippines.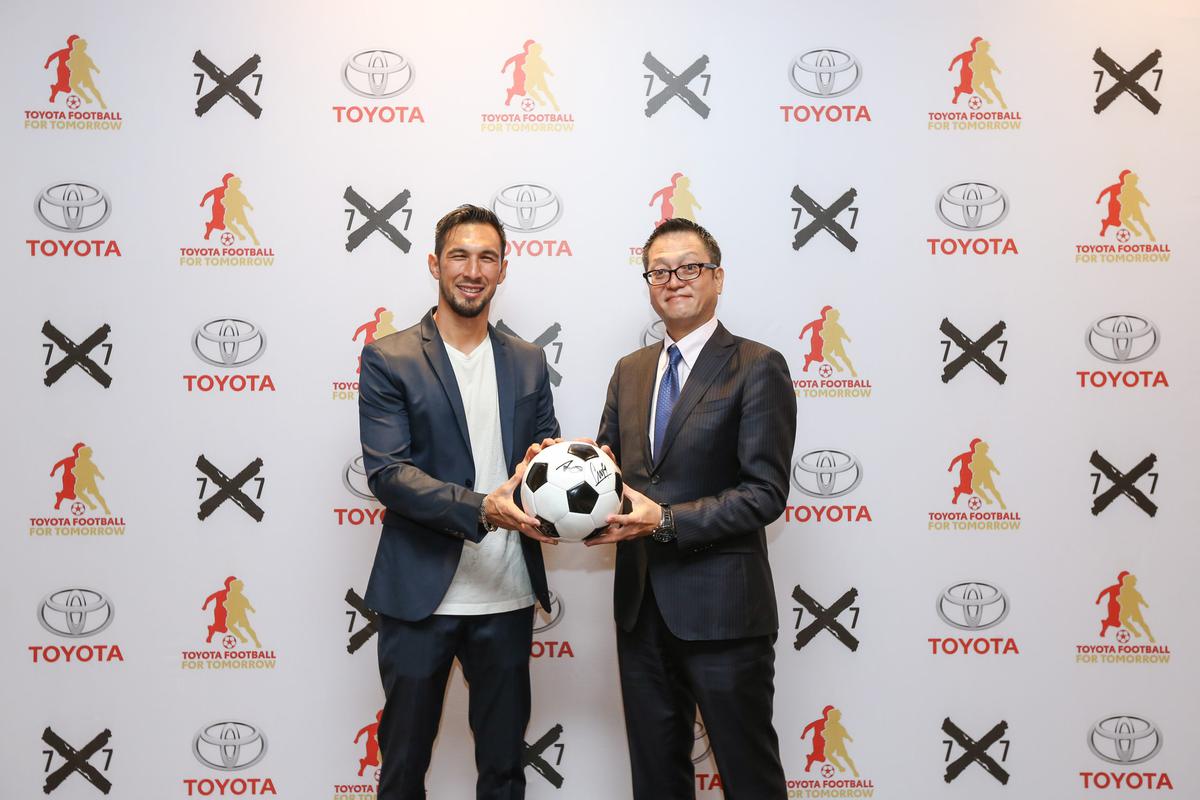 "Football is more than just a sport, it brings peace, opportunity, and teaches important characteristics which people will use outside of the sport. It brings all cultures and races together. It creates jobs, goals, dreams. It teaches Teamwork, respect, resilience," said Del Rosario.
Soon, TMP and 7×7 will start going to key areas in the country to recruit potential clinic participants who will be given the chance to start their football journey with the help of Toyota and its dealer network.
For updates and announcements on TFFT, follow TMP on social media at www.facebook.com/ToyotaMotorPhilippines and www.twitter.com/ToyotaMotorPH, and visit the official website at toyota.com.ph.