GPS trackers have been around for some years now, but their utility has been limited mainly to enterprise users—such as those engaged in trucking/hauling, car rental, company fleets, etc.—that need to monitor the location and activities of their vehicles.
Unlike dashcams that motorists are beginning to see as an essential in-car accessory for their personal protection in case of problems on the road, GPS trackers have not been on the radar of ordinary drivers. By introducing comprehensive car insurance coverage with a companion GPS/telematics device from VTEL, the UCPB GEN Blackbox is redefining what on-road protection means.
In an 11-day road trip across the Philippines, Gadgets partnered with UCPB GEN Blackbox to provide protection for eight participating vehicles. Here are some of the highlights:
The VTEL GPS tracker takes only minutes to install. All you have to do is secure the device on top of your car battery using double-sided tape, then attach the wire clips to the corresponding positive and negative terminals of your car battery. Download the UCPB GEN Blackbox app on your mobile device and wait for activation instructions.
The device records important vehicle data and driver behavior, which can then be viewed via the app. I was not with the group for the first few days of the road trip but I was able to monitor their exact location, at what speed they were traveling, and which drivers were driving fast, braking too hard, or cornering/swerving too abruptly. I was able to check whether the group was moving on schedule or whether they were taking extended stops.
One of the cars encountered some technical issues while traversing Panay Island and had to be checked at a service center. This entailed disconnecting the tracker from the battery, which triggered a security alert. Instantly, I received a call from the call center, asking about the situation and whether I needed any assistance. I had to assure them that the car was just undergoing a quick service check.
According to VTEL executives, the device sensors provide real-time crash data, with a detailed report on the extent of the accident, possible damages and repair cost, as well as the possible extent and severity of injuries sustained. In case of a crash, an alert is automatically sent to the call center with the exact location of the collision, so emergency services can be sent to assist you. The app also has an SOS button that you can use to call for help.
For me, the most relevant feature of the app is the Driving Score, which rates your driving behavior based on a set of criteria: Acceleration – 20 points; Braking – 20 points; Cornering – 20 points; and Speeding – 40 points. When you review the trip details, you see your route on a map, with markers indicating the locations where you committed driving errors, such as overspeeding or hard braking. Click on the warning markers and you get a 360-street level view of the location.
Over time, you get a cumulative driving score for all the trips recorded. Good drivers get rewarded by getting a 20 percent discount on their insurance policy in the succeeding year, an incentive that rewards safe driving habits. And what is a good driving score? You don't need to be a perfect driver, as an overall score of 85 will be considered good enough for the discount.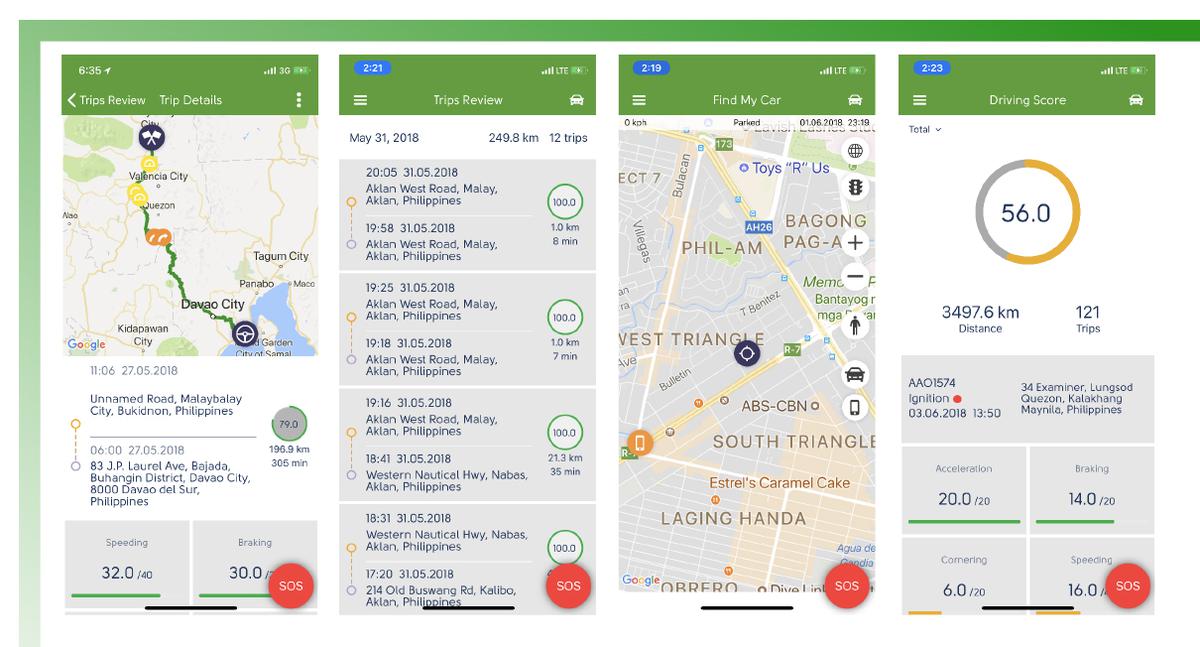 Our road trip covered almost 3,000-kilometers of all types of roads through the Philippine Nautical Highway. The outbound portion took off from Batangas port crossing to Mindoro, then across the Visayas through Panay and Negros, arriving in Mindanao via Dapitan then on to Cagayan de Oro, Malaybalay, and finally reaching Davao for the first part of the trip.
The return leg started off from Davao back tracking to Malaybalay, then Cagayan de Oro, then Dapitan. We then crossed over to Dumaguete, took a ferry to Cebu, traversed Cebu and crossed back to San Carlos City in Negros, then drove down to Bacolod, took the RoRo to Iloilo, drove to Caticlan, then crossed Mindoro to catch the ferry to Batangas for the homecoming in Manila.
Through the entire journey which involved 8 cars and a crew of roughly 30 participants, we had the assurance of protection with UCPB GEN Blackbox, not just for motor vehicle insurance, but much more from the sense that indeed, you had an extra set of eyes watching out for you on the road.
Also published in GADGETS MAGAZINE July 2018 Issue.
Words and Photos by Maribelle Alba