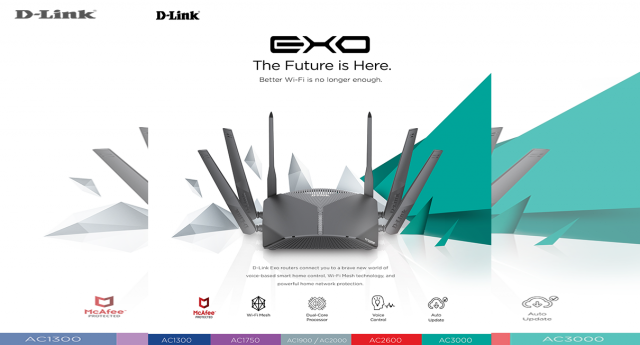 D-Link offers consumers more than just blazing internet speeds with its latest D-Link Exo Series.
Introduced at this year's Consumer Electronics Show, the new Exo mesh-enabled smart Wi-Fi routers and extenders provide value-added, premium features, as well as security through McAfee protection.
Exo routers and extenders feature D-Link's proprietary Wi-Fi Mesh technology. Users can mix-and-match compatible routers and extenders to create a network and expand internet coverage, automatically connecting users to the strongest signal.
Auto Channeling allows mesh nodes to automatically select the channel with least interference, and Auto Optimization ensures that mesh nodes automatically find the shortest, fastest path to the mesh router. With the Auto Healing feature, Wi-Fi Mesh automatically establishes an alternative path to the mesh router when a mesh node malfunctions. Wi-Fi Mesh also features easy network setup with Automatic Wireless AP Configuration, as network settings are replicated on additional units once the first has been configured. You can also see your mesh network's weak spots clearly in real time with the Dynamic Network Assistant.
D-Link Exo Routers provides secure connection to every device in the network with the McAfee Secure Home Platform. It makes use of McAfee's Global Threat Intelligence to identify emerging threats and block them. The Exo routers, through McAfee, also offers advanced parental and McAfee LiveSafe for on-the-go protection, all controlled through a supplementary app. On top of these, the Exo routers are also integrated with Amazon Alexa for hands-free network security management.
Exo Routers' Additional Features:
Google Assistant and Amazon Alexa-compatible

Powerful 880 MHz dual-core processor

Built-in Speedtest by Ookla

Auto back-up and update
The new Exo routers include: DIR-3060 AC3000 Mesh-Enabled Smart Wi-Fi Router, DIR-2660 AC2600 Mesh-Enabled Smart Wi-Fi Router, DIR-1960 AC1900 Mesh-Enabled Smart Wi-Fi Router, DIR-1760 AC1750 Mesh-Enabled Smart Wi-Fi Router, and DIR-1360 AC1300 Mesh-Enabled Smart Wi-Fi Router. The new Exo extenders include the DRA-2060 AC2000 Mesh-Enabled Wi-Fi Extender and DRA-1360 AC1300 Mesh-Enabled Wi-Fi Extender. These new offerings will be available for purchase from D-Link distributors and resellers in Q1 of 2019.