With the Philippines' adult unemployment rate remaining high at 39.5 percent seven months into the pandemic, professionals in badly hit industries are now more likely to apply to jobs outside of their current industry, according to recent LinkedIn data.
However, finding new roles that are most relevant to their current skills, or even venturing into a completely different industry has its challenges, and job seekers may not know where to begin.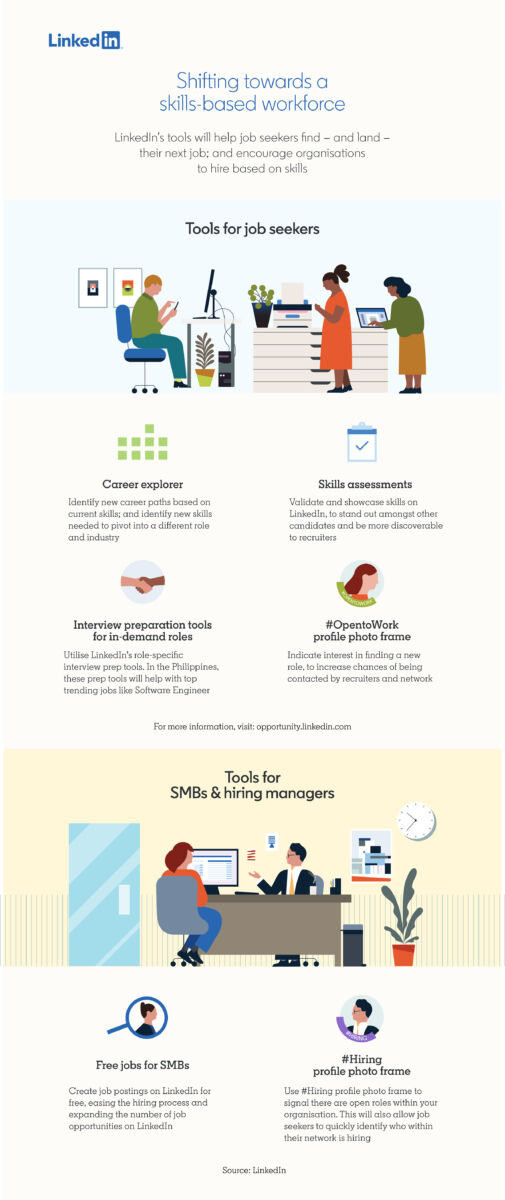 LinkedIn's response is the Career Explorer, a tool which will help job seekers identify new career paths that have the most skills overlapping with their current role; as well as new skills they will need to acquire in order to excel in a different role and industry. Through the interactive dashboard, job seekers will be able to discover LinkedIn Learning courses or learning paths they can take to build the necessary skills. In addition, the tool will also connect them to open jobs and other LinkedIn members in similar roles, who may be able to offer career guidance.
At the same time, LinkedIn is also encouraging employers to hire based on skills, rather than focusing solely on traditional qualifications or past experience. As more professionals pick up new skills and switch career paths, employers should see this as an opportunity to build a more diverse workforce, which will work to the organization's advantage. LinkedIn has also made available a few tools to support organizations in this regard.
Feon Ang, vice president, Talent and Learning Solutions, Asia Pacific, LinkedIn said: "In today's challenging climate, we know it is not easy for job seekers to secure new employment opportunities. This is why it is incredibly important for job seekers to develop a growth mindset. Regardless of what you have studied, or where you have worked, you must be willing to upskill as you take on a new role; or even reskill in order to venture into a different industry. At LinkedIn, we are committed to help job seekers make these transitions, with the various tools and resources available on our platform. We also encourage organizations to hire based on skills, as opposed to degrees or past experience, as it helps build a diverse workforce and contribute to more equitable recovery for all."
Other tools that help job seekers land new employment opportunities include:
Skills Assessments: Skills Assessments allow members to validate and showcase their skills to recruiters and their network, helping them stand out amongst candidates and become more discoverable to recruiters. There are currently close to 100 Skills Assessments available on LinkedIn, and job seekers who successfully earn a skill badge are 20% more likely to get hired.
Interview preparation tools for in-demand roles: Job seekers can use LinkedIn's interview preparation tools which include commonly asked interview questions, answer guidance and tips, as well as instant feedback on recorded practice answers. The tools will cater to specific roles such as Software Engineer, which LinkedIn has identified as one of the top trending jobs in the Philippines.
#OpenToWork profile photo frame: The #OpenToWork feature allows job seekers to indicate that they are actively looking for work through a simple LinkedIn profile photo frame. Since its launch, job seekers who used the feature have recorded 40% more recruiter inmails and 20% more messages from their community.
To encourage more employers to hire based on skills, LinkedIn has made the following available to small-to-medium sized businesses (SMBs) and hiring managers:
Freemium jobs for SMBs: Small businesses can now create job postings on LinkedIn for free, easing the hiring process and expanding the number of job opportunities on LinkedIn.
#Hiring profile photo frame: Hiring managers can use the #Hiring profile photo frame to signal that they are hiring for open roles. This will allow job seekers to quickly identify who within their network is hiring.