The Epos EXPAND 30T is a portable Bluetooth speakerphone that's positioned to enhance the collaboration experience. Over the past two years due to remote work conditions, we have gotten used to spending hours online attending virtual events or talking to colleagues. In fact, headsets and earbuds have become essential accessories much like the keyboard and mouse. Let's see how this speakerphone improves the work setting.
Design: 4/5
The Epos EXPAND 30T is a black and silver disc-shaped speakerphone that's about 120mm in diameter, 37mm high, and weighs 314g. The top surface consists mainly of the stainless steel mesh grill encircled by a soft black rubber material containing the control buttons and LED indicators. The upper rim is edged in stainless steel, while the sides and bottom are all made of hard black plastic.
The way the bottom is designed points to the premium quality of the device. First, the USB-C charging cord is wound around a groove that keeps it neatly in place. Then, there's the USB Bluetooth dongle slotted in its storage nook. Other thoughtful inclusions in the box are the USB-C to USB-A adapter, and the carrying pouch.
Hardware: 4/5
The heart of the Epos EXPAND 30T is an ultra-low distortion speaker complemented by two echo- and noise-canceling digital MEMS microphones that have 360-degree coverage. Bluetooth 5.0 supports simultaneous connection to 2 devices, with a range of up to 25m. A third device can be connected via USB-C. The battery can be fully charged in 3h20m for up to 18-hours of talk time.
User Experience: 4.5/5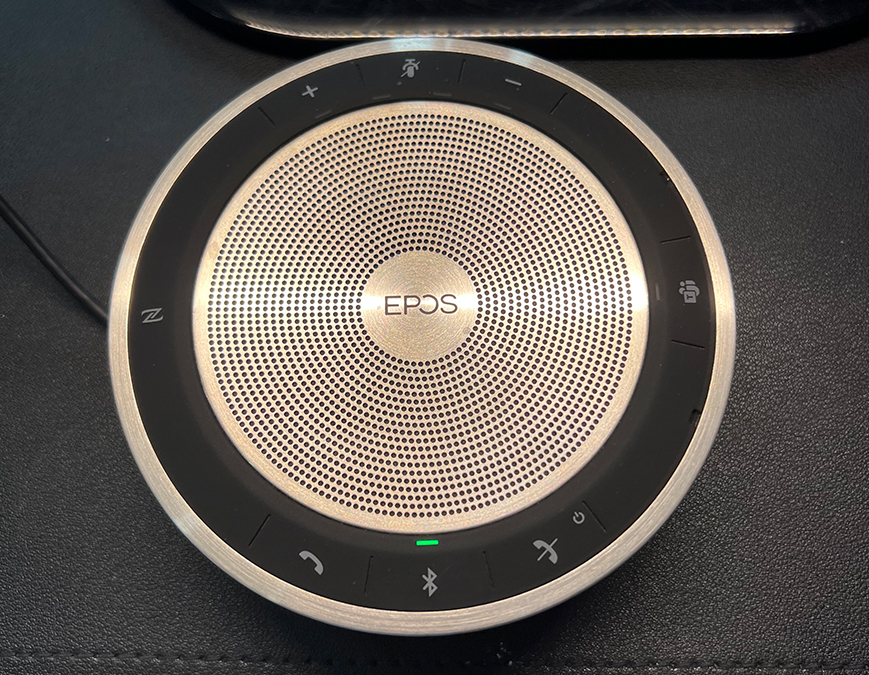 Most of us have carried on these past two years by working remotely, spending a great deal of time attending virtual meetings, or collaborating online on group tasks. Personally, I've used over-ear headphones, in-ear earbuds, bone conduction headsets, wired, wireless, noise-canceling, etc. — a whole gamut of audio devices for that optimal experience. Each has its pros and cons, so I was eager to try out the Epos EXPAND 30T when a test unit became available.
After about a month of use, I think I've found the perfect audio-conferencing device for my particular needs. First, it gets a plus for multi-device connectivity, pairing simultaneously via Bluetooth to my iPad and iPhone, and via USB-C to my Macbook Pro — a single speaker to use for online meetings on my desktop, watching videos on the iPad, or taking calls on my phone. Switching between devices is mostly seamless, although there are occasional connection drops.
Audio quality is outstanding, especially in virtual meetings. Voices sound natural with minimal background noise and distortions. Also, without the bother of wearing an audio device, attending hours-long meetings was less tiring.
The microphones are also excellent. I recorded a voice-over audio clip for a corporate presentation on the Epos EXPAND 30T, and it came across crisp and clear.
I'm a news junkie and like having the news playing in the background while I'm working. The clear voice reproduction on the EXPAND 30T makes listening to CNN or Al Jazeera more pleasant. Although not a stereo speaker, its dynamic equalizer and bass enhancement also allows it to deliver good audio for music and multimedia.
Finally, I look forward to bringing along the Epos EXPAND 30T to in-person meetings where I can share it for instant small group conferencing.
Value: 3.5/5
The Epos EXPAND 30T retails for PHP15,000 — a price point not many would consider affordable as a personal expense for home use. However, as a piece of office-issued equipment, I can see this portable Bluetooth speakerphone finding a place on a busy executive's desk, in a mini-conference room, or even in a coffee shop meeting.
Specifications:
Audio technology: EPOS Voice Technology
Microphone: 2 digital enhanced omni microphones; 360-degree coverage
Microphone frequency response: 150-7500Hz
Speaker: ultra-low distortion with dynamic equalizer and bass enhancement; multi-path multi-layer echo canceler, digital signal processing, dynamic speech enhancement
Speaker frequency response: 150-7500Hz in communication, 100-20000Hz in audio streaming
Connectivity: Bluetooth 5.0
Battery life: 3hr 20min charging time, up to 18 hrs talk time
Range: Up to 25m (82ft)
Dimensions and weight: 120x37mm, 314g
Operating systems: Windows and Mac
Package inclusions: USB dongle, USB-C to USB-A adaptor
What's Hot:
Excellent voice quality
Superior background noise suppression
Multi-point connection
Portable
What's Not:
Bottomline:
Great all-around audio device for virtual meetings, calls, and multimedia.
Reviewed by Maribelle Alba
Also published in Gadgets Magazine March 2022 Issue