I'm a sucker for Bluetooth headsets of virtually all types of form factors—over the ear, in-ear, earbuds, sports, bone conduction… Right now my phone is paired to about 8 different brands ranging from entry to premium, but over the years one of the brands that's been on my must-have list is Jabra, for their reliability and sound quality.
Design: 4/5
The Elite 75t is a new pair of wireless earbuds which, Jabra claims, were designed after having scanned over a thousand ears to discover the best size and fit for most ears. Using plastic and rubber, the earbuds are certainly tiny and light, weighing only 5.5g in each ear. The button on each earpiece is a real, physical button that you press for more accurate control. The earbuds have magnets to keep them in place in their compact carrying case that also doubles as a charging base. At the back of the case is a USB-C port for charging, beside which is a tiny LED indicator. The package comes with a USB-C charging cable and two extra pairs of silicon eargels so you have a choice of small, medium, or large to get the most secure and comfortable fit.
Hardware: 4/5
The Elite 75t's four-microphone call technology filters out ambient noise for superior call clarity even in windy or noisy environments. The earbuds have 5mm speakers and can be used for up to 7.5 hours of music and talk time. With the charging case, you can get up to 28 hours of use on a single charge. It takes 2 hours and 20 minutes to fully charge the battery, which can then last up to 6-months on standby mode.
With Bluetooth 5.0 technology, the Elite 75t has the usual 10m operating range. It can be paired with up to 8 devices while maintaining a simultaneous connection with two devices at any given time. It automatically powers on when taken out of the case, and turns off after 15 minutes without a connection or an hour of inactivity.
User Experience: 4/5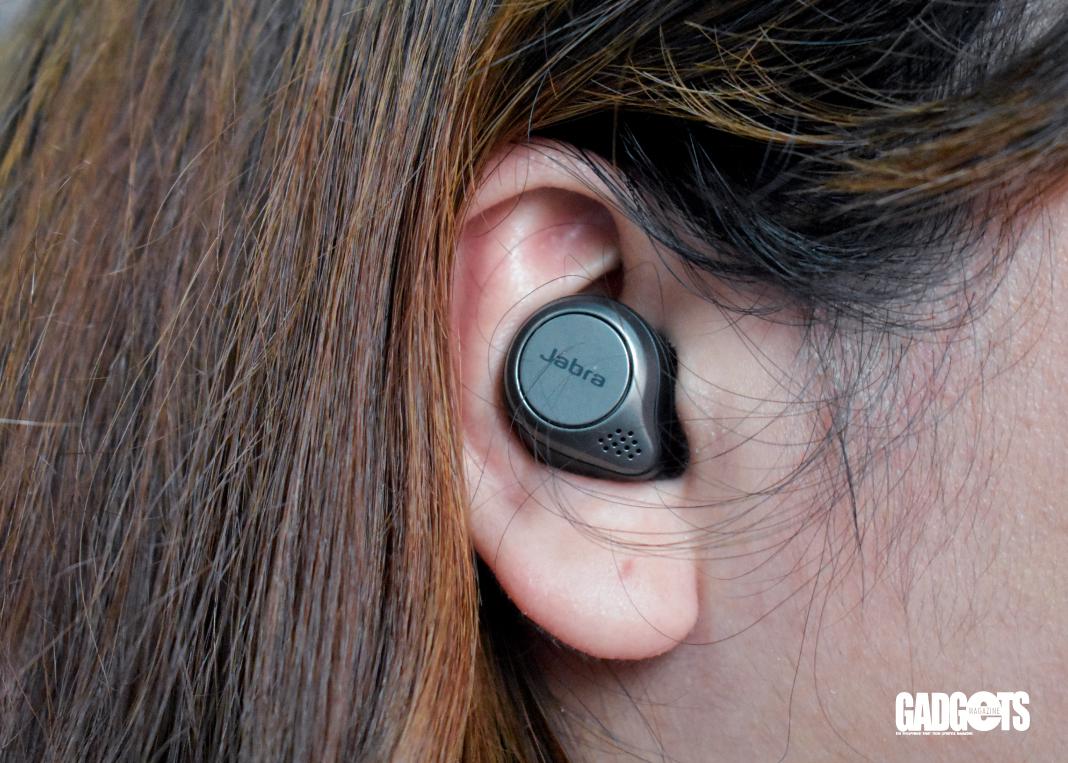 Jabra has a Sound+ app to help you manage the Elite 75t, and I suggest you download the app before pairing the earbuds with your devices. One of the features that I love best about Jabra headsets is that they can be connected to two devices simultaneously—in my case, to my iPhone and iPad. Each time I put on my earbuds, I like hearing that it's "paired with two devices." I could listen to an audiobook or watch a movie on my iPad and then answer a call on my phone without having to connect/disconnect the other device. After ending the call, the audio would then switch back to the audiobook or movie. Perhaps I haven't spent enough time figuring out the controls on the Elite 75t, but it sometimes happens that although the paused device resumes where it was interrupted, the audio does not resume on the headset.
Quality on voice calls are generally so clear I could actually hear the television in the background. Occasionally, though, when I was moving around, the person I was talking to would complain about not being able to hear me until I moved to a better spot.
The Jabra Sound+ app is a great complement to the Elite 75t as it allows you to personalize and configure the earbuds to your preferences. For instance, if you don't want to totally shut out the world and would like to hear what's going on around you, you can opt to turn on the Hearthrough mode, for which you can further decide if you want the audio to keep playing or turn it off.
The app has a music equalizer where you can choose from six preset modes: default, speech, bass boost, treble boost, smooth, or energize. Or you could adjust the equalizer manually to your preferred settings and then save it as a new preset. I like to have higher treble settings when listening to music but prefer clearer speech when watching video—all I need to do is choose the appropriate equalizer setting to suit my mood.
And, if you just want some ambient noise to focus on work, you can choose from soundscapes like white noise, nature sounds, or even crowd sounds. Since the Elite 75t is so small, it's comforting to have the headphone locator in the app which shows you its last known location. I thought this was neat, as I often misplace stuff.
Value: 4/5
Priced at PHP 9,999, the Elite 75t is not cheap but certainly more affordable than the both the Apple AirPods and AirPods Pro. For sure, you can get a pair of wireless earbuds at really low prices from Lazada, but if audio quality is important to you, then consider this as an investment that's going to give you many hours of listening pleasure everyday. It also comes with a two-year warranty.
Specifications:
Wearing style: True wireless in-ear
Speaker size: 6mm
Battery life: up to 7.5 hours, 28 hours with charging case
Charging time: 2h 20m
Standby time: 5 months
Weight: 5.5g for each earbud, 35g charging case
Noise cancellation: Passive, hearthrough
Microphone: 4-microphone technology
Connectivity: Bluetooth 5.0
Operating range: Up to 10 meters
Connection: USB-C cable
Controls: Calls and music, voice guidance
IP rating: IP55 water and dust protection
What's Hot:
Light and compact
Good fit
Personalization through the Sound+ app
What's Not:
Some issues when switching between connected devices
Can't use just one earbud
Bottomline:
You can't go wrong with a Jabra, and the Elite 75t is a great addition to the line.
Also published in GADGETS MAGAZINE March 2020 Issue
Reviewed by Maribelle M. Alba