Music is a fantastic thing. It lets us escape the stresses of the world, allows us to focus on work or working out, and generally does wonders to set the mood. Sometimes though, you're going to want to share the music, and for that, you'll want a great speaker to do justice to the tunes. LG was kind enough to lend us one of their latest portable speakers, the XBOOM Go. It looks great, lights up, and promised a great audio experience. Here's what we thought of it.
DESIGN: 4/5
The XBOOM Go has a very current look to it. Not too industrial, but not a boring box of a speaker either. The large drivers are protected by a large, metal speaker grille, above and below which extend large, hard plastic bars that serve the dual purposes of propping the speaker up off the surface on which you lay it, and acting as a handle for you to grab on to. The entire device is done is a serious black, with a few exposed screws just for effect. To control the device, look to the top edge, where rubberized buttons for power, pairing, volume, and all the other relevant controls all reside. It's wonderfully simple, just as a speaker should be.
HARDWARE: 4.5/5
There are a few things that set the XBOOM Go apart from anything else in its space. Stereo sound is brought to your ears via drivers that deliver 20 watts of audio bliss. Connectivity via both Bluetooth and a 3.5 mm jack are available, and a USB-C plug is also available for charging. We have to set a little space aside to talk about the Bluetooth connectivity. The partnership between LG and Meridian audio brings exceptional sound quality to the speaker, and with aptX HD, you can make the most of high-res audio sources. Voice controls are available thanks to smart assistant integration with your phone, and the drivers light up in time with the music, for a more dynamic listening experience.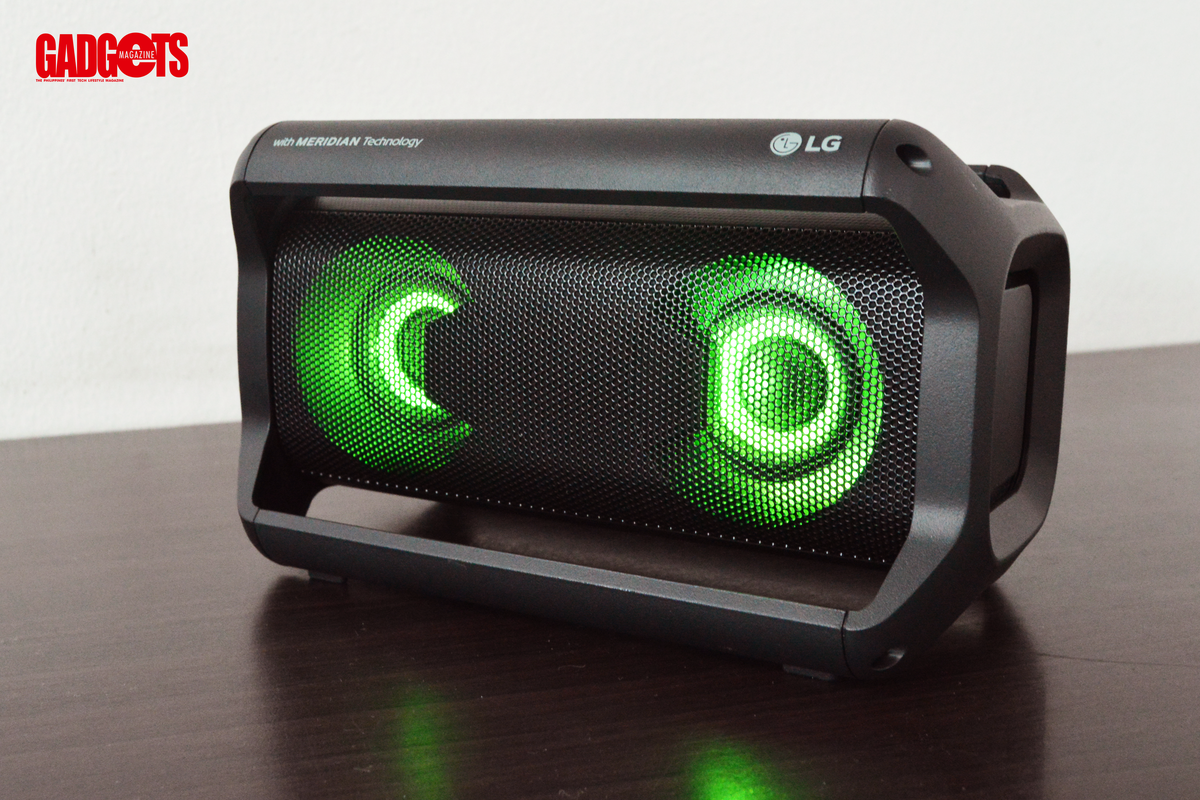 USER EXPERIENCE: 4.5/5
I'm a big fan of background music. It's something I wish life had natively. Failing that, I try to take music with me wherever I am, though it's usually heard through headphones. The day I got the XBOOM Go for review, I immediately unpacked it and paired it with my smartphone, and got to work with the playlist I normally use to test audio hardware.
The first thing I noticed about the XBOOM Go is volume. There's a lot of power on tap here. On full blast, it's too loud for a modest listening room, and plenty for listening to outdoors with the usual party-level talking in the background. You might not think it from its reasonably small form factor but there's a lot of power in that box. The next thing I noticed was the amount of bass it was capable of. Now, I'm not a bass-head like the industry seems to assume everyone is, so while I appreciate the heavy emphasis on the low end, I also know that it's sometimes a ploy manufacturers use to mask hardware that's lacking in other aspects. I was quite happy to find that the bass on the XBOOM Go wasn't the sole focus of the speakers. The mids were clear and round, and the highs, while a little weaker than the both mids and lows, were discernibly pleasant. Overall, it does favor more bass-heavy party tracks, but it'll happily pipe out more vocal-driven tracks without trouble. Should you feel the need, the extra weight on the low end can be alleviated somewhat with a quick trip to your player's equalizer, or by selecting one of the convenient audio presets on the speaker itself. Without strict test conditions, I wasn't able to test if the upgraded audio codec made a huge difference to sound quality, but I can confidently say that little details that are often lost when listening to portable speakers were present in my listening sessions.
Something that may or may not be for you is the integrated lighting. It adds a little extra to your listening experience, but, as we're sure it's not for everyone, the option to disable it is a simple button press away. It's coincidentally the same button as would trigger the smart assistant—another integration that isn't absolutely necessary, but a handy thing to have. You can issue the same voice commands as you could on your mobile phone, as long as your phone is acting as the source, and while it's not as convenient as simply calling out to Google or Siri, it's a workable implementation nonetheless. An extra bonus worth mentioning is that it's IPX5 rated, so a little rain, splashing from the pool, or a few spilled drinks shouldn't be a problem for it.
Battery life is rated at 18 hours. It has been a very long time since I went to a party that lasted that long, but based on the use I had, and the remaining battery afterwards, it shouldn't have any trouble outlasting your festivities. I'd be surprised if you managed to sap it dry in 12 hours, though if you did, it might be time to reevaluate your partying. If you really needed it, you can top off the 2,600 mAh battery from empty in about four hours, so take that time for a nap or some food, and you should be fine.
VALUE: 4/5
While waiting for the price of the XBOOM Go, I was admiring its performance and looks. In my head, I was thinking I'd have to shell out somewhere around PHP 10,000 for the privilege of owning it. I was pleasantly surprised to learn that the sticker price was PHP 7,490, well below my expectations. This is a reasonable asking price for the performance, making it a solid candidate for anyone looking for a speaker for their home, or outdoor adventures.
SPECIFICATIONS:
Power: 20W RMS
2.0 Channel
Connections: 3.5 mm audio jack, USB C, Bluetooth with apt-X HD
Battery: 7.4 V, 2400 mAh
Dimensions: 220x129x119 mm
Weight: 1.2 kg
What's Hot:
Great sound quality
Very portable
Water resistance
What's Not:
Bottomline:
Whether indoors or out, these are speakers that take the party with them.
Also published in GADGETS MAGAZINE September 2019 Issue
Reviewed by Ren Alcantara