Global cybersecurity solutions provider Palo Alto Networks shared its cybersecurity outlook for the year in a press briefing last January 23. Five key topics were highlighted in their prediction: 5G, Talent shortage, Internet of Things (IoT), Data Privacy, and cloud solutions.
Today's 4G problems are setting the scene for 5G
Palo Alto Networks chief field security officer for Asia Pacific, Kevin O'Leary shares that the company believes that 4G will still reign supreme in the coming year. Even with brands rapidly pushing for 5G infrastructure, 4G will still be the predominant method of communication for many APAC countries.
"We think the 5G is not really going to develop at the same pace that 4G did and we will see 5G networks, but not until 2025 and beyond," said O'Leary.
"The issue from a cyber security perspective of that, of course, is that as we use the 4G backbone, all the issues that we've seen developed within that network will be continued and will be spread across into 5G."
Talent shortage isn't what you think it is
According to the (ISC) 2 2918 Cybersecurity Workforce study, there are approximately 2.14 million cybersecurity jobs needing to be filled. Palo Alto sees that this shortage will continue in 2020 unless companies start looking for talent at the right places.
"I think this is the issue alone, the roles that are open today are looking for security veterans that simply don't exist. So if I look at the type of roles are being advertised for security operation centers, they're looking for people with 10 years experience who have worked in cybersecurity, etc, etc, etc. Now, the problem with that is, they simply don't exist as an industry," said O'Leary
He also pointed out solutions companies could try, one would automate the process and leave threat detection and busting to AI and Machine-Learning. The second solution is to look in the right place, for him this means finding curious minds who are also problem solvers.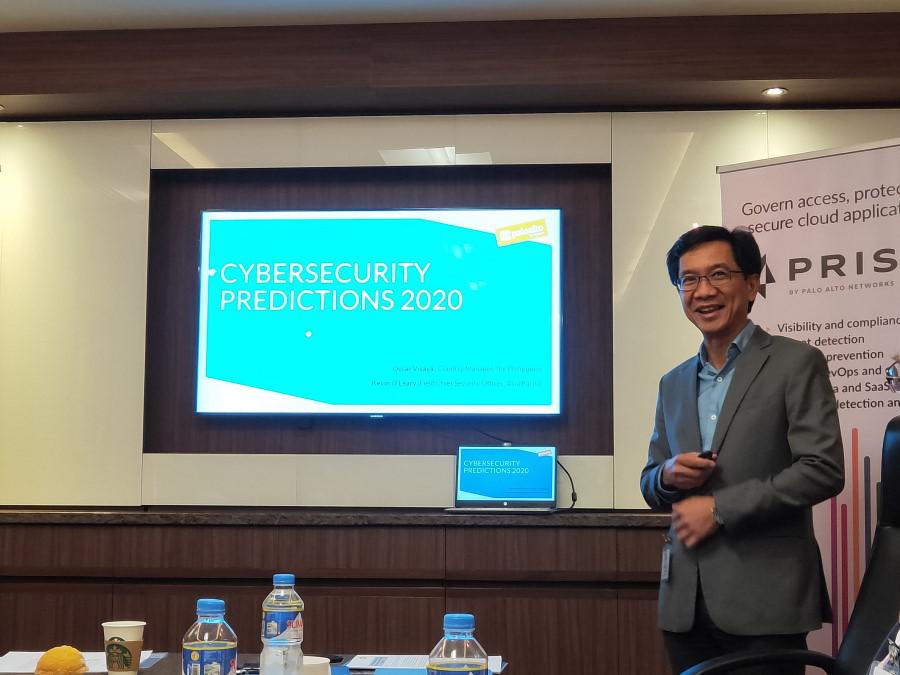 "If we're looking at technical roles, somebody working in a security operations center, if they're going into operating security tools, then they don't have to be security veterans, because technology is just technology and take it from me. I've worked in the industry for a long time. Being a database administrator isn't that much different from being an administrator for an antivirus network or managing, intrusion detection, all of these things are just technical functions that people can be trained into," he said.
Navigating IoT will become a minefield for everyone
With IoT devices flooding the market, Palo Alto Networks sees these as the next big cybersecurity flaw in our home system.
"This explosion of IoT devices is one thing because we're going to depend on them more and more. But as we continue to depend on them, we're also exposing ourselves more and more."
But there is no need to worry as Palo Alto Networks is already working with the industry to secure your data and devices from any potential attack.
Data privacy lines get blurrier
Relating to the IoT, Palo Alto Networks notes that as more and more devices gather data, the more people need to know where it goes.
"Data could be used for different activities such as marketing, etc. And, you know, once people realize how data and how effective it can be to manipulate data and to use that in a negative way, thinking of Cambridge Analytica and the issues that happen on Facebook. There's a real concern out there," said O'Leary.
He believes that 2020 will be the year when the public realize the importance of data privacy. "So we think that this year is going to be the year of public outrage, maybe the best way to put it in terms of how data has been collected, who is managing it, and what is happening to it. So as we see during the year, there are more and more breaches that happen worldwide for publicly held and publicly managed data repositories for in government, and that is going to be an ever-increasing issue."
The Cloud gets more complex as companies adapt multiple services
For Palo Alto Networks, 2019 was the year when companies started migrating their data and products on to the cloud. For 2020, it's no different as companies start embracing the cloud, however, O'Leary notes that companies and enterprise will embrace a more complex cloud system as they adopt a multi-cloud system and use multiple providers such as Microsoft Azure and AWS.
"The point is that if you decide that you're going to go for the security provided by those cloud companies, then you're going to have to manage 345 different security organizations, five different sets of infrastructure at its worst and that complexity is an issue in itself."
As for what business can do to protect themselves, O'Leary emphasized the need for a well thought out cybersecurity plan. "I would sum it up and say, look, when it comes to cybersecurity in general, the most important thing is to have a strategy and have a strategy that's right for your company that that is very clearly focused in the needs of the business, not just box-ticking exercises, but really are related to your understanding of your business and your IT infrastructure. So have that strategy, understand your own infrastructure, and follow through on that, and then go back again. So it should be a complete reiteration," he said.