The Master SWITCH program of Schneider Electric aims to build a community and open opportunities for every Filipino electrician. Starting out as a Facebook group, it has become a safe space where both licensed and non-licensed electrical practitioners can work together to make the electrical field more accessible to Filipinos.
Pursuing a career in science, technology, engineering, and mathematics (STEM) comes with vast challenges for many Filipinos. Access to quality education and technology are often regarded as key factors to success in the field. Moreover, there has been recently added pressure on aspirants and professionals alike to fulfill the proper education and training and develop new skills to adapt to industry 4.0 changes and digital transformation.
Three long-time electricians share their journey to becoming electrical practitioners, the current landscape in the Philippines, and their advocacy towards the Master SWITCH program.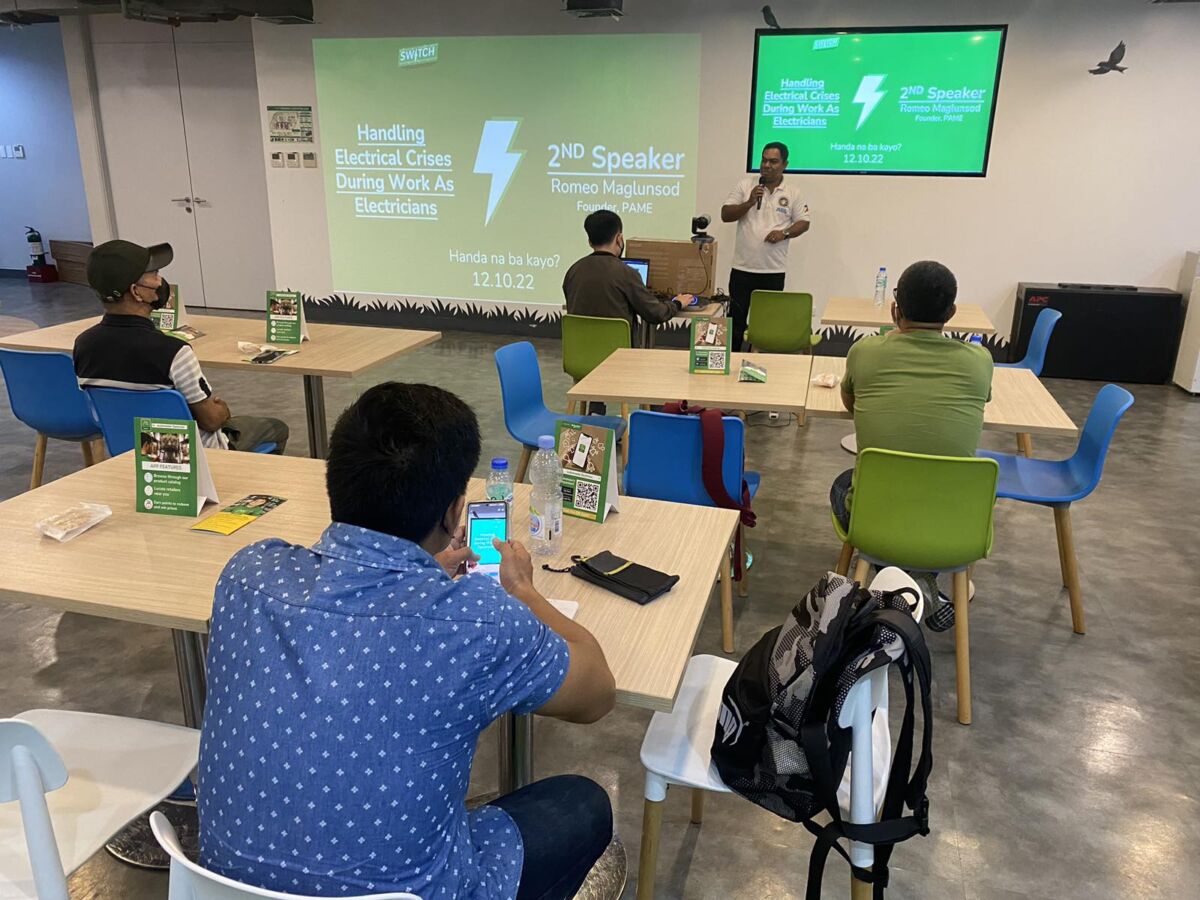 Navigating the electrical industry in the Philippines
"The regulatory landscape in the Philippines has undergone significant transformation since I became a licensed electrical practitioner. Computer skills are necessary for engineers to keep up in this technology-driven field. The regulation commission requires complete training in safety procedures before one can become qualified to take the licensure examination," said Engineer Jaime A. Paco, founder of Impedanz Engineering Review Training & Consultancy Inc."
As licensed practitioners, electricians must uphold the safety standards of their professional practice. The Department of Labor has been enforcing strict compliance with the Philippine Electrical code to produce globally competent engineers. However, very few engineers were privileged enough to gain access to safety training programs. Schneider Electric's Master SWITCH program presents networking opportunities for aspiring electricians to meet licensed practitioners willing to give free training and development programs to develop themselves. While the Master SWITCH program has a set budget for training and development, long-time members still have taken it upon themselves to mentor unlicensed electricians. 
"If aspiring electricians receive zero training or resource materials, they will lag in the power industry since it is very demanding," said Paco, who founded his company to address gaps in the country's electrical education and training systems." "Our community linkages and review programs help non-licensed practitioners become licensed electricians since our members have a diverse set of expertise." 
The Master SWITCH program provides entrepreneurs with opportunities to partner with Schneider Electric because of its huge community. The program's members consist of consultants, educators, organization founders, and engineers specializing in power systems, robotics, and the like. As an active program member, Jaime Paco has expanded his client reach nationwide for his review center. Moreover, he offers exclusive discounts to Master SWITCH members, making the electrical field more accessible to younger generations. 
Access to resources and networking
Non-licensed electricians can gain access to different materials by joining and participating in the Master SWITCH program. As a leader in sustainable innovations, Schneider Electric offers quality products and installment procedures to the electrician community within the program. Promoting safety at work, with the proper tools and technologies, has helped prevent electrical hazards for community members. Furthermore, Schneider Electric's offerings have also encouraged non-licensed practitioners to become licensed by gaining access to products that will make the installation process more efficient.
"The Philippines has many skilled, non-licensed electrical practitioners who work under the supervision of licensed electricians instead of taking the licensure examination themselves. As licensed practitioners, it is important that we support them and empower them to pursue licensure," said Filomeno Ducay, one of the original Master SWITCH members and co-Founder of the Organization of Registered Master Electricians of the Philippines — an organization that aims to protect the rights of registered electricians across the country.
The Master SWITCH program also serves as an open forum where licensed and non-licensed electricians can discuss their best practices, apprehensions, and views from different backgrounds and highly specialized fields. The program has inspired non-licensed electricians to sit down for the licensure examination through mentorship opportunities and genuine recommendations from colleagues to further advance their careers professionally. The Philippine Electrical code is regularly discussed, and this has pushed electricians to gain the proper documents in compliance with engineering laws to do their practice. 
"I joined Master SWITCH when it first opened in 2019 through a colleague's recommendation," said Neil Arendain, the youngest of the three electricians in terms of experience in the field. He is an electrician through experience and is eager to foster his practice."Master SWITCH has helped me connect with other non-licensed practitioners like myself, as well as learn from the more veteran licensed electricians. The Master SWITCH community has empowered me to further pursue a career in the field, and I am planning to start my journey to licensure." 
"Joining Master SWITCH is especially beneficial to new electrical practitioners, many of whom are in the program. When given access to resources and networking opportunities, they tend to give back to the company as well," said Ducay.
Empowering the next generation of Filipino electricians
Electricians such as Arendain, Ducay, and Paco have dedicated their efforts to make the electrical field more accessible to younger generations—Arendain has taken a young electrician under his wing as an apprentice, Ducay has committed his efforts to fight for the rights of Filipino electricians, and Paco continues his mission to empower aspirants through proper education and training. Together with Master SWITCH, these electricians continue to develop and support programs and educational initiatives to equip aspiring electricians with the knowledge and skills needed to become successful in their chosen fields.
By supporting Master SWITCH and Schneider Electric, along with their advocacies, they have inspired active community involvement with project-based occurrences. Schneider Electric's Master SWITCH program has reached electricians across the country, while select members have been seeking accreditation to ramp up efforts to encourage more Filipinos to pursue this career track.