The Design Center of the Philippines (Design Center) took part in the ASEAN Design Products Webinar that happened last March 29 & 31, 2021, hosted by the ASEAN-Japan Centre (AJC) and Japan Institute of Design Promotion (JDP). 
The ASEAN Design Products Webinar shined the spotlight on four Philippine design-driven businesses and their products by introducing them to the Japanese market and audiences outside of the local arena. The webinar highlights the positive social impact of the designs and underlines how the designers applied uniqueness, creativity, and innovation into their products. 
For the March sessions, the featured designers were Dr. Ria Canlas of Po-Lite Technology, Kae Batiquin of HoliCOW PH, IDr. Willie Garcia of Junk Not!, and Kay Concenco of Lamana. They shared that their products are readily available, sustainable, have elevated or provided a solution to users' daily lives, and align with the UN's sustainable development goals. They also discussed the process of how these products came to life. 
"Compassion is both branding and advocacy. This leads to a new norm of business social enterprise. It is because of equal dimension and empathy applied to the products, design, construction methodology, and operations. Every time I improve any aspect of my business operations, the more I manifest compassion," Dr. Ria Canlas of Po Lite Technology on her process as a designer-entrepreneur explains. 
For Kae Batiquin of HOLICOW, her process involves acknowledging the importance of the life cycle of materials. "By acknowledging the new normal and by transforming waste to a resource, and by understanding that design is a tool, we want to show that even waste material can be treated as natural material, and we have closed the loop. This is the responsibility of design. This what we in HOLICOW feel like when we have partners that come in with us; we tell them that we can do collections one at a time so that we can close the loop and do upcycling as the main design point," she says. 
Apart from learning about the Japanese consumer preferences and behavior, the webinar was an opportunity for designer-entrepreneurs to understand how good design delivers can impact the fulfillment of their business goals and objectives and ultimately, give them new insights and better perspective into the movement of trends and businesses in the global market.
"While the pandemic has disrupted the world order and put our global priorities to task, it has allowed all of us to recalibrate our lives towards life's essentials. The Design Center is a firm believer that Filipino brands and innovators can be the catalyst of change by being pioneers of sustainable businesses that truly speak of compassion not only for their consumers but also for the future that each and every one of us aspires to have," Design Center executive director Rhea Matute shares.
This activity is part of the bigger collaboration agenda that was strengthened through a Memorandum of Understanding last March 2020 between Design Center, AJC, and JDP of aligning the Good Design Award Philippines with Japan's prestigious Good Design Award or GMark and their goal of supporting and establishing respective national good design award systems in 6 ASEAN States: Brunei Darussalam, Cambodia, Laos, Malaysia, Myanmar, and the Philippines. 
Thinking forward, this webinar series will introduce national design centers from participating ASEAN member states and give the same opportunity to showcase and take the lead in establishing their very own design identity and standards based on their national culture, craftsmanship, and innovations.
PO Lite Technology, Inc.
Prefabricated Eco-Couture Panel System Building Materials
The Prefabricated Eco-Couture Panel Wall System (or Po-lite) is in the form of Selfie Wall Tile, Po-lite Hollow Block (PHB), and panels. Eco stands for ecological, eco-friendly, and economical. Couture means customized design. It is tailored to possess superior structural and architectural integrity with cost-time-quality efficiencies (see below), adaptive to any high-end and economic structures. It is meant to give an instant aesthetic wall finish after installation (eliminates mortaring, plastering, painting, wallpaper, waterproofing, and other finishing works).
Holistic Coalition of the Willing (HOLICOW):
Sea Glass Lamp
The regular coastal cleanup efforts in MANAPLA, Negros Occidental, often yield sacks of 'sea glass', or discarded and pulverized bottles, from various sources. These have been smoothened by the sea and sand naturally. These are upcycled to help reverse the massive trash problem we are experiencing.
LAB'AS Table Napkin Rings Set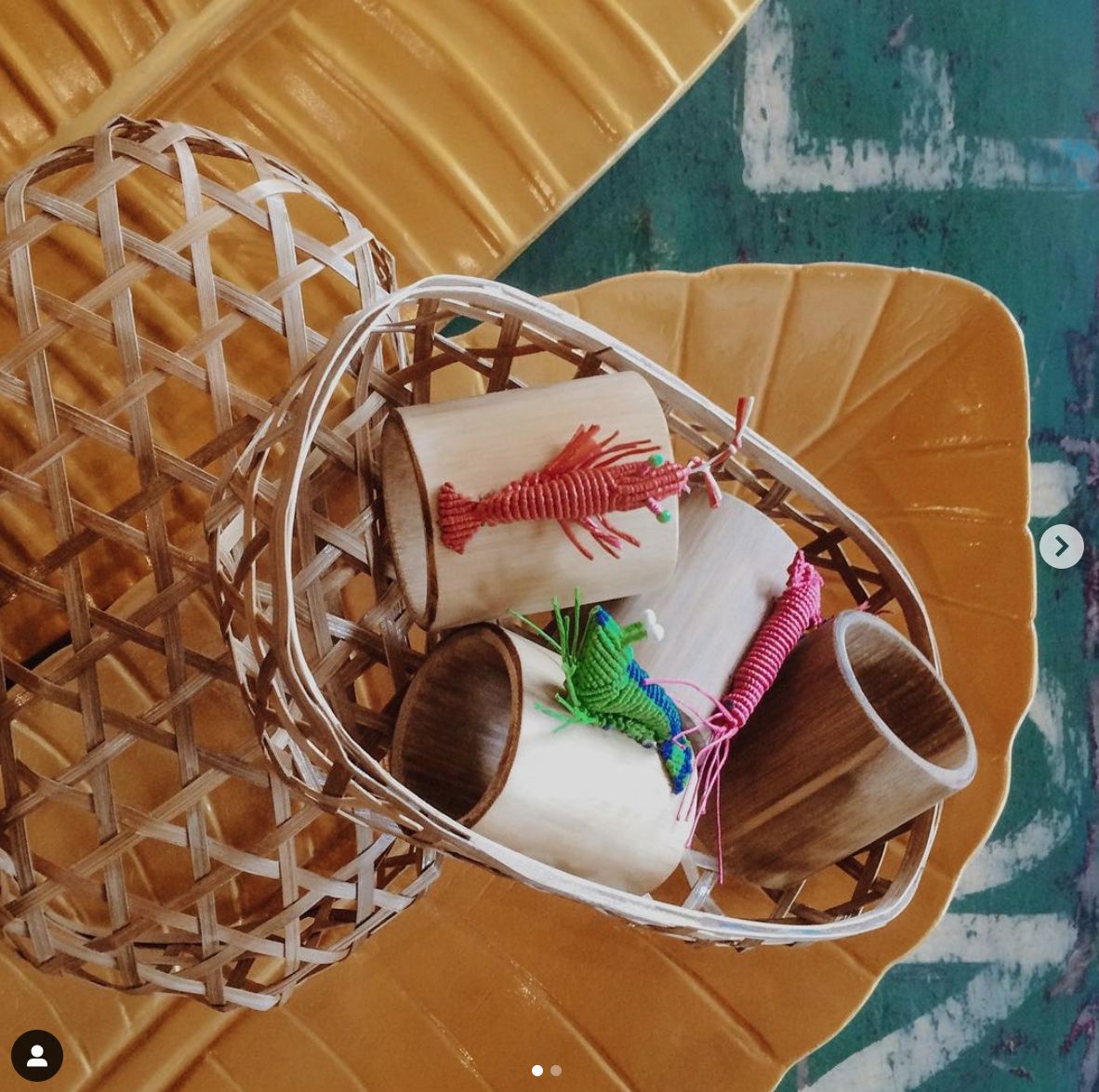 The Guihulngan Rehab Center is a livelihood center that teaches inmates skills, so that they can con-tribute towards the value chain ecosystem. Making the embellishments, and being paid for it, allows them to participate in an honest, supportive system even before they are released.
Fillo Lamp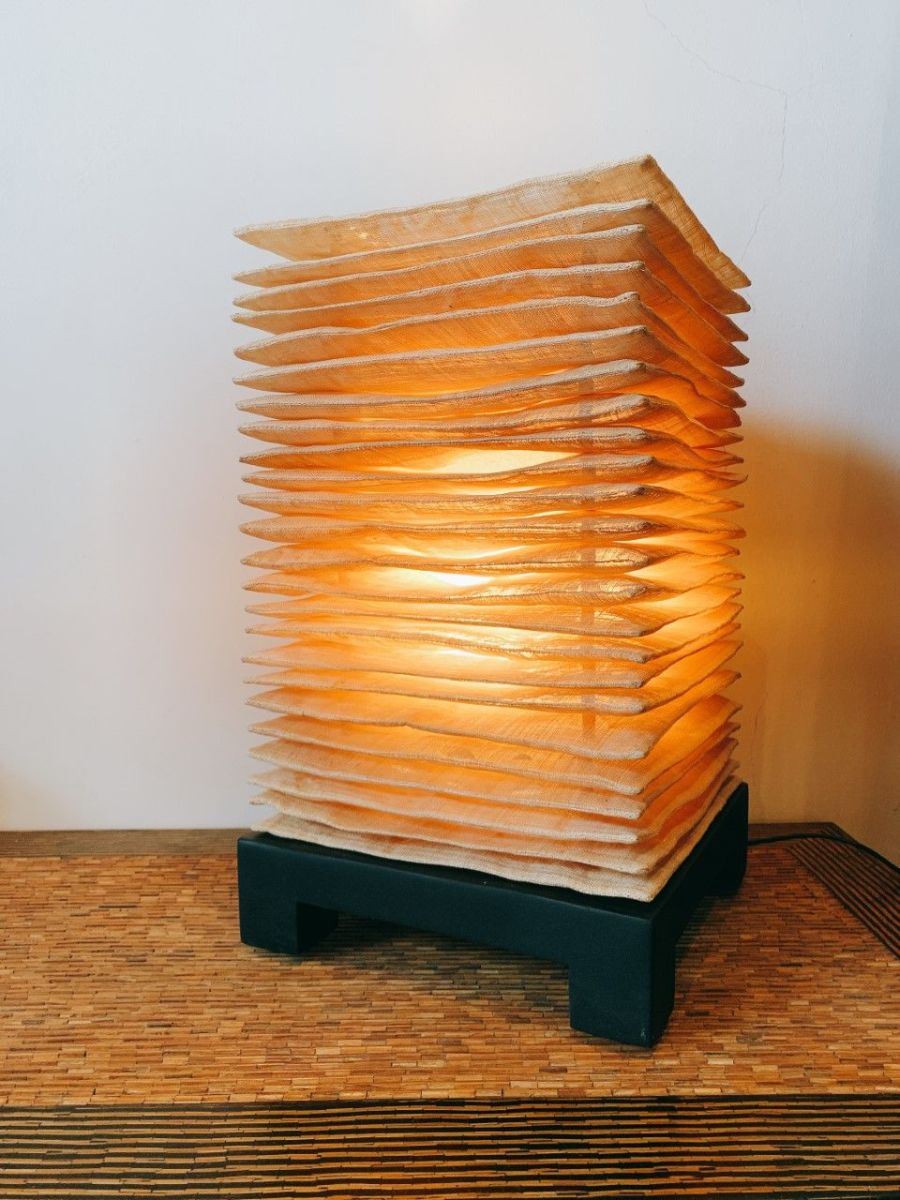 A classic Debbie Palao favorite, and a regular in their order roster. The abaca squares are excess cut-offs from the hand-loomed abaca used in upholstery, ensuring that it doesn't go to waste. These have been exported extensively abroad, particularly in South and Central America, and Western Europe.