BPI Foundation, the social innovation arm of the Bank of the Philippine Islands (BPI) recently named the top 10 winners of BPI Sinag, its pioneering business challenge initiative for social enterprises.
"BPI Foundation created BPI Sinag to help foster economic growth in the country by supporting businesses with the triple bottom line of people, planet, and profit," said executive director of BPI Foundation,  Maricris San Diego. "Our 2018 awardees serve to reinforce our commitment to sustainable nation-building and wealth-creation."
Arranged from its ranking, the BPI Sinag Year 4 awardees are as follows:
Carbon Cycle Processing Inc. –  a recycling company that is planning to venture into renewable energy and tackle this problem of energy dependency and deficiency by designing, constructingand operating solar concentrators for agricultural processing using scrap materials.
Junk Not Handicraft – a small-scale brand that promotes and produces eco-creative furniture from upcycled materials
Palamigan Co. – a freezing system that uses the brine immersion cooling technique, providing a more affordable alternative for ice-based businesses.
Saret Organic Farmville – a social, inclusive agri-enterprise working with poor upland farmers and indigenous tribes in Bulacan. Products include cacao bars and powdered cacao, turmeric, cayenne, among others.
Uproot Aquaponics – a social enterprise that aims to end unemployment, malnutrition, hunger and poverty affecting more than 7 million Filipino children aged 5 years and below, and introduce Community Shared Aquaponics to low income communities in the Philippines.
Calaboo Dairyard, Inc. – a social enterprise that valorizes the highly nutritious milk of grass-fed carabaos.
Cocoasenso Corp. establishes a network of medium-scale coconut processing centers where coconuts are purchased directly from local farmers who are employed in primary processing.
Edaya Cordillera – brings together tradition and modern prospects and designs bamboo jewelry, instruments and music inspired by Kalinga culture.
Got Heart – a platform for developing social enterprises among various grassroots communities in the Philippines to help them become a SHInDig – Sustainable, Holistically developed, INdependent and DIGnified – something truly worth celebrating.
EKOLIFE – a social enterprise operated and managed by Atikha involved in packaging and promoting eco/agrotour destinations that involves the OFWs and families as both service providers and customers of the tourism industry.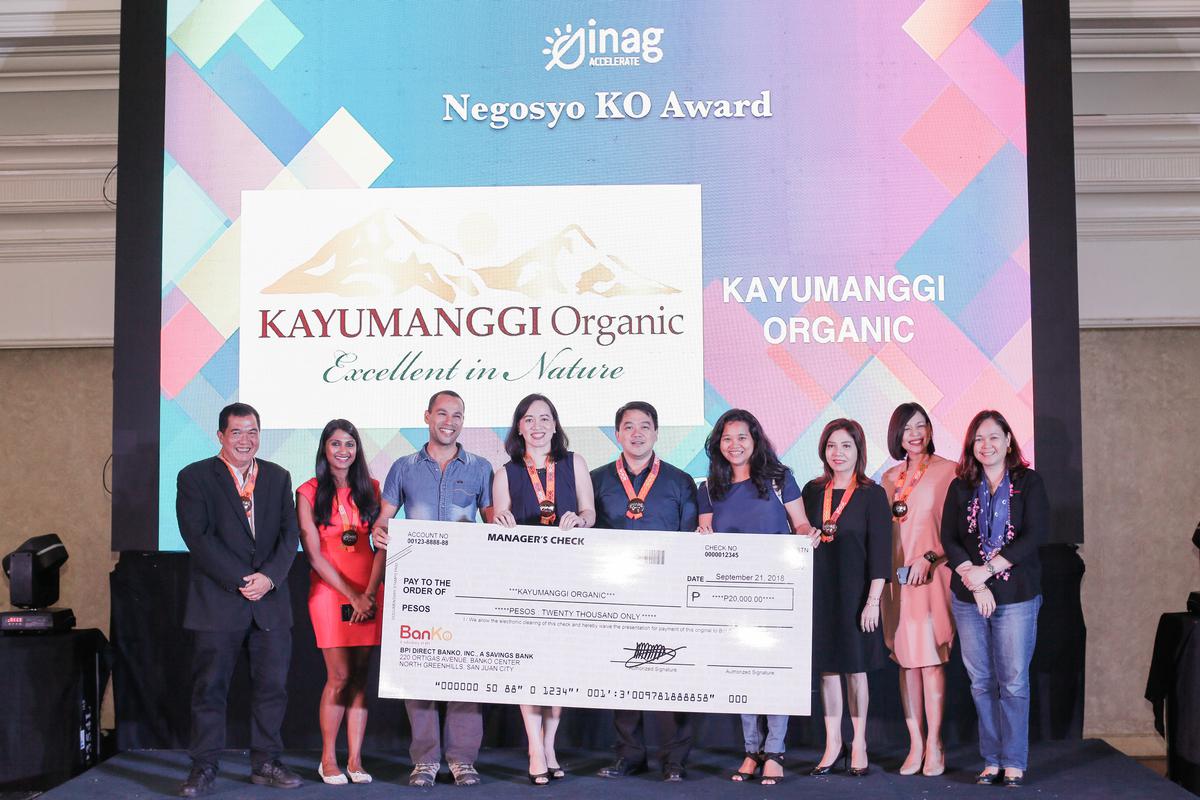 The top five awardees are entitled to Php 500,000 cash grants, while the remaining five will get Php 100,000. They will also receive specialized mentorship to advance their businesses. Nanaycare, Inc. also went home with the People's Choice Award, receiving Php 20,000 seed funding, Php 50,000 worth of Facebook promotion budget, and access to credit lines from BPI Business Banking. Kayumanggi Organic won the category for Negosyo Ko Award and will receive Php 20,000 capital funding from BPI Direct Banko. StartUp Village, BPI Foundation's partner social enterprise incubator, selected Nanaycare, Inc. and Exceptional Sports for a 14-week gift mentoring program.