QBO Innovation Hub, in partnership with Youth Business International and supported by Google.org, is set to announce the winning startups of the RESQUE: Startups vs COVID-19 Competition—a nationwide startup competition that aims to help scale startups with COVID-19 initiatives, as well as startups with plans to or currently implementing pivot strategies to adapt and secure sustainability for their company.
The top 20 startup finalists will take part in a holistic two-month support program which includes learning and feedback sessions, business clinics, and consultation sessions with seasoned entrepreneurs and industry experts. Aside from that, QBO will also be awarding PHP 100,000 each to the 10 startups with the best solutions and strategic pivots to further amplify their COVID-19 initiatives.
The awarding will be done on QBO's first-ever Virtual Demo Day scheduled for July 30, 2020, at 4:30 pm. The Virtual Demo Day will feature the top 20 startups with the most exciting COVID-19 solutions and strategic pivots. Interested audiences can watch the event via livestream after registering to http://resquedemoday.eventbrite.com.
"We believe that Filipino startups will play a key role in the Philippines' post-pandemic recovery, and ultimately, our goal with this program is to deliver the immediate support our startups need to navigate the crisis and thrive. We're thrilled to showcase the top 20 finalists, who are all demonstrating incredible solutions and pivots, proving that Filipino innovation and resilience can triumph," said Katrina Rausa Chan, director, QBO. "The selection process was very competitive. We received an overwhelming response of over 100 entries in a few weeks, but in the end, we're extremely proud of the startups making it through. I hope Demo Day will bring a glimmer of optimism and hope in these challenging times."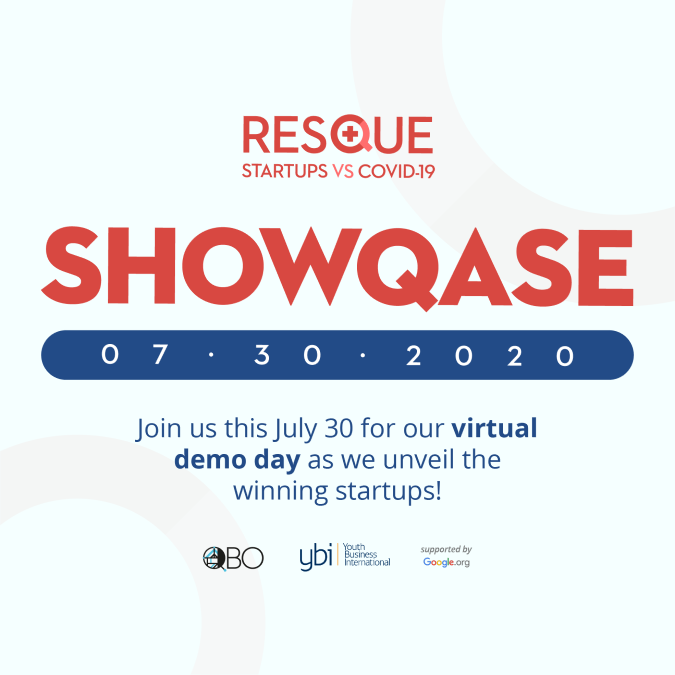 The top 20 startups span across different industries including, finance, health, medical care, and the agricultural sector. These startups will take centerstage and pitch their ideas on Virtual Demo Day:
AccessiWheels – connecting people with mobility problems and from the vulnerable sector to well-trained drivers and accessible vehicles to ensure convenient and safe travels.
Agro-DigitalPH – Aggregating groups of farmers by consolidating their assets and capabilities to enable a sustainable business.
BeamAndGo Philippines Inc. – Providing Filipinos overseas workers, a better way to support their loved ones in the Philippines through digital gift certificates.
BlizzardRef Sales Corporation – Providing quality kitchen products and appliances as well as timely delivery of sanitation essentials.
Drive Manila – A pioneer in providing self-driven cars in the local car rental industry and the developer of the Drive mobile app, a peer to peer car rental app in the Philippines.
Eskwelabs – An online learning platform that upskills learners and teams for success in a data-driven future.
Futuristic Aviation and Maritime Enterprise, Inc. – Providing reliable, secure, easily deployable, and affordable to connect devices for real-time intelligent monitoring and management of resources.
Fastjobs Philippines – Providing everyone equal access to jobs opportunities including part-time jobs via the FastJobs mobile app.
FHMoms – A support group that aims to support and help parents, mothers especially, to find jobs sustainable to their lifestyle through freelancing.
MAD Market – An initiative to keep supporting local farmers and SMEs during the COVID-19 crisis while delivering fresh fruits, veggies, and baked goods straight to people's doorsteps.
Maharlikart – A robust agri-focused marketplace that bridges the gap and connects merchants, farmers, and consumers through their online platform.
MedMartPH – An online marketplace that provides access to medical supplies at reasonable prices.
NextPay – An all-in-one payment platform especially built for SMEs and entrepreneurs.
Polka.PH – A platform that aims to transform any workplace with an exclusive shopping program made for employees.
Rumarocket – Enabling businesses to find and retain the right people to help steer their company in the right direction through their platform.
SeeYouDoc – Find a doctor and book medical appointments whenever and wherever you are.
SukiPlus – A platform that connects micro-entrepreneurs to mainstream financial institutions, using alternative data and retail solutions to get access to working capital loans.
Taxumo – An essential online tax tool for freelancers, self-employed, professionals, and business owners.
Twala – A digital tool designed to allow people to sign contracts and documents online with a legally-binding electronic signature via smart contracts in Ethereum blockchain.
Zagana – An online marketplace for fresh vegetables and fruits direct from local farmers in the Philippines.
With their grit, innovation, and ingenious ideas, these startups prove that there are limitless opportunities to grow and thrive even in the midst of a pandemic, especially when they create solutions or pivot in a business model that effectively caters to a nation on pause.
For more information about QBO, visit their website at www.qbo.com.ph or follow their social media accounts @QBOPhilippines.