Whether you're an ATGATT kind of rider, or a sandals and shorts squid, you should be wearing a helmet when you get on a motorcycle. There is absolutely no shortage of lids in the market today, which is as much a blessing as it is a curse. Given all the brands, certifications, and even fakes out there, it's imperative you get this decision right. Today, we have the Tourmodular by AGV, and as the name suggests, it's modular.
Design: 4/5
For all its features, the AGV Tourmodular is quite a sensible, plain-looking helmet. Available in Black, Light Grey, Dark Grey, Blue, and White, as well as black with a splash of hi-viz yellow, it really isn't a lid that screams for attention. There aren't any wild, macho graphics here. Whether that's a good or bad thing is entirely up to the buyer.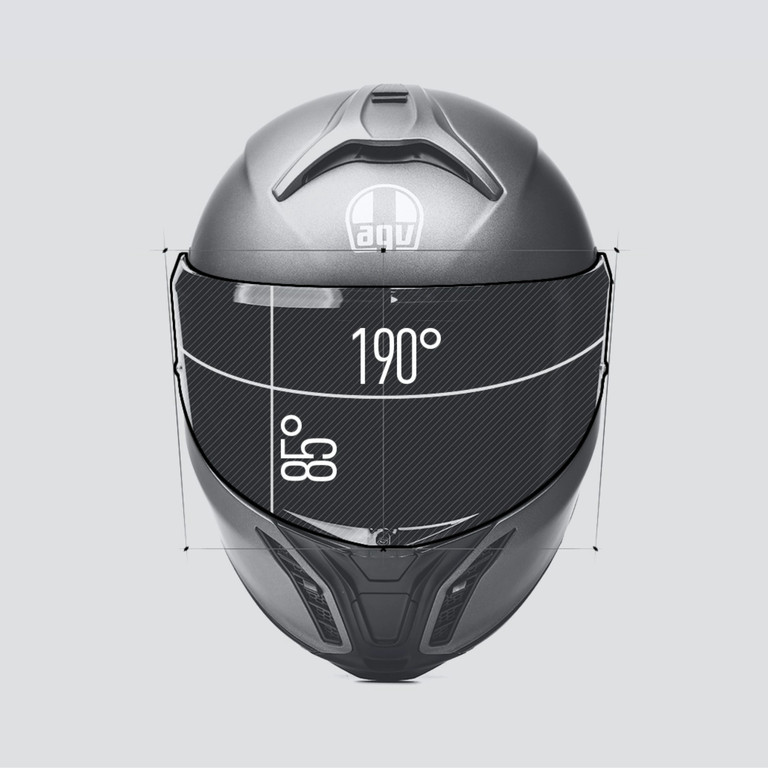 In typical AGV style, there's a lot going on with the Tourmodular. For ventilation, There are exhaust vents below a hump to ensure negative pressure. There's a top vent that can be opened to help the airflow along, and through to the rear, and two chinbar vents that can be opened individually. The locking face shield opens with a large, glove-friendly button at front dead center, and the clear, pinlock-ready visor has a convenient cracked-open position to deliver airflow and fog control without compromising safety.
Hardware: 5/5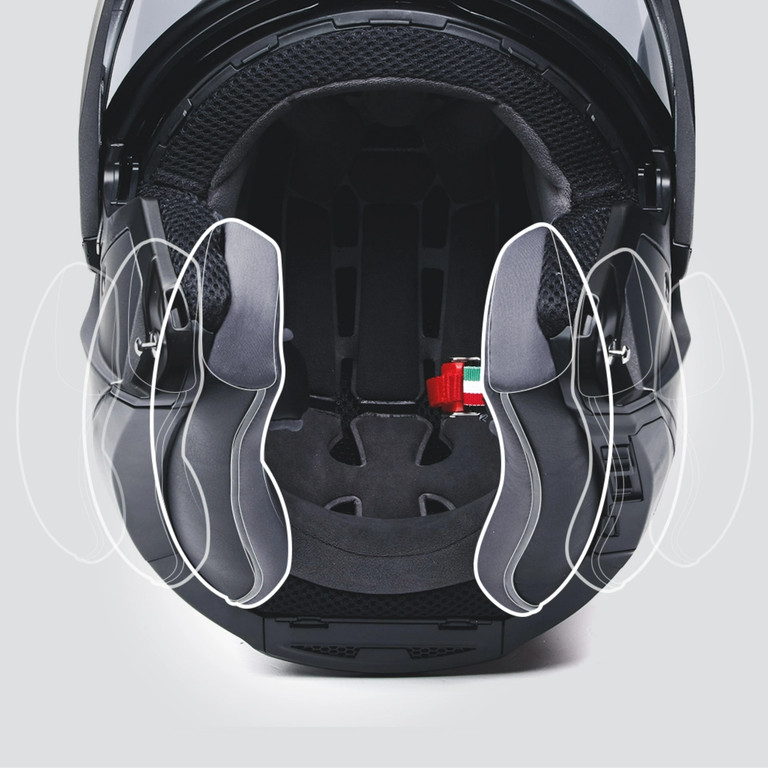 Being a top-tier helmet, the AGV Tourmodular does bring a lot to the table. The headliner feature is the latest ECE2206 certification that takes into consideration new safety information that better ensures rider safety. In the case of 2206, this includes keeping the rider safe from rotational forces during a crash. All helmets sold in Europe from 2024 have to conform to this standard, but taking new research into consideration is always a good thing. There are also differing densities to the EPS layer, again optimized for impact protection.
The helmet comes in three shell sizes, making fitment easy for different head shapes, without looking comically out of proportion for the outliers. The shell is composed of layers of carbon, aramid fiber, and fiberglass to ensure strength, rigidity, and slide resistance. This Combination also keeps the weight down to a surprising 1.62 Kg for the smallest shell size, which is surprisingly light for a modular lid.
If the name hasn't clued you in already, it is, in fact, a modular helmet, and a well-executed one at that. Firstly, the lock to move the chin bar out of the way, is very easily accessible, even with gloves. Lifting the chin up gives a very positive pop into the detent, so you know it's secure. Pushing it further pops it into another detent, and a small latch near the hinge can then be actuated to lock the chinbar in place, allowing you to ride safely with it in the jet helmet configuration—the Tourmodular is P/J homologated, so it's safe to do so.
The visor can easily be removed for cleaning or replacement, and has a provision for the included pinlock. If it gets sunny out, you can drop the tinted sun visor with a large slide on the left side of the helmet's brim.
This AGV helmet is also extremely quiet for a modular. The chin curtain, excellent seals, and vent construction keeps noise to a minimum, although because of ECE regulations that require outside sounds to get through, it's not going to be totally quiet.
The liner has three fabrics to ensure comfort during warm rides. Cool and breathable, with a memory foam layer, and great absorption properties come together to make a lid that's excellent even when the temperatures rise. It's also eyewear-friendly, which is a great boon if like me, you have prescription lenses.
To keep the profile down, AGV also offers compatibility with built-in comms (Made by Cardo) that tucks into recesses into the bottom and rear of the helmet, if that's your kind of thing.
User Experience: 4.5/5
Helmets should primarily be judged by their accreditation. I have to admit though, that the AGV Tourmodular just does things a little better. The hinge moves smoother, the latches and locks actuate positively, and everything is just that little bit more premium. This translates into a helmet that just feels better than a lot of the competition. You feel it in the liner, in the way things move and lock, and the little extras that make the whole thing more refined.
Little things like the easy-access visor lock that lets you open the lid just a crack, and keep it that way is a spectacularly good touch that I didn't know I needed, but now don't want to be without.
I tend to only buy modular helmets, partly because I have an unusually large head, but mostly because I am lazy. The P/J homologation is great, but what really sets it apart from other modulars is the weight—low for its type, and the sound isolation. The seams are tight, the gasket around the visor and where the chin bar meets the rest of the shell, and the included chin curtain all contribute to a lid that's fantastically quiet. The comm system I have attached has absolutely no trouble being heard, even at lower volumes. It still lets enough of the street sounds in to let you be aware of your surroundings.
Rain performance is similarly excellent. The same seals that keep the noise out do a spectacular job keeping water out, and the airflow brought about by the vents, and the locking micro-opening visor keep fog totally manageable.
There's not much I don't like about the AGV Tourmodular. I do wish that there was a little bit more range in looking side to side. The shape of the brim tends to get in the way, catching on my shoulder when I try to glance behind me. There's also a lack of interesting graphics, and lacking any interesting designs, I opted for a plain gray, with some hi-viz yellow—if I can't be stylish, I might as well go hi-viz. There is also a slew of available cheek pads that will tailor the fit according to your needs, but the website wasn't particularly helpful in determining which does what, though I appreciate the customizability.
Value: 4/5
Let's address the elephant in the room. There are modular helmets out there that are a third of the price, with similar (though admittedly less comprehensive) safety homologation marks. The question that the AGV Tourmodular has to answer is if it is in fact thrice the helmet. The answer I will give is a hesitant "yes." It is however, much better put together, is built to a higher safety standard, and overall feels much more premium than the competition. I would be very glad to pay the premium for the comfort alone, as it's always a hard thing to dial in with modulars in my experience. If you're on the fence, I implore you to give it a fit. I'm quite sure most people will agree.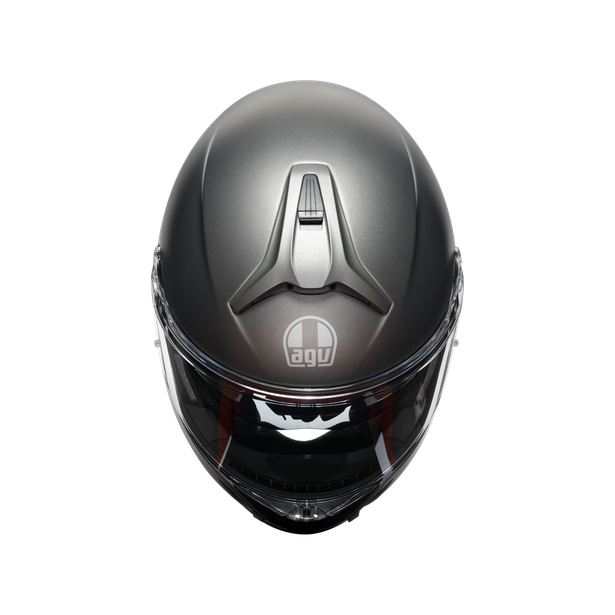 Specifications:
Weight: 1.6kg
Shell sizes: 3
Head sizes: XS-XXL
Safety: ECE 22-06, P/J Homologated
What's hot:
It's made to the latest ECE 2206 safety standard
Superb fit and finish
Additional options
What's not:
Plain color schemes
Shape gets in the way of shoulder checks
Price
Bottomline
There's a good reason it's probably the best modular helmet you can get at the moment.
Reviewed by Ren Alcantara
Also published in Gadgets Magazine November-December 2022 Issue.