Oppo Reno 8T is a sophisticated phone that exudes luxury due to its stylish design and outstanding camera features. With all the specs and design made by OPPO, I think this is a creatively crafted smartphone, but is this a "must-have" phone for 2023?
Design: 5 / 5
OPPO gets a thumbs-up for the back cover of the Reno 8T, with its distinctive look. The Sunset Orange-colored version is made from a fiberglass-leather design for a high-class feel that makes this flagship phone stand out.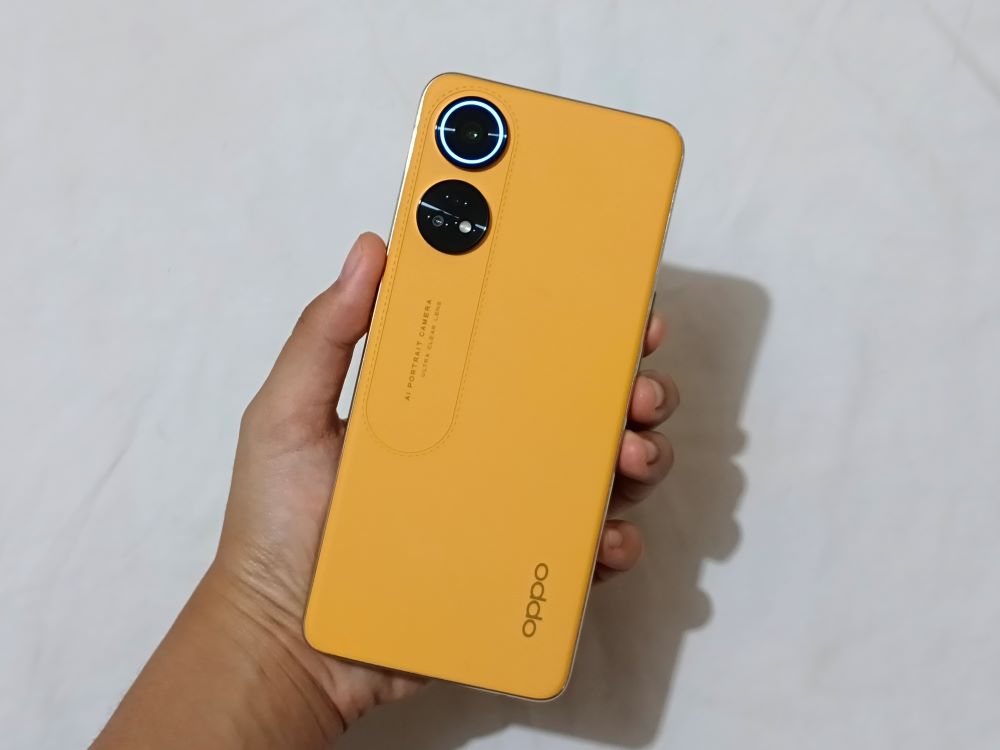 In addition, the leather texture prevents the phone from slipping, protects against scratches, and avoids fingerprint smudges. I'm not a fan of camera bumps, and thankfully, the Reno 8T comes with a transparent shockproof case that secures the camera layout from unnecessary damage.
A unique feature that makes it stands out is a breathing light in the rear camera which activates whenever I receive notifications and phone calls. This feature is helpful since it alerts me that someone messaged or called me, especially during my working hours. The color of the breathing light can be customized through its settings.
As for its dimensions, it is surprisingly light since at 183g and 7.85mm thin. If you are wondering if it's easy to carry it around, yes, it is comfortable to keep the phone in hand the whole day.
On the right edge of the phone is a power button, while the volume buttons, the SIM tray, and the micro-SD card tray are at the left edge. Dual stereo speakers are found at the top and bottom edges. Also at the bottom are the USB type-c charging port, earphone jack, and the main mic, while at the top edge of the phone is the other sub-mic.
Hardware: 4 / 5
What about the performance improvements? The OPPO Reno 8T runs on Helio G99, a mid-range processor released in 2022. It obtained a single-core score of 637 on Geekbench 6, indicating that it is able to handle heavy gaming and editing apps. Its 1,824 multi-core score shows that the phone can also be used for multitasking. 
TheReno 8T has a large storage capacity of 256GB and 8GB memory that can be expanded further by converting unused storage to operating memory. Its 5000mAH battery system guarantees long hours of use, while its 33W SUPERVOOC charging can quickly juice up the phone for two hours of calls in just 5 minutes. 
It has a rear 100MP portrait camera with special features such as AI portrait, flash snapshot, selfie HDR, and bokeh flare portrait. The new 40x microlens rear camera is able to capture even the threads of a cloth and dust from a plant can be captured.
The screen display of Reno 8T is also a special 90Hz AMOLED eye-care display that adjusts automatically but never leaves out bright colors while watching movies or playing games. Its 100% DCI-P3 high-color gamut ensures good color quality while the backlight adjusts for viewing comfort.
User Experience: 4 / 5
The Oppo Reno 8T really stands out design-wise, thanks leather-textured back cover, and its breathing light. Performance-wise, it's also good enough to use as an everyday phone.
I had fun using the rear camera as it produces good quality photos with the help of AI technology that sharpens the image and brings out the colors of the subject, making it worthy of its tagline, "The Portrait Expert". 
The front camera is all right, although photos could turn out grainy. Similarly, videos also tend to be grainy as it only shoots at 30fps. The video stabilization system needs improvement to reduce shakiness. I am puzzled by the 40x microlens rear camera as I don't know when to use this feature unless I want to capture what splinters look like in a human hand. 
Turning to entertainment, I downloaded Genshin Impact, Mobile Legends, and Call of Duty. Genshin Impact can be played in the lowest setting. Even though the virtual landscapes are loading while flying around, the characters are not lagging, especially when there is an extravagant event. Mobile Legends can be played to the highest settings, making the whole battle experience smooth and flawless. Call of Duty can be played in a medium setting. 
When playing games, a gamer setting mode appears at the side of the screen; and I was able to configure setting options whenever I wanted to focus on raising my ranks in Mobile Legends and Genshin Impact.
Watching movies on the Reno 8T is epic since the whole display turns into a little movie screen that you can watch anytime and anywhere. Along with the crisp audio quality, you actually get movie theater vibes.
Overall, I really appreciate how light and thin the phone is because I was able to play games, capture photos, and watch videos comfortably.
So is this a "must-have" phone for 2023? Well, if you're into stylish, yes. If you are after hardware specifications, probably not.
Value: 4 / 5
The suggested retail price of Reno 8T is PHP18,999. This is pricey, given that there are other factors that need to be improved, and there are similar specced phones at more affordable price points. A major point in its favor is its 48-month fluency protection, a feature that keeps Reno 8T's hardware and software optimized so it will continue to operate smoothly for 4-years of daily use.
Specifications:
Display: 6.43 inches FHD+ (2400X1080) AMOLED screen with 90Hz refresh rate (optional: 60/90 refresh rate)
Processor: MediaTek Helio G99
OS: ColorOS 13.0
RAM: LPDDR4X @ 2133MHz 2 x 16-bit
Internal Storage: 8GB+256GB expandable up to 8GB
Camera: Rear: 100MP; f/1.7; FOV 79°; 6P lens; AF supported; open-loop focus motor adopted. Microlens: 2MP; f/3.3; FOV 65°; 3P lens. Depth: 2MP; f/2.4; FOV 88°; 3P lens. Front: 32MP; f/2.4; FOV 89°; 5P lens; AF not supported.
Battery: 5000mAh/19.35Wh (Typ), 33W SUPERVOOC
Connectivity: WLAN: 2.4GHz, 5.1GHz, and 5.8GHz, Bluetooth 5.3, USB type-C, 3.5mm earphone jack, NFC supported.
Dimensions: 162.3 x 74.3 x 7.7 mm (6.39 x 2.93 x 0.30 in)
Weight: 183g
What's Hot:
100MP portrait rear camera 
Breathing light 
Fiberglass-leather design (only available in the sunset orange variant)
48-month fluency protection 
33W SUPERVOOC charging system
5000mAH battery
256GB+8GB RAM expansion 
What's Not:
40x microlens rear camera
Taking videos
Bottomline:
A modern smartphone with a classy look that shines above the rest.
Reviewed by Alyssa Silva. Also published in GADGETS Magazine April 2023.