For all the fast, convenient gaming laptops out there, there's still something to be said about the gaming PC. Reliable, easy to upgrade, and with that old-school charm, the desktop will always be a great way to get into gaming. You could of course build your own rig, but for those who don't want to go through the trouble, or want the increased reliability of a pre-built machine, Acer has an answer in the Aspire GX-781.
Design 3.0/5.0
The Aspire GX-781 is a simple-looking box, with a few accents here and there to give it a gaming vibe. Red appears to be the color to designate a device as being "for gamers," and this Aspire is no exception. Glossy black, with red lighting at the front, it does sort of look like an office device dressed in gamer garb. This of course doesn't affect performance per se, but is something that matters to many people, and so deserves scrutiny. The front is also home to a few handy ports including USB and audio, along with a card reader, and USB-C port, for easy access, without having to do an awkward reach-around, while the top edge is where the power button is located. It's decked out in the same red accents as found elsewhere on the CPU, and is easy to find even when located under a desk, or in darkness. Access to the internals can be had through screws on the back of the CPU, and out of the box, you have two bays up front for drives and other add-ons.
Hardware 4.0/5.0
This desktop has a quad-core Intel i5-7400 processor that goes along at 3.0 GHz, boosting up to 3.8 GHz when the situation calls for it. Our review unit came with 8 GB of RAM, and a 256 GB SSD, for quick, lag-free data access and storage. Connectivity options include Gigabit ethernet, 802.11ac connectivity, Bluetooth 4.0 connectivity, and a large helping of USB ports; 2 USB 3.0 ports, and 3 USB 2.0 ports, along with the front USB-C port at the front. You also get 3 HDMI ports, a DVI port, and a display port, so you can use practically anything you might have lying around. For those looking to upgrade later on, it has a 500 W PSU.
Graphics duties are handled by the capable NVIDIA GeForce 1050 with 2 GB of VRAM.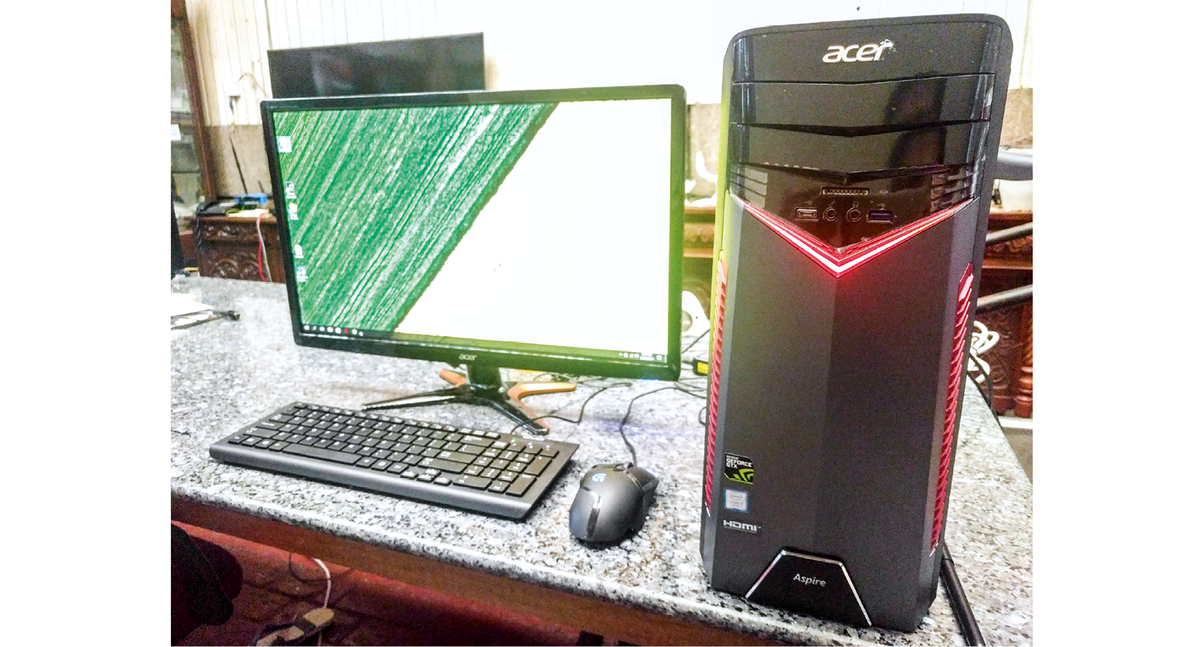 User Experience 4.0/5.0
I do wish I had more time to game, but aside from a busy schedule, the lack of a proper gaming machine hinders that goal somewhat. I took full advantage of the Aspire, taking out my gaming backlog catalog, and going through the games in turn. Booting up and installing games is easy thanks to the SSD, and cold booting happens faster than I can go grab a glass of water.
Overwatch was great, as expected. While I didn't turn the settings all the way up to Epic, I still got framerates hovering around the 50 fps mark with no problem. While it struggles a bit with Rise of the Tomb Raider turned all the way up, dropping the settings down a step took care of the occasional stuttering and tearing, and rendered smooth, immersive gameplay, even when action on-screen got hairy. The same was the case for Ghost Recon Wildlands, so the bottomline here seems that while it's not really a rig that lends itself to the highest game settings, manage your expectations, turn the graphics down just a little bit (you won't miss much, I promise), and enjoy the improved gameplay experience. Neither the i5 processor, nor the 1050 are at the top of the hardware heap, but they're capable in their own right, and perform about as expected. The SSD does allow for quick load times, which is always a welcome thing, and long-term reliability is going to be less of a concern as well.
Another thing I did appreciate about the rig is how quiet it was. Even when it was pushing hard, the fans weren't making enough noise to overpower the open over-ear cans I was using to play, and this was with the CPU at monitor-level the whole time.
Value 4.5/5.0
The Aspire GX-781 is a great value-for-money device. Factoring in the cost for components, effort, a more comprehensive warranty, and service, it's actually a pretty good deal. Sure, it's not quite a monster in terms of performance, but it's more than capable of holding its own against current-gen AAA titles. Should you have more money down the line, you can always upgrade individual parts anyway.
Bottomline
It might not have the highest specs, but it makes up for it with amazing value for money.
Also published in Gadgets Magazine October 2017 issue
Words by Ren Alcantara