Tablets have long been used mostly for content consumption, with incidental creation. While many have attempted to come up with creation tablets with some success, leave it to Apple to nail it. Behold, the Apple iPad Pro 10.5.
Design 3.5/5.0
There's not a lot to say about the iPad Pro here. It's a slab, with reasonably narrow bezels, an elegant chamfered edge, and buttons where you've come to expect them. A solid metal back, massive glass front, with a fingerprint scanner right down in the center. Apart from saying it looks like basically every other iPad, there's not much else to talk about.
The pencil is about seven inches long, and just the slightest bit thicker than your usual 2B, with a good weight to it. The business end is a hard plastic point that's thankfully replaceable, and the rear end is a magnetic cap that keeps the charging bit safe.
Hardware 4.0/5.0
A 10.5-inch 2224 × 1668 display with 264 ppi, the powerful A10x Fusion chip and M10 coprocessor, and 4 GB of RAM round things out nicely. My particular model is the 64 GB, Wi-Fi only one, and yes, I got the Apple Pencil as well. You of course get all the modern connectivity options, save for cellular, which is just fine by me.
The Apple Pencil has an internal battery, and a host of sensors to detect pressure and orientation, as well as a wireless module to communicate with the host tablet. Very impressive, and quite solid.
User Experience 4.5/5.0
Here's where it gets interesting. Using the iPad Pro as a regular tablet doesn't really yield an experience too far removed from your average iPad or Android tab, though quite fast. Cameras, if you decide to use them for some reason, might be best I've seen on a tablet, and the fingerprint scanner works wonderfully fast. Apple's control of their hardware really allows this device to perform fast, smooth, and absolutely wonderfully, whether playing games, loading web pages, or watching videos.
Where it really shines is when it is had with the Apple Pencil.
The fast 120 Hz refresh rate on the iPad, a quick processor, and whatever alien tech they've got going on in the Pencil make for an experience that is unbelievably close to actually writing on paper. Sure, the screen is quite slick, but the response is practically analog.
Artists have given the system resounding praise, and for good reason. This thing really is amazing. While I myself lack even a single artistic bone in me, I tend to take plenty of handwritten notes. Most of my drafts are done longhand, and the way it handles writing is unbelievable.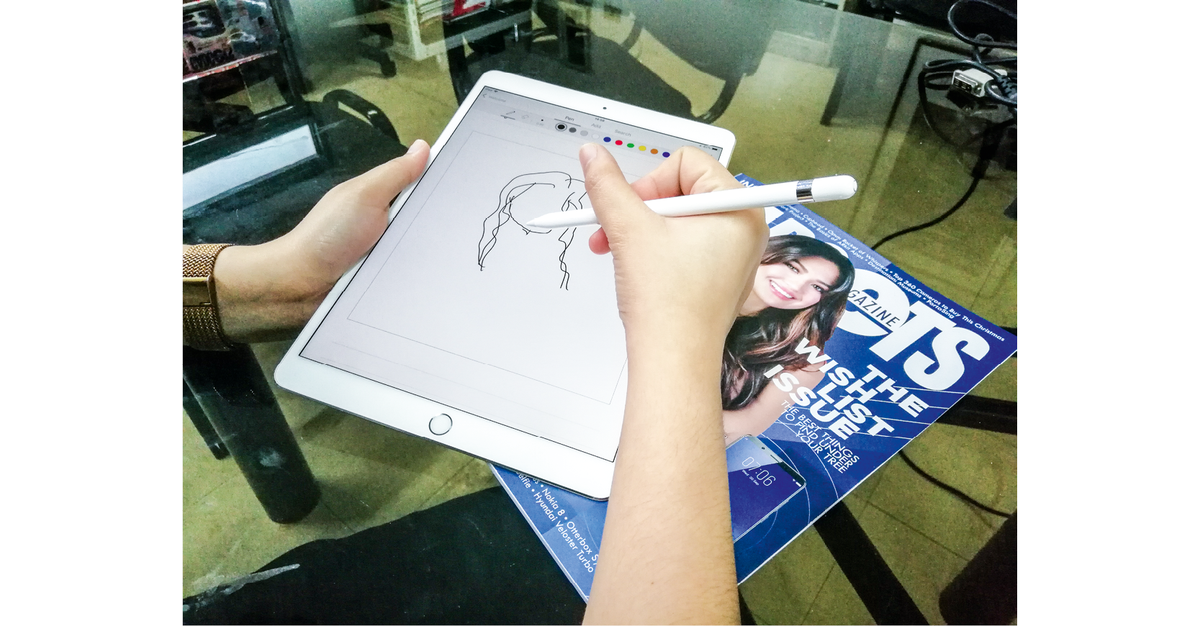 I've tried multiple devices that do handwriting recognition, employ a stylus, and feel reasonably ok, but I'll be honest: this is how I imagined this technology would be. I really mean that. Pair the hardware with a good writing app (I use Nebo), and you have the perfect setup for capturing handwritten notes for translating into editable text later on.
Battery life is impressive. If you take it out for an hour or two of notes daily, you should only have to charge every other day. I tend to use mine for scribbling articles, or paired with a keyboard for quick writing on the go, and I charge maybe twice a week.
The 10.5 model gives the best compromise between portability and usability, tucks into a bag with no fuss, and gives you about the same writing surface as a large notebook. Plus, you can choose the color of ink you use to write, on the fly. Next to my smartphone, this has, in very short order, become the most indispensable device in my arsenal.
Value 3.0/5.0
As much as I love it, it certainly is not a device for everyone. Journalists, students, digital artists can all stand to benefit from the functionality it brings, but everyone else who might just need a large, portable, fast tablet might want to look at a different model. The PHP 37,000 sticker price is a significant chunk of change, and to really make it shine, you need the Pencil, which is another PHP 6,000, so consider your use case well before you cash out.
Bottomline
Yes, I actually went and bought one for myself.
Also published in Gadgets Magazine December 2017-January 2018 issue
Words by Ren Alcantara