Hybrid 2-in-1s were the rage back in the early 2010s but as time moved on, they slowly disappeared. That's why when I was offered to look at the ASUS Vivobook 13 Slate OLED (T3300) I was excited. ASUS was among the best when it came to making 2-in-1s back in the day, and this one looks like it's a worthy successor.
Design: 4/5
Design-wise the main tablet is pretty standard-looking. It has a 13.3-inch FHD OLED Display. Also in front is the 5-megapixel webcam. At the back is the 13-megapixel camera. Port selection is also pretty alright, on the left are two USB 3.2 Type-C ports that support both power and display, there's also the 3.5mm audio port, and a microSD card reader. Also found on the left are two of the four speakers. On the right are the volume buttons and the two other speakers. On top is the power button that doubles as the fingerprint reader. Lastly, the bottom has the connection point for the detachable keyboard.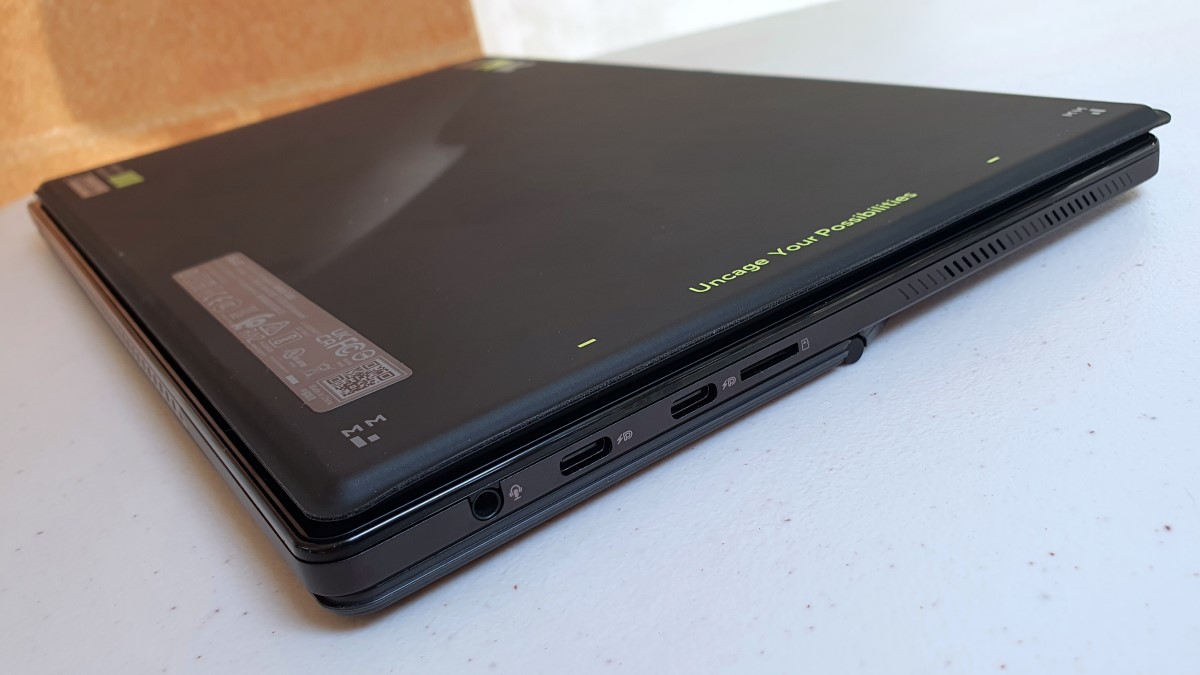 The whole Vivobook 13 Slate OLED package also includes a carrying sleeve, the detachable keyboard, the detachable stand, a 65W charger, and the new ASUS Pen 2.0 stylus.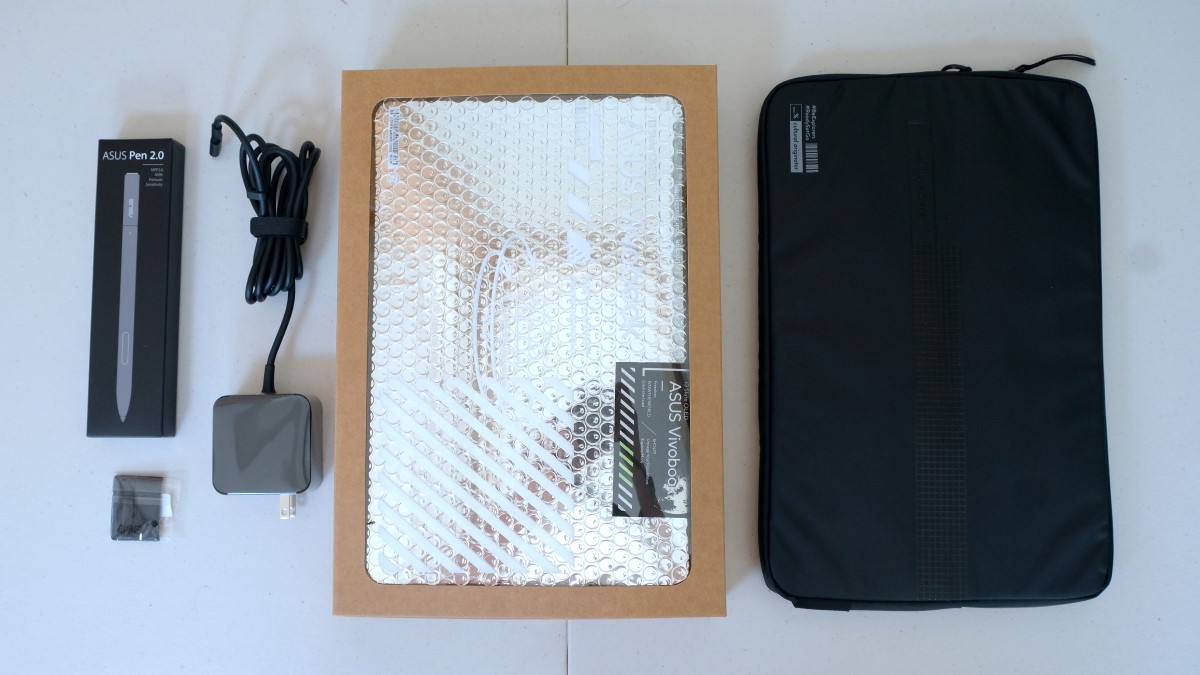 Going back to design, the stand, and the keyboard has this sort of minimalist street aesthetic to them which I found to be pretty cool. It's mostly found at the back of the keyboard and besides the rear camera, but there's also a subtle nod with the enter key.
Hardware: 4/5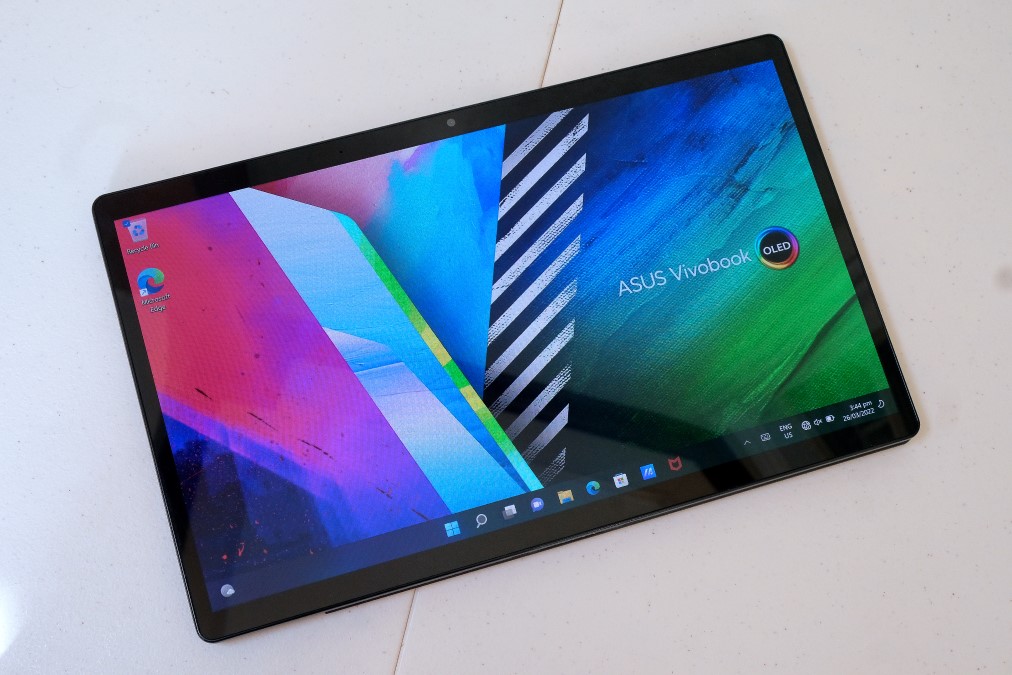 Powering the ASUS Vivobook Slate 13 OLED is an Intel Pentium N6000 quad-core processor that runs at a 1.1 GHz base but boosts up to 3.3 GHz. Our review unit had 8GB of RAM and 128 GB of PCIe SSD. Like I said earlier the webcam is a 5-megapixel camera, it was great, especially during zoom sessions. The back's 13-megapixel shooter is alright. You can take good daylight photos with it, but let's be real, are you really going to use this massive tablet as your main shooter over your phone?
What I found the rear camera useful is for scanning. If you're a student, this would be a great companion when you need to scan that book page or note. It's easier as well with the photos immediately uploaded to the tablet for you to add to your notes.
Speaking of notetaking, the included ASUS Pen 2.0 stylus was a treat! It has 4096 pressure levels with a 266 Hz sampling rate. While it's not a high-end drawing tablet replacement, it does perform really well for other non-technical sketches. In my use case, I found it a treat to use for note-taking in class. The stylus' battery life is also great, I've only charged the stylus once, when I got the device, and haven't changed it since, though I am a light user so your mileage may vary.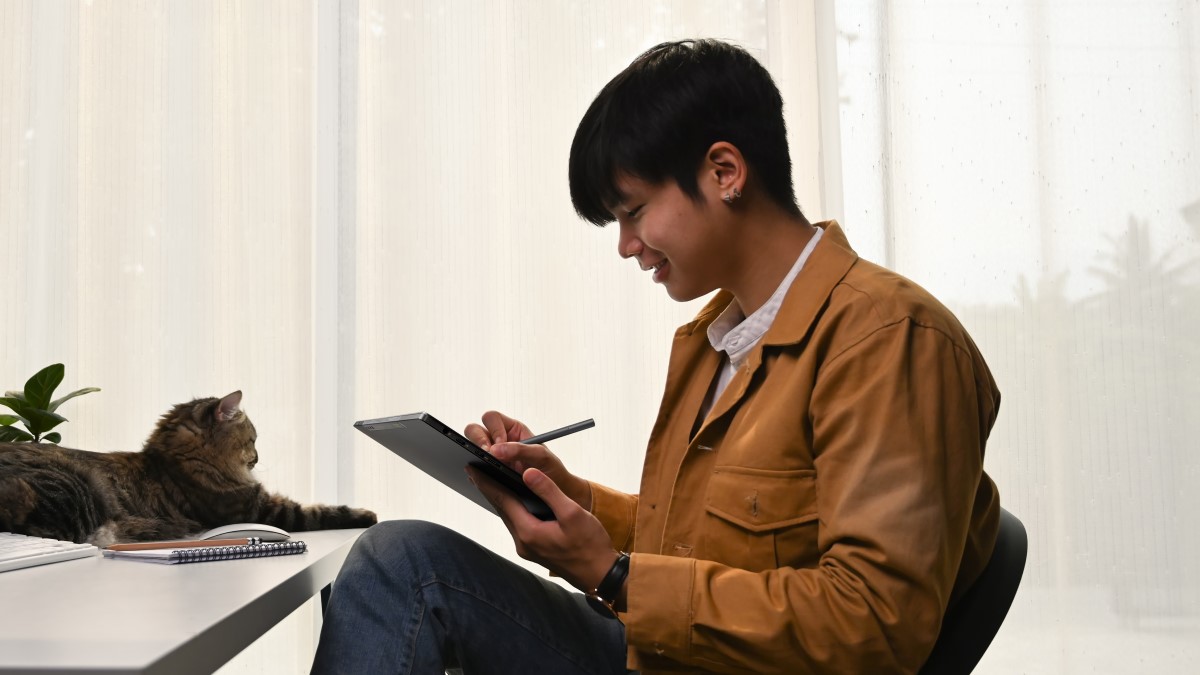 Lastly, battery, ASUS has noted that the Vivobook 13 Slate OLED has a 50Whr battery and boy does it keep going. In my experience of class and media consumption, I got around 2-3 days of use, which is amazing to say the least. Charging the device got me from 12% to 62% in around 35-minutes, pretty fast. But it will trickle down charging to protect the battery that it needed around two and a half hours to fully charge to 100.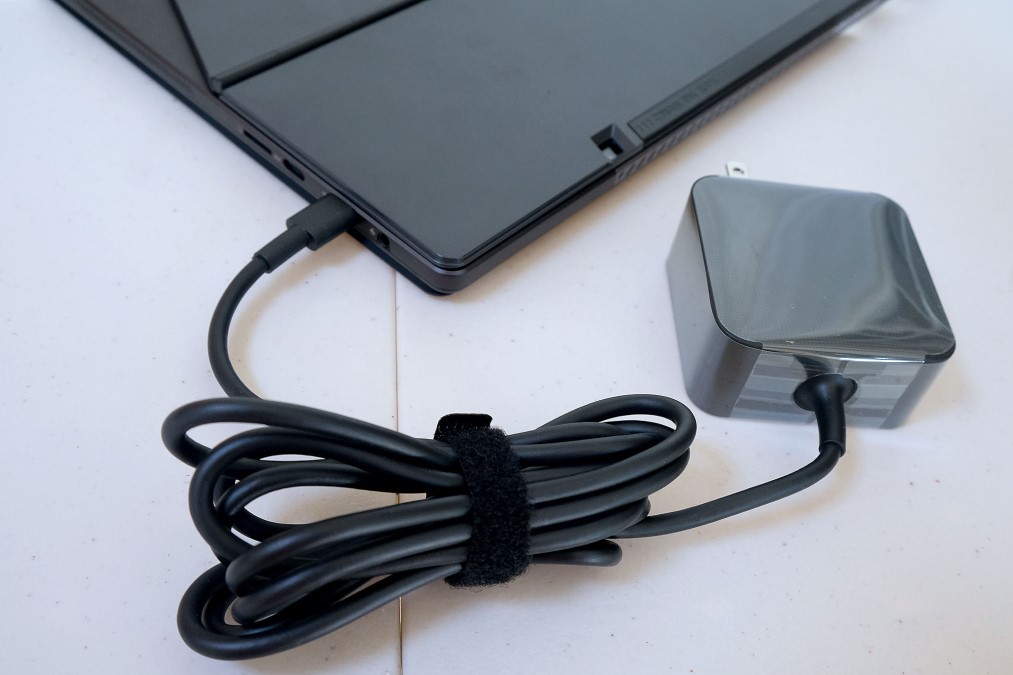 User Experience: 4/5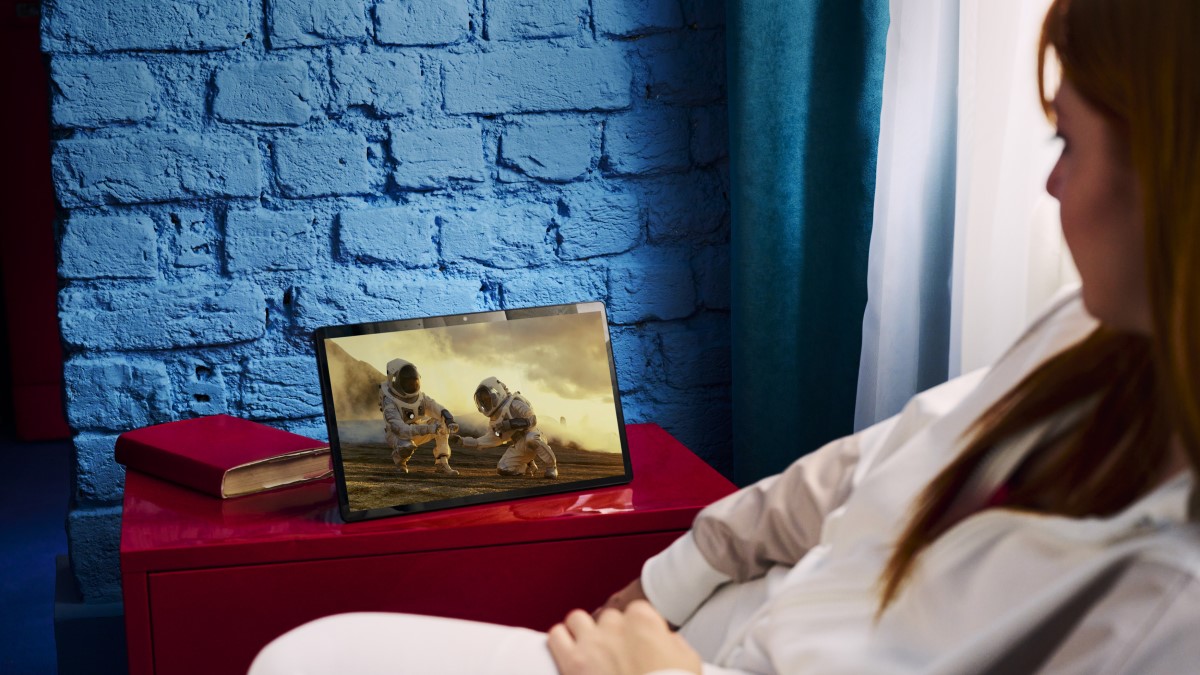 I had a great time with the Vivobook Slate 13 OLED, particularly on the media consumption side. Like I said in my first impressions, the display was amazing and the speakers alright. With its portable and versatile nature, it was much more fun to bring the tablet on the bed compared to a laptop.
The detachable stand makes it much more functional than a regular tablet. Usually, I lay the tablet flat on the bed and watch laying on my stomach, but with the Vivobook 13 Slate OLED, I could just let it stand and get much more comfortable on my sides.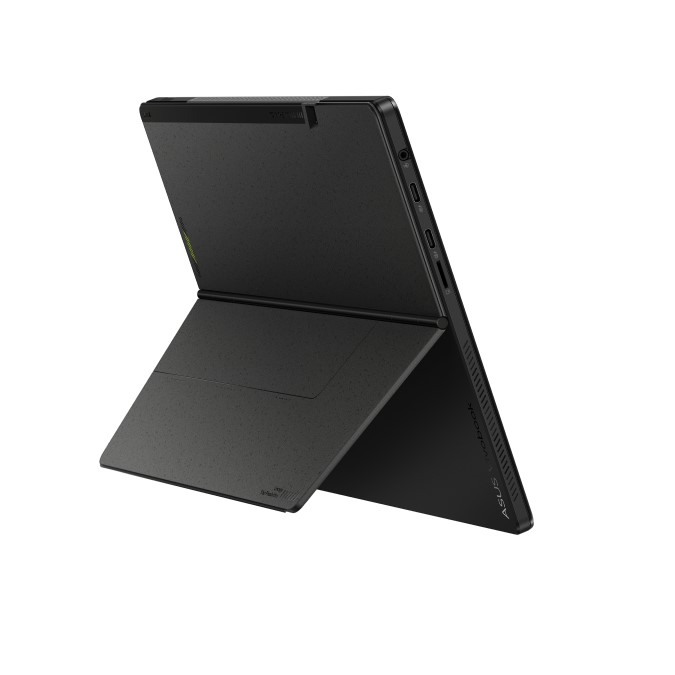 The detachable stand connects via magnets and is pretty secure. But there is a downside since it's magnetic you do need to hold it down when adjusting the hinge at the back otherwise it will disconnect from the tablet. It's not really a deal-breaker but can be a hassle at times.
The definite best feature of the device, as I said in my first impressions, is the OLED display. The colors are more vivid on the Vivobook compared to my daily driver LCD monitor and my tablet. OLED displays showcase deeper blacks than LCD panels and more distinct colors because the pixels are individually illuminated so there's none of that white backlight glare you tend to see on LCD panels.
The ASUS Vivobook 13 OLED Slate had some of the best viewing experiences I had with a tablet hands down. It also comes with both Dolby Vision and Dolby Atmos support for cinematic-level experience. There's also HDR500 certification, meaning the Vivobook 13 OLED Slate has some great dynamic range.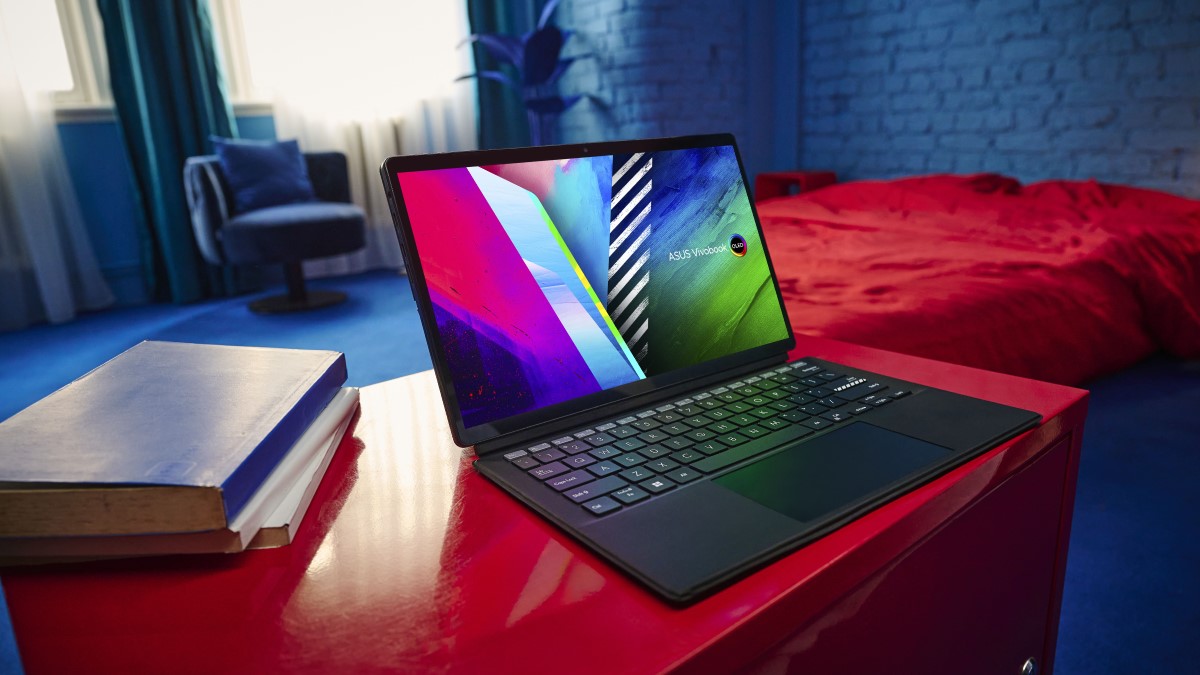 The keyboard of the Vivobook 13 Slate OLED was a joy to type on. Key spacing was great and felt like a true laptop keyboard. The palm rests were also enough for my tiny hands, but I feel that larger hands would feel cramped. Another great thing about the keyboard is the massive touchpad, honestly, I feel that it's even bigger than on the other laptops that I've reviewed. There's just the issue of the thinnest. Since the whole keyboard was pretty thin, I found that you can actually register a click when you flex the keyboard so make sure you type on a flat surface to avoid issues later on.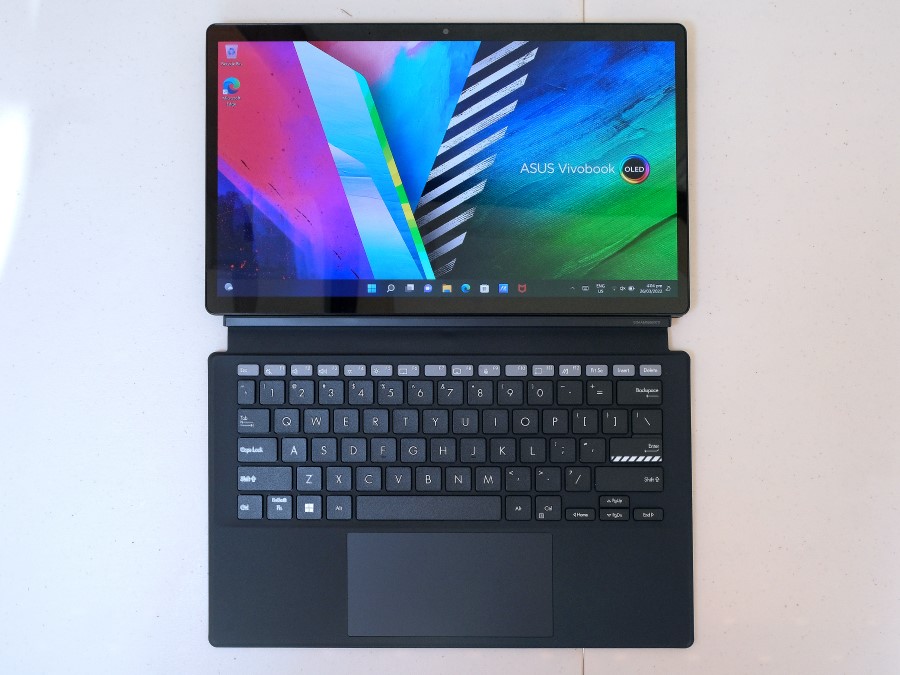 For productivity, the ASUS Vivobook 13 Slate OLED can perform basic office tasks and even light photo editing. I was pleased to know that it came with Microsoft Office apps out of the box; this saves users thousands of Pesos for a subscription to Office. Unfortunately, the Intel N6000 isn't the most powerful processor out there so don't expect it to perform heavy tasks like video editing. Gaming is also out of the question, but you can run some older console emulation. I also found that it was the perfect device for remote gaming. With its Wi-Fi 6, I was able to run my Steam games via remote play smoothly. From there the OLED display did what it does best, providing some of the best-looking gameplay I've seen.
Value: 4/5
Starting at PHP39,995, the ASUS Vivobook 13 Slate OLED has some pretty tough competition from other laptops and Chromebooks. But it does have its own ace up its sleeves. It's the only detachable 2-in-1 that runs Windows for that price range. This makes it ultra-portable and much more productive than the rest. The OLED display also makes a huge difference.
But it needs to be said that the Intel Pentium N6000 is not a powerful processor. So if you feel you'll need a much more powerful device for work or school, you may want to consider ASUS' other laptop offerings.
If you do want to check the ASUS Vivobook 13 OLED Slate, here is a list of ASUS concept stores in the Philippines where you can check it out.
Pros:
Portable and versatile
OLED display
Windows 11
Cons
Not the most powerful processor
Only up to 128GB of internal storage
Bottomline:
The ASUS Vivobook 13 Slate OLED is a great multimedia device that doubles as a laptop
Specifications:
Display: 13.3-inch, FHD (1920 x 1080) OLED 16:9 aspect ratio, 0.2ms response time, 550nits peak brightness, 100% DCI-P3 color gamut, 1,000,000:1, VESA CERTIFIED Display HDR True Black 500, 1.07 billion colors, PANTONE Validated, Glossy display, 70% less harmful blue light, Touch screen, With stylus support, Screen-to-body ratio: 83 %Processor:
Memory: 8GB LPDDR4X
Internal Storage: 128 GB NVMe PCIe 3.0 SSD
OS: Windows 11
Camera: 5-megapixel Front, 13-megapixel Rear
Battery: 50 WHr, included 65W Charger (charges up to 60% in 39-minute)
Ports: 2x USB 3.2 Type-C support display/power, 3.5mm Combo Audio Jack, Micro SD card reader
Connectivity: Wi-Fi 6, Bluetooth 5.2
Dimensions: 309.9 x 190x 7.9mm
Weight: 0.78kg