Music is as important at home as it is anywhere else you might care to listen to it. Konzert is a solid name in the field of home entertainment, with a long list of products, not the least of which is the KX-400+, a device that takes the mini-component system and updates it for current-generation devices. Does it have enough features to keep up, or does it get left behind?
Design: 3.5/5
The audio system doesn't take too many risks in the design department. The main unit is done in a simple black, with a massive port for the subwoofer up front. To spice things up slightly, the front panel is illuminated, and can be set to flash with the music, if that's your kind of thing. The left, right, and center speakers are tall and narrow, which, when turned sideways, allows them to fit easily in shelving. Controls are available right on the front panel, giving you easy access to commonly used features, including a massive volume wheel for turning the jams up without fumbling. Overall, it's not a bad-looking system, and would fit nicely in a spot in the living room.
Hardware: 4/5
There is more to this device than just a 3.1-channel audio system. The Konzert KX-400+ also has Bluetooth connectivity, for wireless audio convenience, and playback from USB drives and SD cards. These are, of course, on top of wired connectivity, and an FM radio. Bluetooth in particular is a great addition, allowing you to use your phone and a streaming service to provide the tunes. If you're looking for numbers, the system has an 8-inch subwoofer and three, 3-inch satellite speakers.
The system also comes with a remote control that gives the user access to more features, including selecting the input source, sound mode, and picking the radio station. The back has auxiliary inputs for external audio sources, and since the unit is quite light, accessing the rear isn't an issue, even when the system has ben set in place.
User Experience: 3.5/5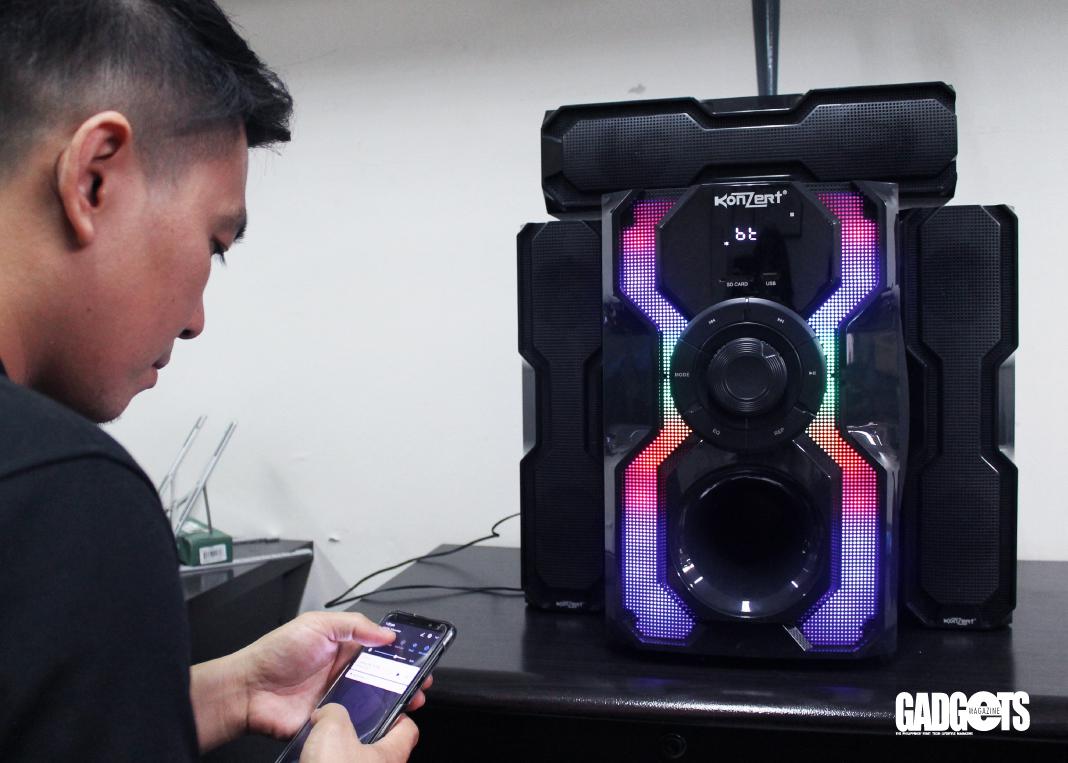 The Konzert KX-400+ isn't a bad little audio system. It's styled more or less like the mini-component systems of the '90s, but with a decidedly more modern look, and just like the older systems of the past, setting it up couldn't have been easier. Once everything was freed from their individual plastic wrap, it was three cables, power, and that was it. With the satellites and the main unit in place, I plugged it into the wall, flipped the master switch on the back, and everything was live. As expected, there was plenty of volume available from all the satellites, and lots of low-end boom from the large subwoofer. This audio system does have a little more low end than I personally like, which drowns out the more delicate mids in vocal performances. If you're all about the bass though, you'll be very pleased.
Next we tried connecting a phone via Bluetooth. This was entirely painless, taking all of half a minute. Once pairing was successful, we were immediately able to stream music from our test phone with no problems at all. It wasn't plagued with the skipping and stuttering that can sometimes be a problem with devices connected via Bluetooth, though there was a bit of a delay between audio and video when we attempted to stream a few TV shows.
A thing we noticed, though, was when selecting different modes, the voice prompt indicating the selected mode was significantly louder than the music volume. This can be a little startling when cycling through sources since you aren't really expecting quite such a loud voice to come on.
Aside from that small concern, there wasn't really anything to complain about. Is it going to be a replacement for a high-end audio system? No, of course not, but that's not what it's meant to be.
Value: 4.5/5
There are a few things going for the KX-400+, not the least of which is the price. At a mere PHP 3,999, you get an exceedingly capable little audio system with broad compatibility thanks to Bluetooth, with greater output than any single battery-powered wireless speaker. It might not have the bells and whistles of more expensive systems from other brands, but it does the job solidly, and at a price that can't be beat.
Specifications:
Peak power: 4000 W
Connectivity: USB/SD, FM, AM, Bluetooth
8-inch subwoofer
3-inch satellite speakers
Max Power: 4000 W PMPO
Power Rating: AC220V~60Hz
Power Consumption: 80 W
3 channel amplifier
What's Hot:
3.1-channel system
Bluetooth connectivity
Simple to use
What's Not:
Fairly basic feature set
Over-enthusiastic bass
BOTTOMLINE:
If you don't need anything fancy, drop down the cash for this, and you'll have all you need, and money to spare.
Also published in GADGETS MAGAZINE February 2020 Issue
Reviewed by Ren Alcantara