For a homebody, having a soundbar inside the room is bliss. It's a great alternative to having a complete home audio system since it saves space, easy to set up, and delivers the same audio performance and power that most bulky speakers do. Our friends from the local audio solutions brand Konzert sent over their latest wireless soundbar. Here's what we think of it.
Design: 4.5/5
As a 2.1 channel soundbar, the Konzert SBx-3x4W has a solid build that's reminiscent of its predecessor, the SBx-2×4. It has a slim, black rectangular body which is a combination of metal grille and glossy plastic. At its upper left corner is a silver emblem of Konzert's logo for branding. Together with the USB port, basic controls like volume rocker and the power button are ergonomically placed on its right. At the back lie the ports for an optical connection, HDMI or MCI, and an AUX cable good for connecting Smart and HD TVs. The soundbar also comes with a subwoofer, holes that allow users to mount it on a wall, rubber bases for stability, power and auxiliary cables, and a remote control. It does retain an LED display that only appears when you turn it on, right at the top center of the soundbar.
Hardware: 4/5
Compared to its older sibling, the SBx-3x4W features an audio output of up to 45000W PMPO. This is quite powerful, and ideal for those with larger areas to cover. Inside the soundbar are two 2.75-inch drivers that deliver loud, clear audio. Complementing and adding depth to the 38-inch soundbar is a subwoofer equipped with a 6.5-inch driver.
The whole soundbar system can ditch the use of cables, thanks to its Bluetooth connectivity. Apart from Bluetooth, the soundbar can also play music from other media storage devices and can be linked on any mobile devices and TVs via HDMI, AUX, and optical cables. There are also preset equalizers to choose from, should users want to adjust and align the audio performance of the soundbar and the subwoofers to the environment.
User Experience: 4/5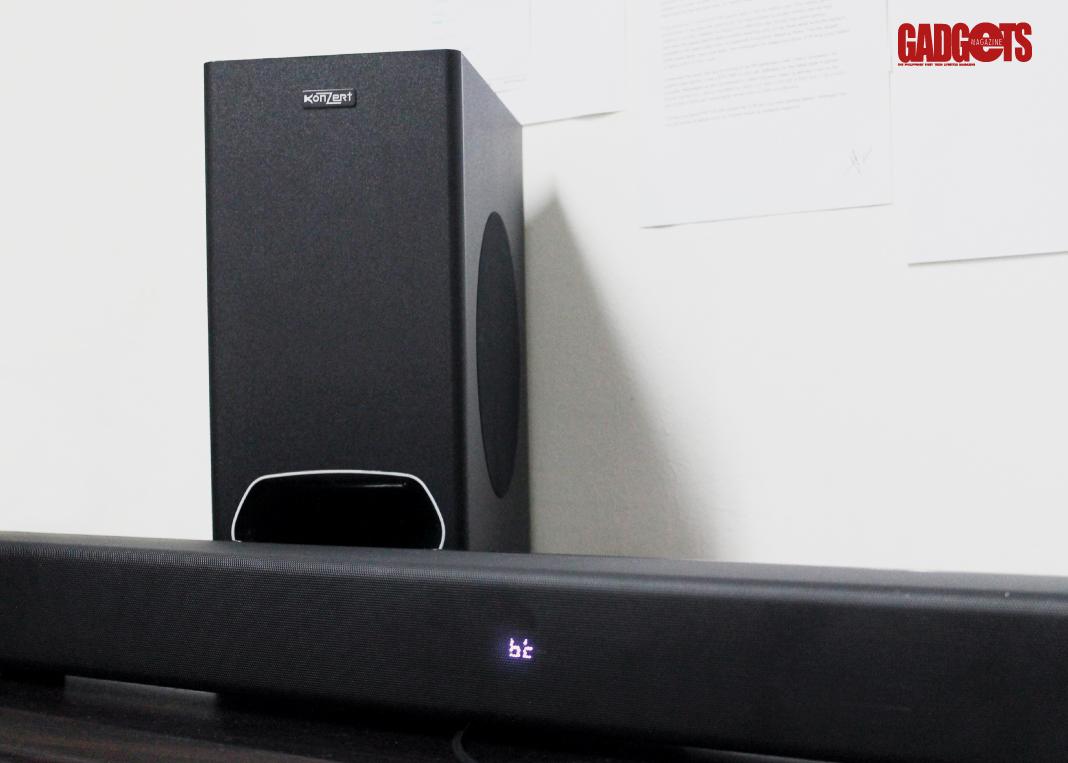 As a 2.1 channel soundbar, the Konzert SBx-3x4W exceeds expectations. It offers convenience to users in terms of controlling basic controls, including four pre-installed audio settings and Bluetooth pairing. And since it is specially produced for smart TVs, it features four basic sound modes that optimize the audio output: music, movie, news, and 3D. There are three options to connect a TV with the soundbar: through an optical cable, HDMI cable, or a 3.5 mm AUX cable. Depending on your preference, you can also customize the bass and treble levels of both soundbar and subwoofers.
However, eliminating wires and cables may compromise the consistency and quality of audio when the soundbar is connected to another device via Bluetooth. Expect inevitable audio delay and unequal blending of lows, mids, and highs when the soundbar is connected to a mobile device. The case is different though when it is connected to PCs and smart TVs. It seamlessly streams music, films, and TV series in sync with the main source where it is being played, bringing the cinema to your own bedroom or living room. In my case, I was able to test its power in our office and its 4500W PMPO stay true to its claims. It is loud enough yet it doesn't lack in mids and highs.
Value: 4.5/5
Even with an attractive price point, the Konzert SBx-3x4W is definitely one of the few soundbars in the market that does not compromise in performance. It might not be the best one, but it works great with smart and high-definition TVs while providing wide connectivity options. At just PHP 5,999, this soundbar is an excellent find for both cinephiles and homebodies.
Specifications:
Dimensions: 960 mm x 78 mm x 76 mm (soundbar), 170 mmx 306 mm x 380 mm (subwoofer)
Frequency response: 80 Hz- 20 kHz
Drivers: two-way channel 2.75-inch (soundbar) + 6.5-inch subwoofer
Audio output power: 4500W PMPO
Impedance: 4 ohms * 2 + 4 ohms
Signal to noise ratio: 72 dB
Bluetooth range: up to 10 meters
Connectivity: Bluetooth 2.1, AUX, HDMI, Optical, and USB
Ports: 1x USB, 1x Optical, 1x HDMI/MCI, 1x AUX
Features: Preset music equalizer, Bluetooth connectivity, and remote control
What's Hot:
Offers various connectivity options
Presence of a preset music equalizer and remote control
Very affordable
What's Not:
Audio can be delayed and choppy through Bluetooth connection
Sound quality varies on linked devices
Bottomline:
It delivers audio nirvana without breaking your bank account.
Also published in GADGETS MAGAZINE December 2019-January 2020 Issue
Reviewed by Jewel Sta. Ana