As a portable USB-C hub, the Moshi Symbus Mini offers a connectivity solution for laptop users. Speaking on behalf of MacBook users, one of the limitations we have had to live with is the limited number of ports — and only USB-C at that — which means that a USB hub/adaptor is an essential accessory.
Design: 4/5
As far as hubs go, the Moshi Symbus Mini is not the most compact, being the size of a small cellphone. Its two-tone finish, consisting of a black plastic body with a titanium gray metal overlay on top gives it a sleek, premium look.
On the left edge is the Gigabit Ethernet port, while on the bottom edge are the six other ports consisting of two USB 3.1 Gen 1 ports, the SD and microSD slots, an HDMI port, and a USB-PD port.
The connector cable is neatly tucked underneath the metal overlay, kept in place by its SnapTo cable management system, avoiding snags and tangles when the hub is stowed away with other devices.
Hardware: 4.5/5
Not all hubs are created equal. The ports on the Moshi Symbus Mini meet the latest connectivity standards to ensure optimal performance. The USB 3.1 Gen 1 ports support transfer speeds up to 5Gbps. The USB-PD 3.0 port allows pass-through power of up to 70W. Its HDMI 2.0 port supports ultra-high definition (UHD) high dynamic range (HDR) video with a refresh rate of up to 60Hz. The same HDMI cable can also transmit 7.1 channel surround-sound audio.
For quick downloads, the SD and microSD card readers are capable of 104Mbps speeds and support high-capacity SD/SDHC/SDXC cards. The Gigabit Ethernet port allows wired data transfer of up to 1000Mbps for high-speed wired network access.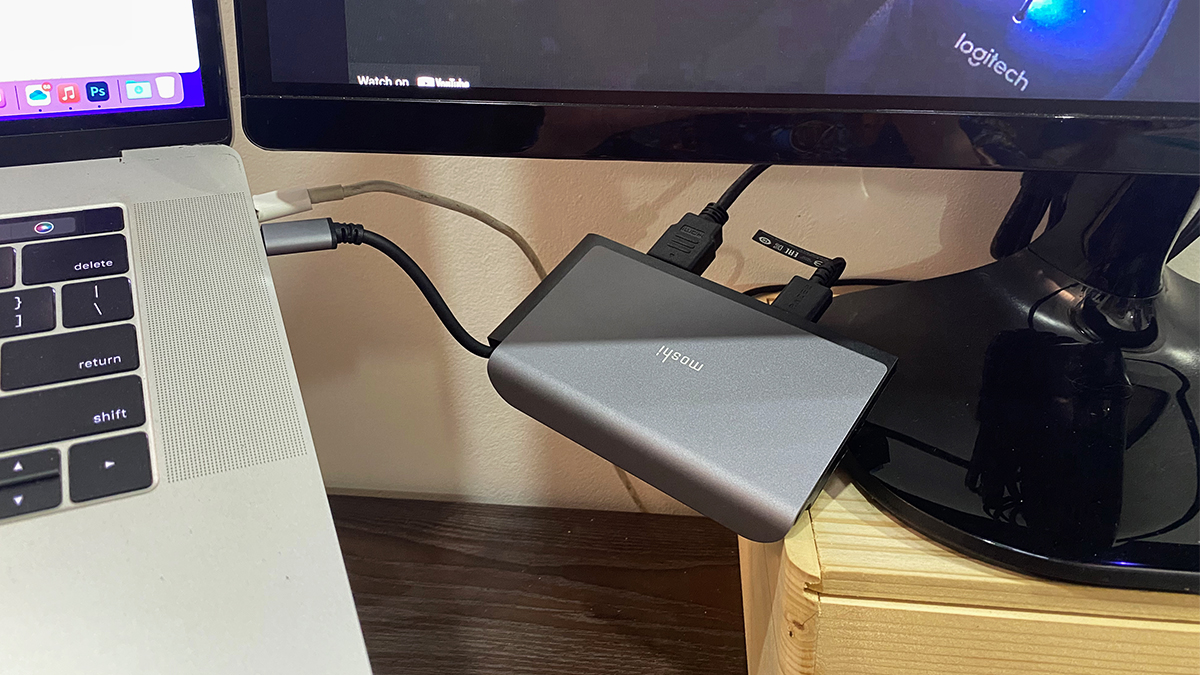 User Experience: 4.5/5
As a long-time MacBook user, I've gotten used to just having a limited number of USB-C ports. This means that I need adaptors to read SD/microSD cards, attach USB-A cables, access USB drives, link an external monitor, etc.
The Moshi Symbus Mini 7-in-1 portable USB-C hub is an excellent solution for my connectivity needs, perhaps even more so now in my present WFH setup. With the hub as my desktop connector, I have my MacBook Pro linked to a desktop monitor via HDMI. One USB port is dedicated to my video camera, while the other is kept free for random USB devices like when I need to attach an external drive or printer. When I need to download photos from my camera, I just pop in the SD card for a super quick transfer.
Another convenience offered by having all the devices/cables attached to a single hub is that I just need to detach the hub when I want to take my laptop and work in bed late at night. And when I want to work in desktop mode once again, I just need to reattach a single connector.
I have yet to take it out of the house as we're still in WFH mode, but I'm sure that when the time comes, the Moshi Symbus Mini will not take up too much room in my backpack.
Possibly my only complaint about the Moshi Symbus Mini is that the cable is a bit short, so with my MacBook lifted up on a riser, it's sort of dangling awkwardly on the side and can't be laid flat on the desk surface. Just a couple of inches of extra cable would have made it perfect.
Value: 3.5/5
The Moshi Symbus Mini is listed at PHP6,490 on Switch's Lazada Onlne Store — quite a premium price as there are other cheaper-priced hubs out there. However, what makes this a value-proposition is its standard 2-year warranty, upgradeable to a 10-year (!) global warranty upon registration. An authentication sticker on the packaging offers the added assurance of product quality. In the long term, it looks like this hub will probably see you through several laptop upgrades before it wears out.
Specifications:
Dimensions: 12.8 x 7.6 x 1.3cm
USB-C charging: supports laptop charging up to 70W
HDMI: supports up to 4K/60Hz resolution, HDR
USB-A: supports USB 3.1 Gen 1, 5Gbps data transfer
Card reader: supports SD/microSD card
Gigabit Ethernet: supports 1000Mbps data rate
What's Hot:
7-in-1!
Global 10-year warranty
What's Not:
Connector cable is a bit short
Bottomline:
A must-have laptop accessory.
Reviewed by Maribelle Alba
Also published in Gadgets Magazine October 2021 Issue